Net income calculator
Online calculator, that calculates net income of a household in material need in case one of the members gets a standard employment. It calculates minimal wage, stipendiums, material needs benefits and all cash and services received from general government. Slovak version only.
Mobile applications

Tento článok je súčasťou projektu Politiky zamestnanosti realizovaného Inštitútom zamestnanosti. Tento projekt je podporený z Európskeho sociálneho fondu v rámci OP EVS.

Projekt KROK ZA KROKOM – Skalica, Kežmarok a Rimavská Sobota (SKRS) sa realizuje vďaka podpore Európskeho sociálneho fondu a Európskeho fondu regionálneho rozvoja v rámci Operačného programu Ľudské zdroje a Ministerstva práce, sociálnych vecí a rodiny Slovenskej republiky
---
https://www.iz.sk/en/projects/net-income-calculator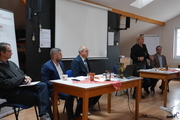 We are realizing project Step by step – Skalica, Kežmarok, Rimavská Sobota – SKRS, whose main goal is to bring inactive people back to labour market.. . .
Similar articles