Local Administrative Units data of Visegrad countries
Statistical open data on LAU regions of Slovakia, Czech Republic, Poland, Hungary (and other countries in the future). LAU1 regions are called counties, okres, okresy, powiat, járás, járási, NUTS4, LAU, Local Administrative Units, ...
This LAU dataset contains data on population, age structure of inhabitants, on number and structure of registered unemployed. Dataset prepared by Michal Páleník. Output files are in json, shapefiles, xls, ods, json, topojson or CSV formats. Downloadable at zenodo.org.
📥
📥
This dataset consists of:
Combined latest dataset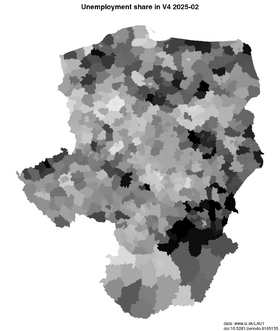 | column/​number of observations | SK | CZ | PL | HU |
| --- | --- | --- | --- | --- |
| period | 79 | 77 | 380 | 197 |
| lau | 79 | 77 | 380 | 197 |
| name | 79 | 77 | 380 | 197 |
| registered​_unemployed | 79 | 77 | 380 | 197 |
| registered​_unemployed​_females | 79 | 77 | 380 | 197 |
| disponible​_unemployed | 79 | 77 | 0 | 0 |
| low​_educated | 79 | 77 | 380 | 197 |
| long​_term | 79 | 77 | 380 | 0 |
| unemployment​_inflow | 79 | 77 | 0 | 0 |
| unemployment​_outflow | 79 | 77 | 0 | 0 |
| pop​_period | 79 | 77 | 380 | 197 |
| TOTAL | 79 | 77 | 380 | 197 |
| Y15​_64 | 79 | 77 | 380 | 197 |
| Y15​_64​_females | 79 | 77 | 380 | 197 |
| local​_lau | 79 | 77 | 380 | 197 |
| osm​_id | 79 | 77 | 380 | 197 |
| abbr | 79 | 77 | 380 | 0 |
| wikidata | 79 | 77 | 380 | 197 |
| population​_density | 79 | 77 | 380 | 197 |
| area​_square​_km | 79 | 77 | 380 | 197 |
| way | 79 | 77 | 380 | 197 |
Unemployment dataset
| column/​number of observations | SK | CZ | PL | HU |
| --- | --- | --- | --- | --- |
| period | 25 280 | 17 710 | 66 452 | 18 124 |
| lau | 25 280 | 17 710 | 66 452 | 18 124 |
| name | 25 280 | 17 710 | 66 452 | 18 124 |
| registered​_unemployed | 25 280 | 17 710 | 66 452 | 18 124 |
| registered​_unemployed​_females | 25 280 | 17 710 | 57 356 | 18 124 |
| disponible​_unemployed | 24 332 | 17 710 | 0 | 0 |
| low​_educated | 10 665 | 8778 | 36 068 | 18 123 |
| long​_term | 23 147 | 8778 | 36 068 | 0 |
| unemployment​_inflow | 25 043 | 15 400 | 0 | 0 |
| unemployment​_outflow | 25 043 | 15 400 | 0 | 0 |
Population dataset
| column/​number of observations | SK | CZ | PL | HU |
| --- | --- | --- | --- | --- |
| period | 6399 | 5343 | 31 743 | 3940 |
| lau | 6399 | 5343 | 31 743 | 3940 |
| name | 6399 | 5343 | 31 743 | 3940 |
| gender | 6399 | 5343 | 31 743 | 3940 |
| TOTAL | 6399 | 5343 | 31 363 | 3940 |
| Y00-04 | 6399 | 5343 | 31 363 | 3940 |
| Y05-09 | 6399 | 5343 | 31 363 | 3940 |
| Y10-14 | 6399 | 5343 | 31 363 | 3940 |
| Y15-19 | 6399 | 5343 | 31 363 | 3940 |
| Y20-24 | 6399 | 5343 | 31 363 | 3940 |
| Y25-29 | 6399 | 5343 | 31 363 | 3940 |
| Y30-34 | 6399 | 5343 | 31 363 | 3940 |
| Y35-39 | 6399 | 5343 | 31 363 | 3940 |
| Y40-44 | 6399 | 5343 | 31 363 | 3940 |
| Y45-49 | 6399 | 5343 | 31 363 | 3940 |
| Y50-54 | 6399 | 5343 | 31 363 | 3940 |
| Y55-59 | 6399 | 5343 | 31 363 | 3940 |
| Y60-64 | 6399 | 5343 | 31 363 | 3940 |
| Y65-69 | 6399 | 5343 | 31 363 | 3940 |
| Y70-74 | 6399 | 5343 | 23 530 | 3940 |
| Y75-79 | 6399 | 5343 | 23 530 | 3940 |
| Y80-84 | 6399 | 5343 | 23 530 | 3940 |
| Y85-89 | 6399 | 5343 | 0 | 0 |
| Y90-94 | 6399 | 5343 | 0 | 0 |
| Y​_GE95 | 6399 | 5343 | 0 | 0 |
| Y15​_64 | 6399 | 5343 | 31 363 | 3940 |
Notes
Example outputs
---
https://www.iz.sk/LAU1