SLOVENSKO - SK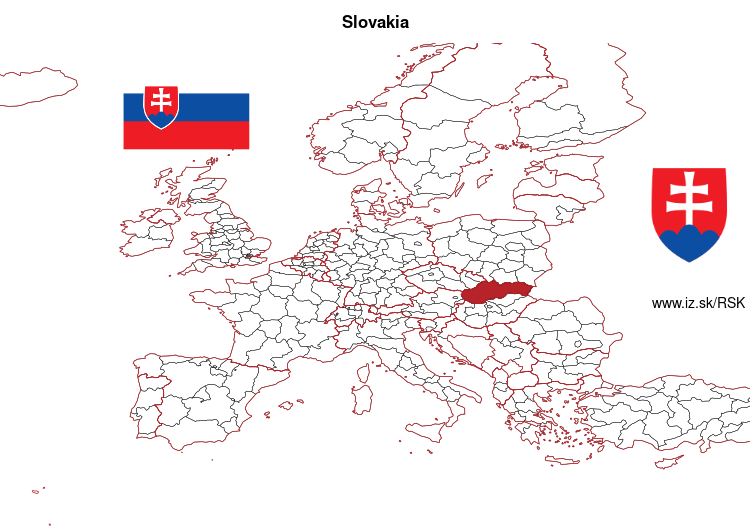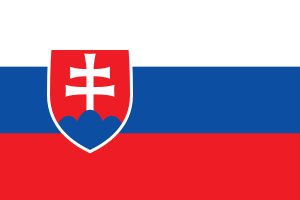 * SLOVENSKO slovensky: _hSK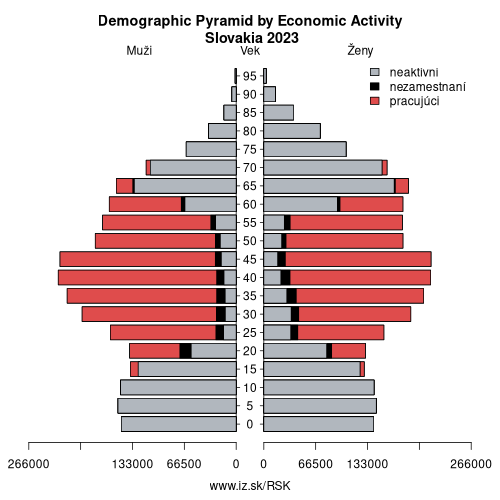 Composition of population according to age group, education and economic activity, SLOVENSKO
age group
low education
middle education
high education
Y20-29
P: 55.7
E: 13.8; U: 9.8; I: 32.1
P: 421.8
E: 251.8; U: 29.1; I: 140.9
P: 182.5
E: 120.5; U: 10.2; I: 51.8
Y30-39
P: 63.1
E: 23.5; U: 12.4; I: 27.2
P: 480.3
E: 390.9; U: 29.8; I: 59.6
P: 304.1
E: 242.8; U: 8.1; I: 53.2
Y40-49
P: 49.4
E: 22.6; U: 7.1; I: 19.7
P: 602.3
E: 523.0; U: 28.1; I: 51.2
P: 202.2
E: 186.9; U: 5.1; I: 10.2
Y50-59
P: 52.5
E: 22.7; U: 6.8; I: 23.0
P: 519.2
E: 423.7; U: 19.6; I: 75.9
P: 133.2
E: 122.8; U: 1.8; I: 8.6
Y60-69
P: 85.3
E: 5.9; U: 1.3; I: 78.1
P: 494.7
E: 115.9; U: 5.0; I: 373.8
P: 109.4
E: 46.1; U: 0.6; I: 62.7
note: in thousands, according to labour force sample survey. P – total population, E – employed, U – unemployed, I – number of ecnomically inactive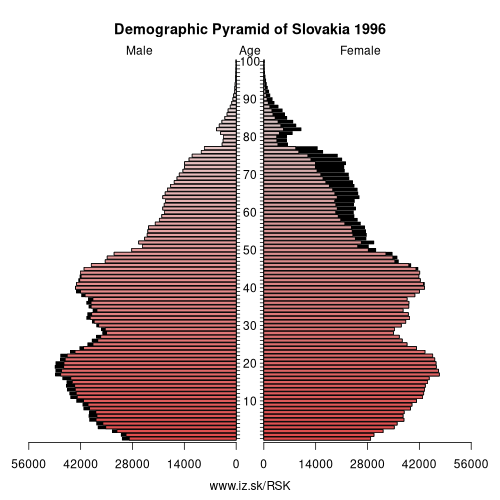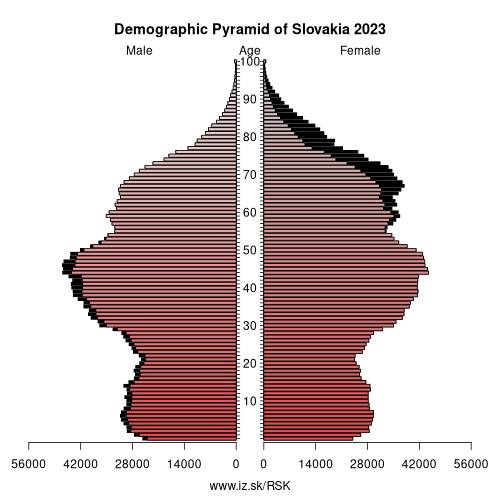 Data on unemployment in counties of Slovakia are available at Local Administrative Units data.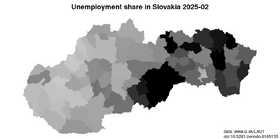 From wikipedia:
Slovakia
(
(

listen

)
; Slovak:
Slovensko
[ˈslɔʋɛnskɔ]
(

listen

)
), officially the
Slovak Republic
(Slovak:
Slovenská republika
,
listen
), is a landlocked country in Central Europe. It is bordered by Poland to the north, Ukraine to the east, Hungary to the south, Austria to the west, and the Czech Republic to the northwest. Slovakia's mostly mountainous territory spans about 49,000 square kilometres (19,000 sq mi), with a population of over 5.4 million. The capital and largest city is Bratislava, and the second-largest city is Košice.
The Slavs arrived in the territory of present-day Slovakia in the 5th and 6th centuries. In the 7th century, they played a significant role in the creation of Samo's Empire. In the 9th century, they established the Principality of Nitra, which was later conquered by the Principality of Moravia to establish Great Moravia. In the 10th century, after the dissolution of Great Moravia, the territory was integrated into the Principality of Hungary, which would then become the Kingdom of Hungary in 1000. In 1241 and 1242, after the Mongol invasion of Europe, much of the territory was destroyed. The area was recovered largely thanks to Béla IV of Hungary, who also settled Germans; leading them to become an important ethnic group in the area, especially in what are today parts of central and eastern Slovakia.
After World War I, and the dissolution of Austria-Hungary, the state of Czechoslovakia was established.
other: Sweden, Slovenia, SLOVENSKO
neighbours: Czech Republic, Poland, Hungary, Austria
subregions: Slovakia
Suggested citation: Michal Páleník: EU regions - SLOVENSKO - SK, IZ Bratislava, retrieved from: https://www.iz.sk/en/projects/eu-regions/SK
---
https://www.iz.sk/en/projects/eu-regions/SK
Current statistics
August 2022: number of unemployed at the labour offices: 183667, of which 79589 are long term unemployed, unemployment rate 6.8 % (2.9 % long term unemployment)
Highest unemployment: Rimavská Sobota 20.4 % (13.3 %), Revúca 19.8 % (13.0 %), Kežmarok 18.1 % (9.6 %), Sabinov 15.9 % (9.8 %), Vranov nad Topľou 15.5 % (8.5 %)
Lowest unemployment:: Bratislava V 2.7 %, Ilava 3.0 %, Trenčín 3.1 %, Nitra 3.2 %, Bratislava I 3.3 %