Region upper Hron river
consists of counties: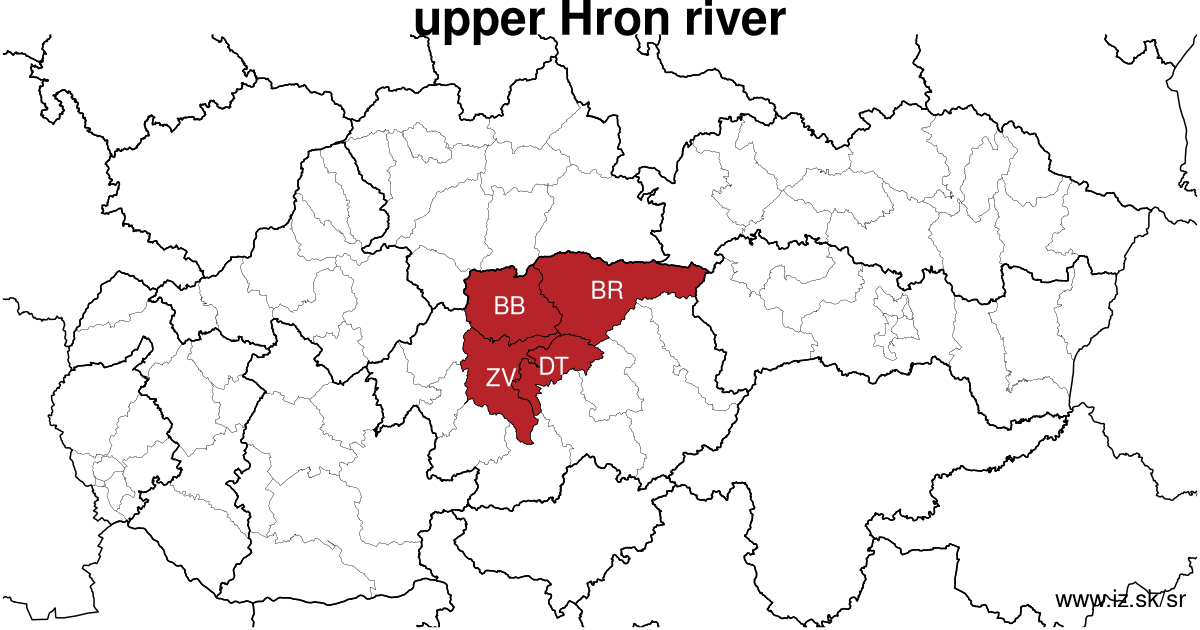 Region is situated in central part of Slovakia. Relief is mainly mountaineus. Massive of Nízke Tatry makes marked barier in the north. Other part of the area is filled by mountains of Slovenské Rudohorie. Head line of the area is a basin of river Hron – Horehronské Podolie. There occured specific situation in economic development. Because of administrative classification changes. In 1996, there were separated several districts from central \native\ district and were developping in different rate. Central native districts (Banská Bystrica, Zvolen) achieve today upper standard, while separated districts (Detva, Brezno) achieve lower standard in employment and labour market messures. Actual situation, indicate dominant standing and improvement of native districts, and constantly augmentation af problems and regional inequality in employment and labour market characteristics in new districts. Industrial base in Brezno and Detva is few deversified. Detva district is classed as economicly tailing away. Ecomomical potential of this region has unique regional specifics, which puts it among economic more problematic regions of Slovakia. It is caused not only by different economical base of districts, but also by different infrastructural equipement. Employment in the region in industrial branches has decrease in last years and this decrease is followed also by total decrease of number of industrial enterprises. Unless glass and ceramic, polygraphic and metallurgical industry showed encrease of employment in the last years. The largest decrease is marked in mine, food, wood and machine industry. Development of the economic structure in the last years of all country, where Horehronie takes part, is characterised by consistent reinforcement of services sector, by reducing industriy and building industry and by continuing decrease in agriculture.
Region upper Hron river contains cities Banská Bystrica, Brezno, Detva, Hriňová, Sliač, Zvolen and number of villages 106.
basic data
| rok | 2012 | 2013 | 2014 | 2015 | 2016 | 2017 | 2018 | 2019 | 2020 | 2021 |
| --- | --- | --- | --- | --- | --- | --- | --- | --- | --- | --- |
| number of inhabitants | 276 682 | 276 110 | 275 592 | 274 973 | 274 571 | 274 085 | 273 538 | 272 637 | 271 964 | 274 241 |
| number of unemployed | 19 348 | 19 457 | 17 837 | 16 889 | 14 593 | 10 461 | 8069 | 7215 | 9294 | 9506 |
| number of long-term unemployed | 9196 | 9261 | 8686 | 8410 | 7171 | 4730 | 3084 | 2340 | 2663 | 3838 |
| number of people receiving social benefits | 14 805 | 15 216 | 13 892 | 11 418 | 9619 | 7813 | 6199 | 5241 | 5138 | 4856 |
| unemployment rate | 13.8 | 13.5 | 12.8 | 12 | 10.3 | 7.4 | 5.4 | 4.8 | 6.1 | 6.4 |
| long-term unemployment rate | 6.6 | 6.4 | 6.2 | 6.0 | 5.1 | 3.3 | 2.0 | 1.6 | 1.8 | 2.6 |
| assignation tax | 64 656 891 | 62 351 738 | 65 603 458 | 72 968 514 | 79 417 092 | 88 624 595 | 96 516 280 | 109 432 235 | 112 803 768 | 107 840 952 |
| demographic dependency | 20.9 | 21.8 | 22.6 | 23.7 | 25.1 | 26.3 | 27.7 | 29.1 | 30.3 | 31.2 |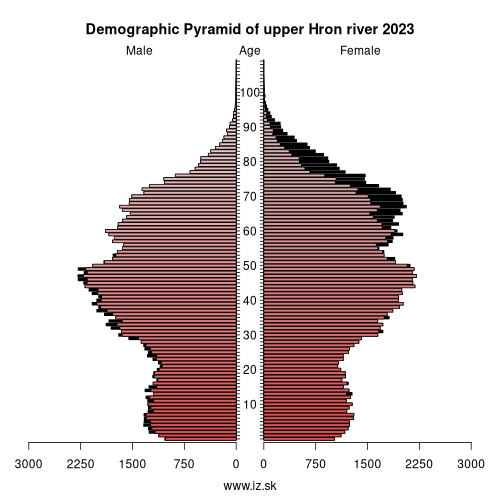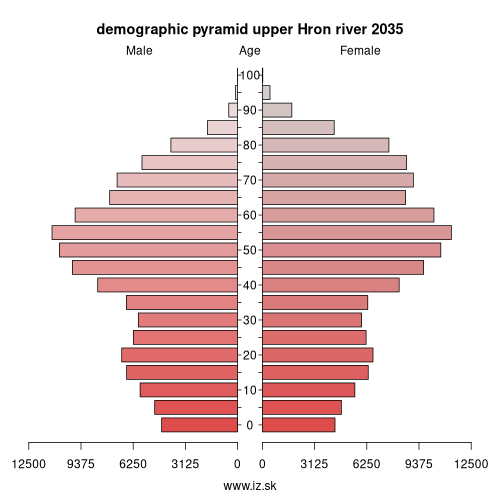 number of unemployed
| rok | 2012 | 2013 | 2014 | 2015 | 2016 | 2017 | 2018 | 2019 | 2020 | 2021 |
| --- | --- | --- | --- | --- | --- | --- | --- | --- | --- | --- |
| less than 24 years | 3479 | 3385 | 3007 | 2672 | 2039 | 1253 | 884 | 803 | 1136 | 1091 |
| 25 to 39 years | 6975 | 6878 | 6219 | 5864 | 5136 | 3512 | 2663 | 2427 | 3173 | 3190 |
| 40 to 54 years | 6347 | 6383 | 5901 | 5667 | 4922 | 3634 | 2834 | 2464 | 3133 | 3314 |
| 55 years and more | 2551 | 2811 | 2710 | 2687 | 2495 | 2009 | 1688 | 1520 | 1852 | 2005 |
Other regions
Suggested citation: Michal Páleník: Regions of Slovakia - Region upper Hron river, IZ Bratislava, retrieved from: https://www.iz.sk/en/projects/regions-of-slovakia/upper-hron-river
---
https://www.iz.sk/en/projects/regions-of-slovakia/upper-hron-river
Current statistics
December 2021: number of unemployed at the labour offices: 200225, of which 92693 are long term unemployed, unemployment rate 7.4 % (3.4 % long term unemployment)
Highest unemployment: Rimavská Sobota 21.7 % (13.9 %), Revúca 20.8 % (13.6 %), Kežmarok 18.3 % (10.3 %), Rožňava 17.0 % (10.6 %)
Lowest unemployment:: Trenčín 3.5 %, Trnava 3.6 %, Hlohovec 3.6 %, Nitra 3.7 %, Piešťany 3.7 %