Employment rate – 2 quarter 2023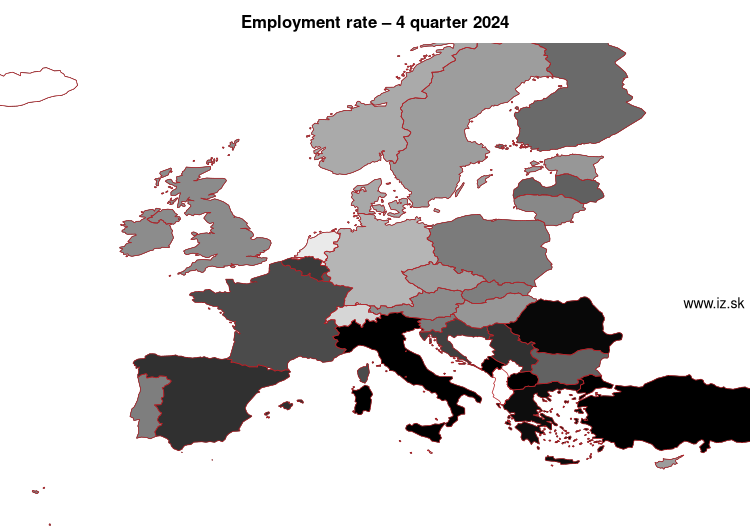 Order
Code
Region
Value
Note
1.
Montenegro
ME
46,2
period 2020q4
2.
Turkey
TR
47,7
period 2020q4
3.
North Macedonia
MK
54,4
period 2020q4
4.
Italy
IT
61,6
5.
Greece
EL
62,4
6.
Romania
RO
63
7.
Serbia
RS
63,8
period 2023q1
8.
Spain
ES
65,8
9.
Belgium
BE
65,9
10.
Croatia
HR
66
11.
France
FR
68,7
12.
Bulgaria
BG
70,3
13.
Luxembourg
LU
70,9
14.
Latvia
LV
71,8
15.
Slovakia
SK
72
16.
Poland
PL
72,1
17.
Portugal
PT
72,6
18.
Slovenia
SI
73,1
19.
Lithuania
LT
73,8
20.
Austria
AT
74,1
21.
Republic of Ireland
IE
74,2
22.
United Kingdom
UK
74,2
period 2020q3
23.
Cyprus
CY
74,3
24.
Hungary
HU
74,7
25.
Czech Republic
CZ
75,2
26.
Finland
FI
75,4
27.
Estonia
EE
76,4
28.
Denmark
DK
76,4
29.
Germany
DE
77,5
30.
Norway
NO
77,8
31.
Sweden
SE
78,2
32.
Malta
MT
78,8
33.
Switzerland
CH
80,7
34.
Netherlands
NL
82,5
35.
Iceland
IS
85,2
Data for the period 2 quarter 2023. Source of the data is Eurostat, table [lfsq_ergaed].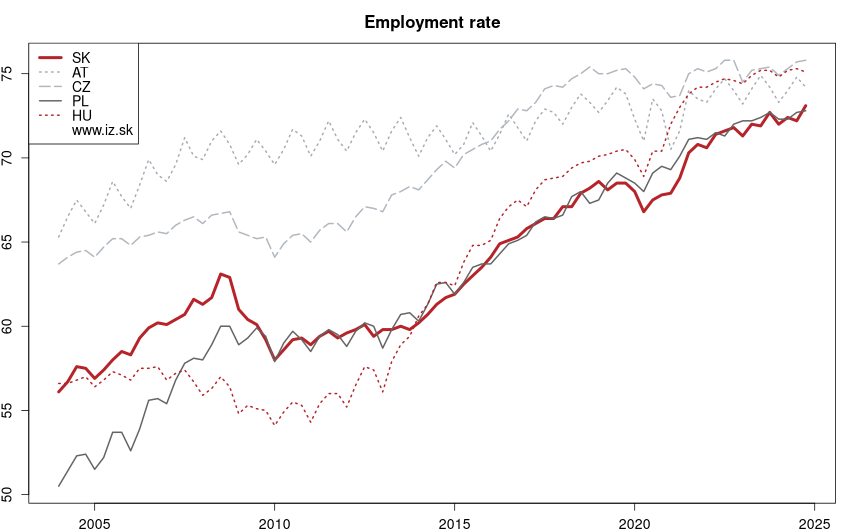 See also:
Suggested citation: Michal Páleník: EU indicators - Employment rate – 2 quarter 2023, IZ Bratislava, retrieved from: https://www.iz.sk/​en/projects/EU-indicators/employment-rate

Tento článok je súčasťou projektu Politiky zamestnanosti realizovaného Inštitútom zamestnanosti. Tento projekt je podporený z Európskeho sociálneho fondu v rámci OP EVS.
---
https://www.iz.sk/en/projects/EU-indicators/employment-rate