Montenegro – ME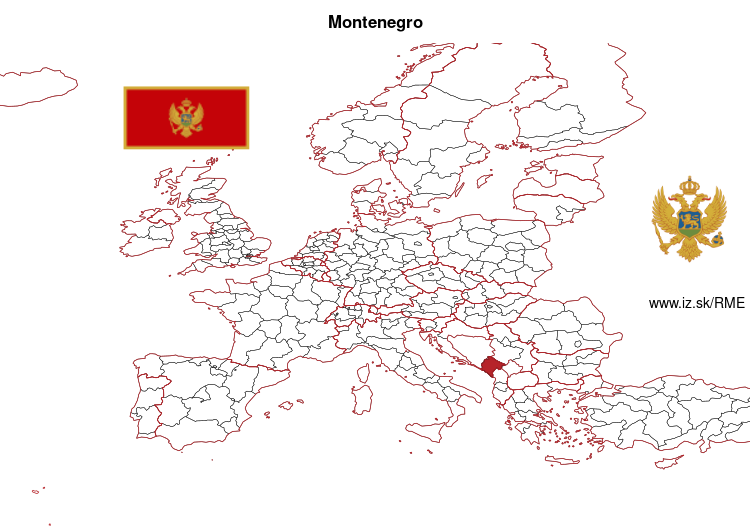 More on wikipedia wikidata Q236 on OpenStreetMap Montenegro slovensky: ME
Subregions: Montenegro, Montenegro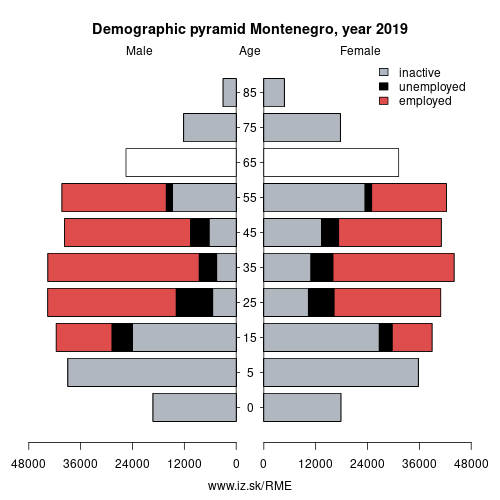 Unemployment
Demographics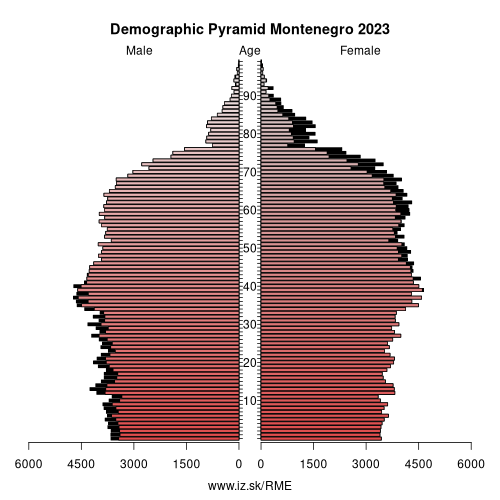 Employment by sectors, Montenegro
NACE r2
%
NACE r2
%
A
16.5
8 %
B-E
22.1
10 %
F
18.3
8 %
G-I
70.5
32 %
J
5.4
2 %
K
3.8
2 %
L
1.6
1 %
M_N
22.7
10 %
O-Q
45.7
21 %
R-U
12.7
6 %
TOTAL
219.4
100 %
Data for the period year 2020. Source of the data is Eurostat, table [lfst_r_lfe2en2].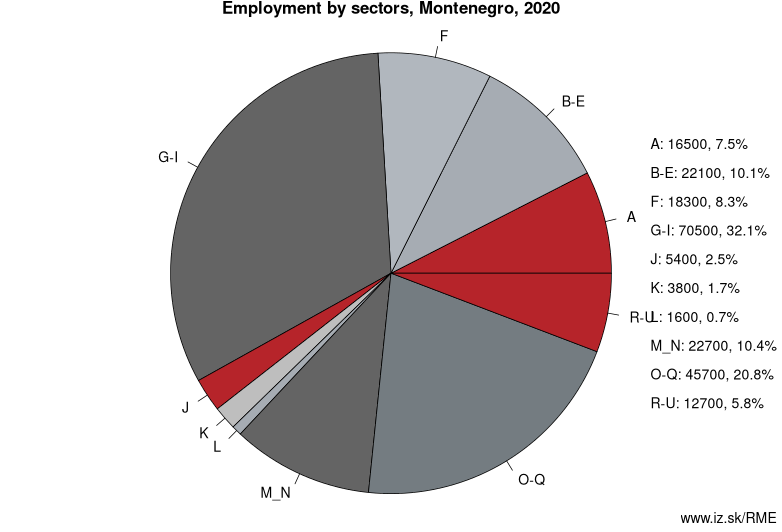 From Wikipedia: Montenegro ( (listen); Montenegrin: Crna Gora / Црна Гора, lit. 'Black Mountain', pronounced [tsr̩̂ːnaː ɡǒra]) is a country in southeast Europe on the Adriatic coast of the Balkans. It borders Bosnia and Herzegovina to the north, Serbia to the northeast, Kosovo to the east, Albania to the southeast, the Adriatic Sea and Croatia to the west. The largest and capital city Podgorica covers 10.4 % of Montenegro's territory and is home to 29.9 % of the country's population, while Cetinje has the status of old royal capital. Major group in the country are Montenegrins. Serbs form a significant minority at 28.7 %, followed by Bosniaks, Albanians and Croats.
During the Early Medieval period, three principalities were located on the territory of modern-day Montenegro: Duklja, roughly corresponding to the southern half; Travunia, the west; and Rascia proper, the north. The Principality of Zeta emerged in the 14th and 15th centuries. The name Montenegro was first used to refer to the country in the late 15th century. After falling under Ottoman rule, Montenegro regained its independence in 1696 under the rule of the House of Petrović-Njegoš, first as a theocracy and later as a secular principality. Montenegro's independence was recognized by the Great Powers at the Congress of Berlin in 1878.
Other: North Macedonia, Montenegro, Malta
Neighbours: Serbia, Albania, Croatia
Subregions: Montenegro, Montenegro
Suggested citation: Michal Páleník: EU regions - Montenegro – ME, IZ Bratislava, retrieved from: https://www.iz.sk/​en/projects/eu-regions/ME
---
https://www.iz.sk/en/projects/eu-regions/ME