Region lower Nitra river
consists of counties: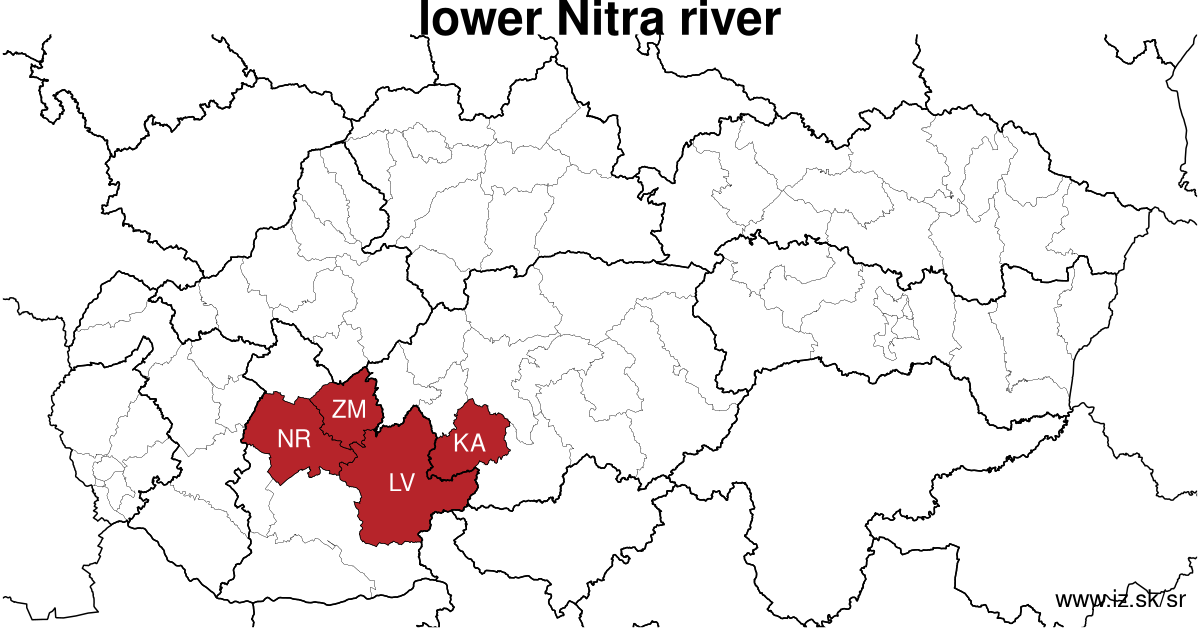 Region of Podunajská lowland is situated in the southwest part of Slovakia, concretly in Podunajská heights. From the north of selected area, there spread the mountains Tribeč, Pohronský Inovec and Nitrianská height. In the west, the region joins Podunajská lowland, in the east Krupinská plateau. The region is bordered by Hungary frontier in the east. Districts of this region belonged to the famous historical region – Nitrianska župa, where they took south part. From the economical point of view is the situation in the region very specific, it is conditioned by different economical development in second half of 90`s years, after changes of administrative classification. Nowadays, native robust district of Nitra achieves above standard employment and trade market. Whereas new district, which were separated – Zlaté Moravce achieves less standard`s attributes and global economical level is lower than is standard.
Region lower Nitra river contains cities Dudince, Krupina, Levice, Nitra, Šahy, Tlmače, Vráble, Želiezovce, Zlaté Moravce and number of villages 211.
basic data
| rok | 2012 | 2013 | 2014 | 2015 | 2016 | 2017 | 2018 | 2019 | 2020 | 2021 |
| --- | --- | --- | --- | --- | --- | --- | --- | --- | --- | --- |
| number of inhabitants | 338 410 | 337 885 | 337 478 | 336 762 | 336 331 | 335 750 | 335 424 | 334 853 | 333 958 | 335 884 |
| number of unemployed | 23 429 | 23 831 | 21 418 | 19 204 | 15 165 | 10 711 | 7928 | 6540 | 8986 | 9324 |
| number of long-term unemployed | 10 624 | 10 863 | 10 344 | 9326 | 7038 | 4279 | 2581 | 1668 | 1784 | 2727 |
| number of people receiving social benefits | 20 332 | 20 266 | 17 411 | 13 852 | 11 226 | 8825 | 7007 | 5796 | 5238 | 4927 |
| unemployment rate | 13.6 | 13.9 | 12.6 | 11.3 | 8.9 | 6.3 | 4.6 | 3.9 | 5.4 | 5.6 |
| long-term unemployment rate | 6.2 | 6.3 | 6.1 | 5.5 | 4.1 | 2.5 | 1.5 | 1.0 | 1.1 | 1.6 |
| assignation tax | 71 777 277 | 72 808 213 | 75 074 837 | 82 973 832 | 90 044 509 | 100 195 479 | 109 471 319 | 123 496 580 | 127 607 948 | 122 550 600 |
| demographic dependency | 21.5 | 22.1 | 22.8 | 23.7 | 24.7 | 25.9 | 27.0 | 28.2 | 29.3 | 30.3 |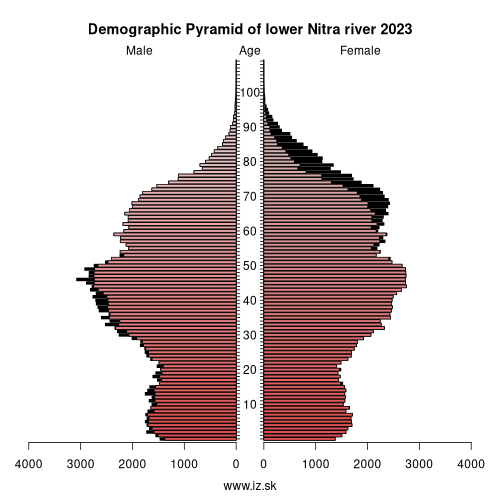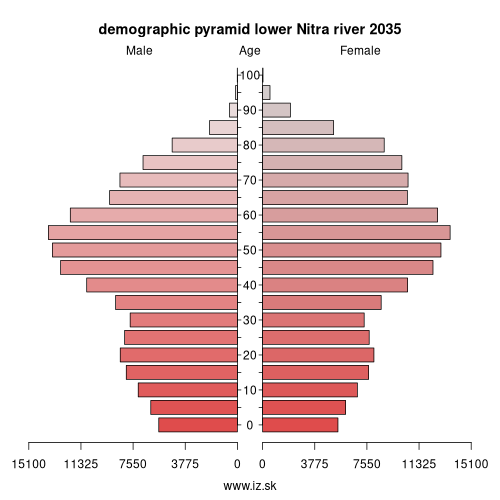 number of unemployed
| rok | 2012 | 2013 | 2014 | 2015 | 2016 | 2017 | 2018 | 2019 | 2020 | 2021 |
| --- | --- | --- | --- | --- | --- | --- | --- | --- | --- | --- |
| less than 24 years | 4345 | 4218 | 3524 | 2874 | 1963 | 1294 | 906 | 764 | 1144 | 1105 |
| 25 to 39 years | 8467 | 8478 | 7565 | 6754 | 5208 | 3554 | 2607 | 2201 | 3108 | 3117 |
| 40 to 54 years | 7801 | 8022 | 7324 | 6659 | 5405 | 3796 | 2808 | 2235 | 2987 | 3294 |
| 55 years and more | 2847 | 3114 | 3006 | 2918 | 2590 | 2037 | 1607 | 1340 | 1747 | 1937 |
Other regions
Suggested citation: Michal Páleník: Regions of Slovakia - Region lower Nitra river, IZ Bratislava, retrieved from: https://www.iz.sk/en/projects/regions-of-slovakia/lower-nitra-river
---
https://www.iz.sk/en/projects/regions-of-slovakia/lower-nitra-river
Current statistics
November 2021: number of unemployed at the labour offices: 198327, of which 92941 are long term unemployed, unemployment rate 7.3 % (3.4 % long term unemployment)
Highest unemployment: Rimavská Sobota 21.4 % (13.8 %), Revúca 21.3 % (13.9 %), Kežmarok 18.5 % (10.2 %), Rožňava 16.7 % (10.6 %)
Lowest unemployment:: Trenčín 3.6 %, Nitra 3.6 %, Hlohovec 3.6 %, Trnava 3.6 %, Ilava 3.7 %