Region upper Nitra river
consists of counties: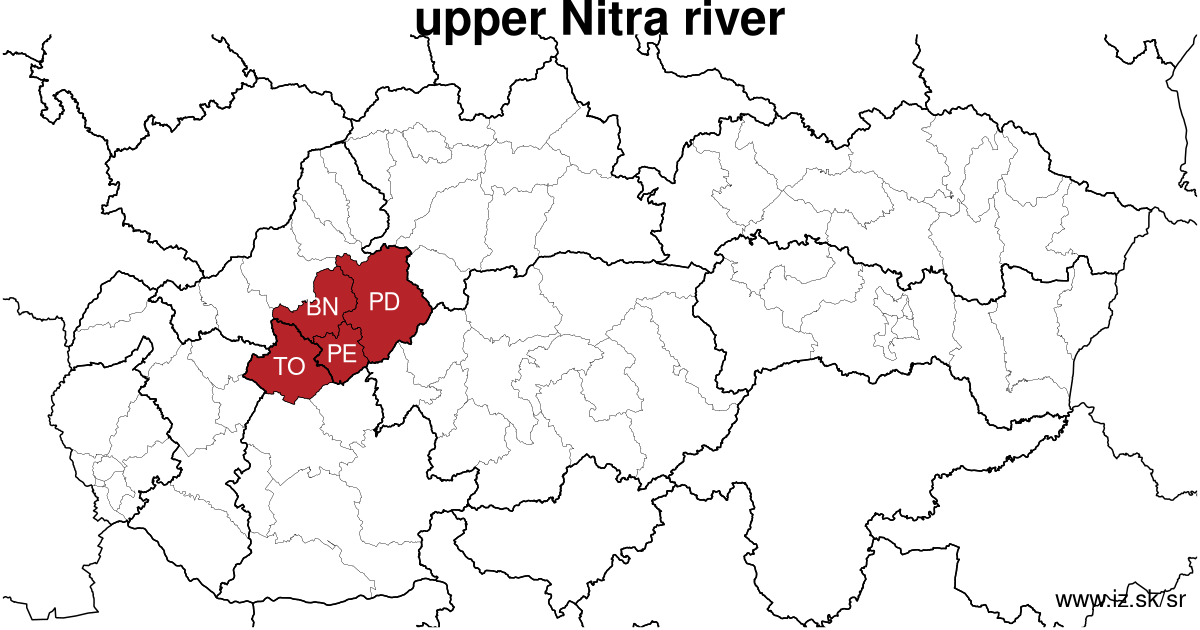 Region is situated in the west part of Slovakia, along upper flow of river Nitra. Almost all region spreads in Hornonitrianska fold. Only in the peripheral area interfer mountains. Hornonitrianska fold belongs to the most rangy areas. Cities are distributed along main communications and rivers, mainly along Nitra river, which makes a central line of this fold. Individual centroid of settlement of regional importance is made around the city Prievidza, with other cities – Bojnice, Nováky, Handlová and Nitrianske Pravno. This centroid makes individual, relatively closed resident unite, what led also from its economic base. It represent final part of Hornonitrianska settlement development line. Topolčany and Bánovce nad Bebravou are part of Ponitrianska settlement development line. Thanks to climate and natural conditions belongs this region to the oldest cultural areas of Slovakia. Till 1923 belonged this region to historical region Nitrianska župa, also called Horná Nitra (upper Nitra). As long the important changes in 20. century influenced development of Horná Nitra. Brown coal mines were opened, many activities in chemical, food, wood and clothing industry were activated. Region Horná Nitra was affected by the transformational process, which led to decrease of working possibilities in industry, mainly in the districts of Prievidza and Bánovce nad Bebravou. Main industry carries its dominant position also in these times, instead of the prodiction decrease. Many enterprises in mentioned districts, which employ high percentage of inhabitants, are looking for with difficulties lost replacement markets, which were in ost bloc. The rentability of mine industry in Horná Nitra is smaller and smaller and is nessesary to introduce an alternative productive branches. In opposite case there is a threat of immense increase of unemployement and economic collapse of this region. In the area Vtáčnik – Horná Nitra occure economical most important resources of energy raw materials in Slovakia. There are deposits in Nováky, Handlová, Cigeľ and Nováky. Besides important brown coal deposits, there is selected prognostic area Vtáčnik – south, which is a continuation of brown coal line around Handlová. Respecting more characteristics, districts of this region belong to those with average economic base. District Partizánske is an exception, is reachs lower base that is average. Region Horná Nitra belongs to the areas with most endangered environment. It is negatively marked by the mine activity, energetic and chemical industry. The most endargered area includes part of Hornonitrianska fold, which spreads from cities Prievidza to Topolčany, with the center of pollution in Nováky and Zemianske Kostoľany. It interfers into the districts Prievidza, Partizánske and Topolčany. In spite of that, the region disposes with manz natural resources available for turistic development, conditions for tourism and cyclism, for winter sports and other.
Region upper Nitra river contains cities Bánovce nad Bebravou, Bojnice, Handlová, Nováky, Partizánske, Prievidza, Topoľčany and number of villages 165.
basic data
| rok | 2012 | 2013 | 2014 | 2015 | 2016 | 2017 | 2018 | 2019 | 2020 | 2021 |
| --- | --- | --- | --- | --- | --- | --- | --- | --- | --- | --- |
| number of inhabitants | 293 354 | 292 560 | 291 395 | 290 287 | 289 333 | 287 799 | 286 637 | 285 341 | 283 677 | 288 073 |
| number of unemployed | 20 222 | 21 470 | 20 117 | 17 952 | 14 191 | 9598 | 7401 | 6859 | 9361 | 9424 |
| number of long-term unemployed | 8855 | 9859 | 9952 | 8919 | 6452 | 3560 | 2110 | 1505 | 1924 | 3027 |
| number of people receiving social benefits | 10 071 | 10 404 | 9040 | 6578 | 4810 | 3679 | 2910 | 2509 | 2468 | 2317 |
| unemployment rate | 13.4 | 14.4 | 13.5 | 12 | 9.5 | 6.4 | 5 | 4.6 | 6.4 | 6.5 |
| long-term unemployment rate | 5.9 | 6.6 | 6.7 | 5.9 | 4.3 | 2.4 | 1.4 | 1.0 | 1.3 | 2.1 |
| assignation tax | 63 264 280 | 64 042 817 | 65 905 534 | 72 796 051 | 78 714 203 | 87 883 858 | 95 257 795 | 107 205 162 | 110 269 125 | 105 219 817 |
| demographic dependency | 21.3 | 22.1 | 22.9 | 24.1 | 25.3 | 26.5 | 27.8 | 29.1 | 30.3 | 30.9 |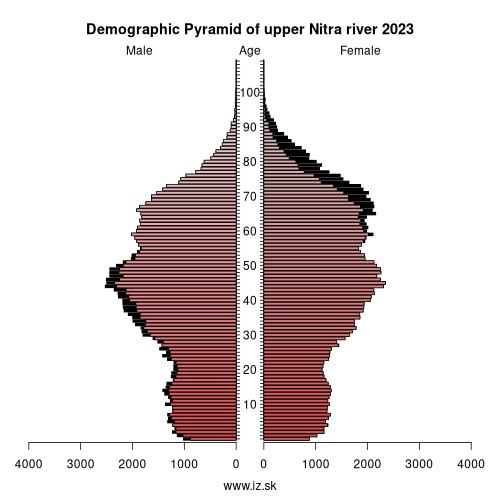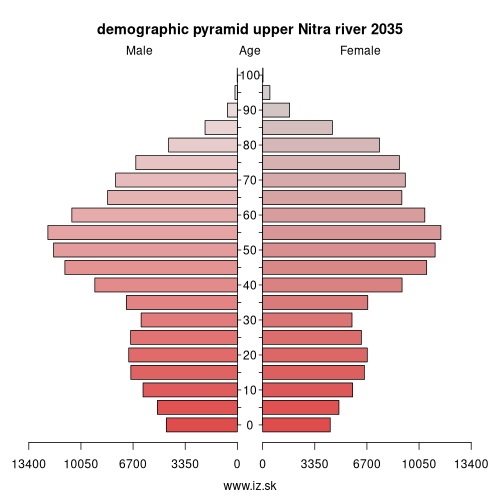 number of unemployed
| rok | 2012 | 2013 | 2014 | 2015 | 2016 | 2017 | 2018 | 2019 | 2020 | 2021 |
| --- | --- | --- | --- | --- | --- | --- | --- | --- | --- | --- |
| less than 24 years | 4251 | 4221 | 3728 | 2930 | 2017 | 1282 | 916 | 865 | 1217 | 1118 |
| 25 to 39 years | 7030 | 7474 | 7038 | 6312 | 4990 | 3344 | 2597 | 2432 | 3270 | 3193 |
| 40 to 54 years | 6625 | 6947 | 6522 | 5931 | 4811 | 3172 | 2412 | 2246 | 3083 | 3231 |
| 55 years and more | 2412 | 2828 | 2829 | 2779 | 2372 | 1797 | 1476 | 1316 | 1791 | 2033 |
Other regions
Suggested citation: Michal Páleník: Regions of Slovakia - Region upper Nitra river, IZ Bratislava, retrieved from: https://www.iz.sk/en/projects/regions-of-slovakia/upper-nitra-river
---
https://www.iz.sk/en/projects/regions-of-slovakia/upper-nitra-river
Current statistics
November 2021: number of unemployed at the labour offices: 198327, of which 92941 are long term unemployed, unemployment rate 7.3 % (3.4 % long term unemployment)
Highest unemployment: Rimavská Sobota 21.4 % (13.8 %), Revúca 21.3 % (13.9 %), Kežmarok 18.5 % (10.2 %), Rožňava 16.7 % (10.6 %)
Lowest unemployment:: Trenčín 3.6 %, Nitra 3.6 %, Hlohovec 3.6 %, Trnava 3.6 %, Ilava 3.7 %