Region Kysuce a Orava
consists of counties: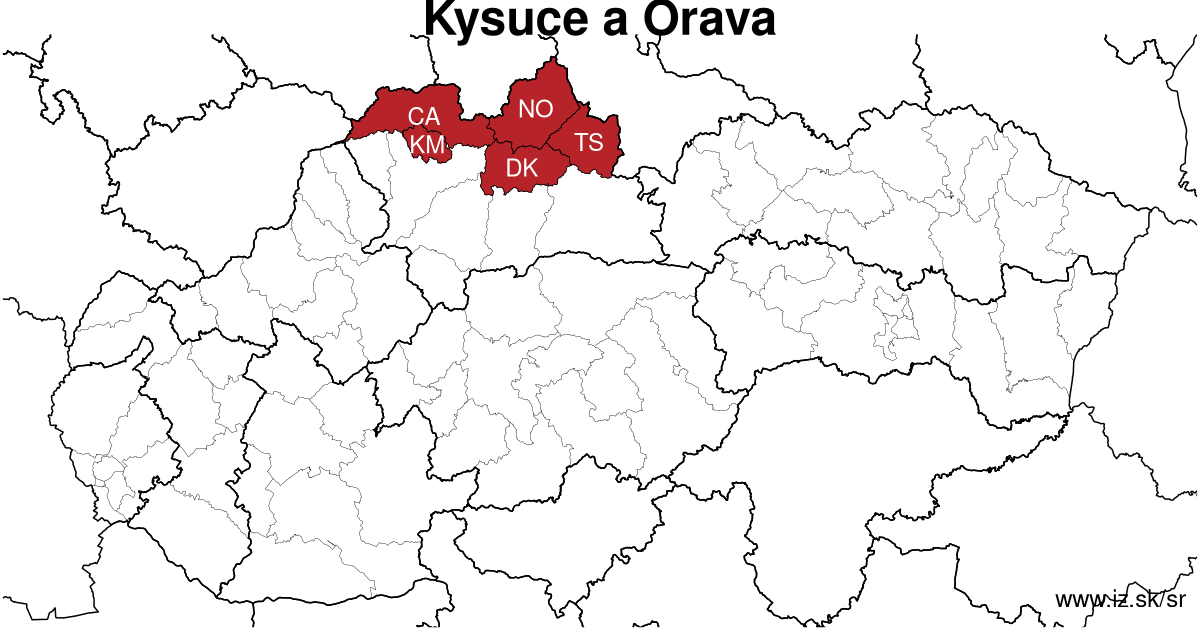 Region Kysuce is situated in northwest of Slovakia. It is delimited by Czech republic frontier In the west and by Poland in the north. The area belongs to the system of external Carpatien system and is composed by mountain ranges: Moravsko sliezske Beskydy, Kysucké Beskydy (Slovenské Beskydy), Javorníky, Kysucká vrchovina, Oravské Bezkydy, Oravská Magura a Skorušinské vrchy.Region Orava is situated in the north Slovakia, north direction from Western Tatry, along Orava river. The region represented bigger part of same named historical region in the past. Both regions, Orava and Kysuce, achieve below standard economical level, but with big natural potential for tourism. That makes this region very attractive out of all Slovakia.Weighty problem of these regions is long enduring high unemployment rate, problems dealing with economic restructualisation. Among heavy limitation of economic development of this region is low technical infrastructure – it is seen especially a need of travel system modernising, than there are few favourable conditions for beginning new business activities – it make itself felt a negative atmosphere in region resulting from bad social situation.The absence of production base, its few diversification, insufficient infrastructural connection to rural areas, heavy unemployment rate and location out of mane transport lines has for consequences a lower standard development rate of economic and social infrastructure in districts of region Kysuce and Orava. Development potential of this region lies in energetic sources, material sources, regional traditions, relatively big offer of labour forces at different educational level, vicinity of poland and czech trades, which are usefull to support of trade exchange. There is also quality natural environment with corresponding apparatus and objects in all region. The region represents also suitable potential for establishing industrial and science-technological centres.
Region Kysuce a Orava contains cities Čadca, Dolný Kubín, Krásno nad Kysucou, Kysucké Nové Mesto, Námestovo, Trstená, Turzovka, Tvrdošín and number of villages 92.
basic data
| rok | 2012 | 2013 | 2014 | 2015 | 2016 | 2017 | 2018 | 2019 | 2020 |
| --- | --- | --- | --- | --- | --- | --- | --- | --- | --- |
| number of inhabitants | 260 529 | 260 716 | 260 761 | 262 693 | 263 440 | 264 167 | 264 852 | 265 505 | 266 110 |
| number of unemployed | 17 484 | 18 799 | 17 824 | 15 292 | 11 761 | 8816 | 6904 | 6442 | 8850 |
| number of long-term unemployed | 6758 | 7866 | 8484 | 7242 | 4882 | 3204 | 2158 | 1606 | 1974 |
| number of people receiving social benefits | 9235 | 9639 | 8352 | 5712 | 3915 | 2730 | 2095 | 1765 | 1768 |
| unemployment rate | 14.9 | 15.1 | 14.2 | 12.2 | 9.2 | 6.9 | 5.4 | 5.1 | 6.9 |
| long-term unemployment rate | 5.8 | 6.3 | 6.8 | 5.8 | 3.8 | 2.5 | 1.7 | 1.3 | 1.5 |
| assignation tax | 65 182 134 | 63 252 512 | 65 279 294 | 72 132 974 | 79 148 269 | 89 093 040 | 95 549 060 | 107 911 864 | |
| demographic dependency | 16.4 | 16.8 | 17.3 | 17.8 | 18.6 | 19.3 | 19.9 | 20.7 | 21.5 |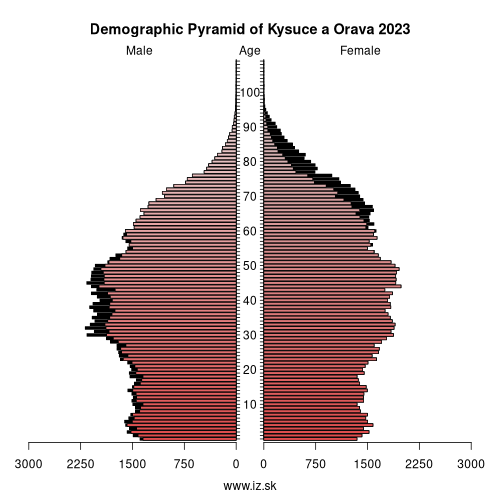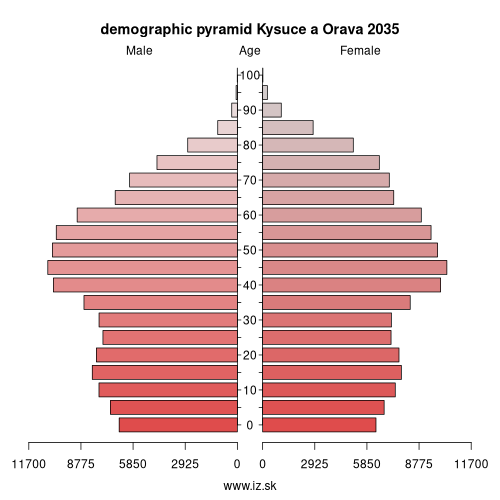 number of unemployed
| rok | 2012 | 2013 | 2014 | 2015 | 2016 | 2017 | 2018 | 2019 | 2020 |
| --- | --- | --- | --- | --- | --- | --- | --- | --- | --- |
| less than 24 years | 4185 | 4163 | 3832 | 3053 | 1994 | 1401 | 1027 | 961 | 1350 |
| 25 to 39 years | 5769 | 6193 | 5854 | 5021 | 3873 | 2873 | 2278 | 2130 | 2934 |
| 40 to 54 years | 5555 | 6291 | 5929 | 5077 | 4023 | 3014 | 2305 | 2102 | 2910 |
| 55 years and more | 1830 | 2152 | 2209 | 2142 | 1871 | 1507 | 1295 | 1249 | 1656 |
Other regions
---
https://www.iz.sk/en/projects/regions-of-slovakia/kysuce-a-orava
Current statistics
September 2021: number of unemployed at the labour offices: 210456, of which 95768 are long term unemployed, unemployment rate 7.8 % (3.5 % long term unemployment)
Highest unemployment: Revúca 22.4 % (14.1 %), Rimavská Sobota 22.0 % (13.9 %), Kežmarok 18.6 % (10.4 %)
Lowest unemployment:: Nitra 3.9 %, Trenčín 4.0 %, Hlohovec 4.0 %, Piešťany 4.1 %, Trnava 4.1 %