Germany – DE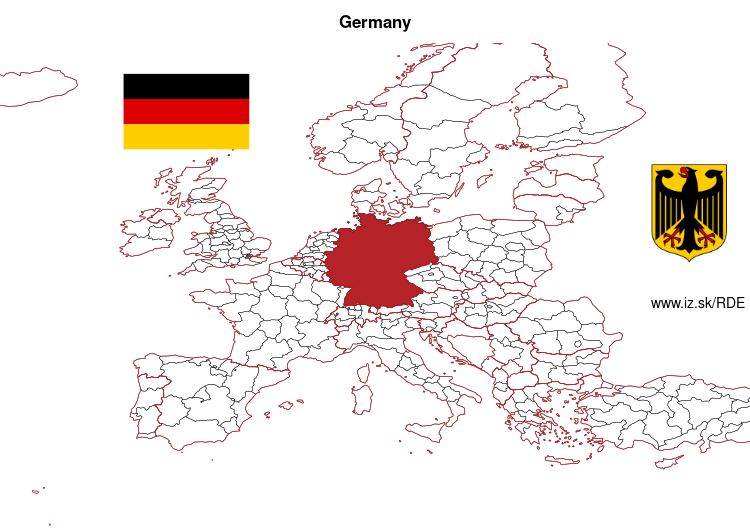 More on wikipedia wikidata Q183 on OpenStreetMap Germany slovensky: DE
Subregions: Baden-Württemberg, Bavaria, Berlin, Brandenburg, Free Hanseatic City of Bremen, Hamburg, Hesse, Mecklenburg-Western Pomerania, Lower Saxony, North Rhine-Westphalia, Rhineland-Palatinate, Saarland, Saxony, Saxony-Anhalt, Schleswig-Holstein, Thuringia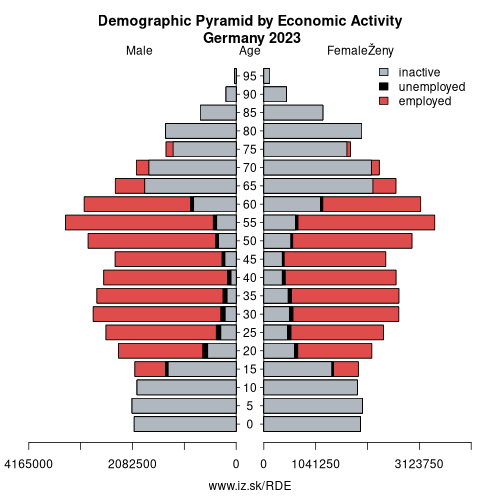 Unemployment
Composition of population according to age group, education and economic activity, Germany
Age group
Low education
Middle education
High education
Y20-29
P: 2145.2
E: 1401.1; U: 129.3; I: 614.8
P: 4999.2
E: 3803.3; U: 144.6; I: 1051.3
P: 2154.3
E: 1841.6; U: 55.2; I: 257.5
Y30-39
P: 1786.1
E: 1162.7; U: 100.3; I: 523.1
P: 5028.4
E: 4376.8; U: 131.5; I: 520.1
P: 4211.7
E: 3812.2; U: 88.0; I: 311.5
Y40-49
P: 1814.4
E: 1275.3; U: 78.7; I: 460.4
P: 5007.0
E: 4470.0; U: 106.7; I: 430.3
P: 3264.9
E: 3018.0; U: 53.3; I: 193.6
Y50-59
P: 2089.6
E: 1425.4; U: 64.5; I: 599.7
P: 7170.3
E: 6096.7; U: 128.8; I: 944.8
P: 3688.7
E: 3382.6; U: 53.0; I: 253.1
Y60-69
P: 1869.6
E: 643.3; U: 25.6; I: 1200.7
P: 6152.2
E: 2548.3; U: 78.0; I: 3525.9
P: 3087.9
E: 1620.6; U: 35.7; I: 1431.6
Note: in thousands in 2022, according to labour force sample survey. P – total population, E – employed, U – unemployed, I – number of ecnomically inactive
Demographics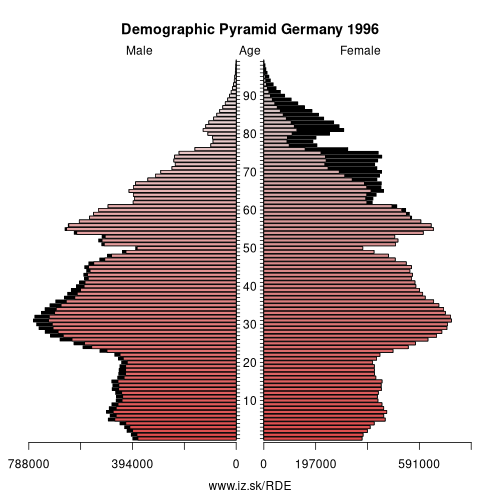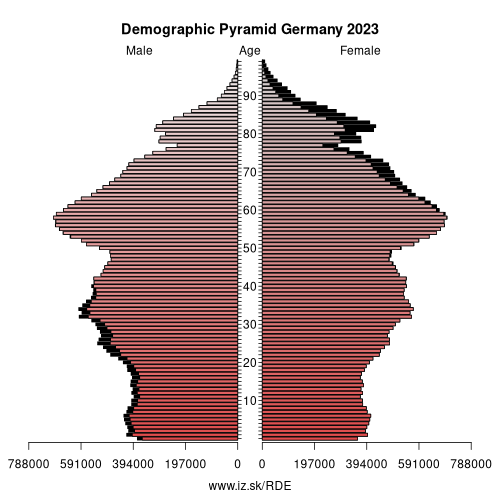 Employment by sectors, Germany
| NACE r2 | | % | NACE r2 | | % |
| --- | --- | --- | --- | --- | --- |
| A | 527.3 | 1 % | B-E | 8796.1 | 21 % |
| F | 2626.6 | 6 % | G-I | 8800.8 | 21 % |
| J | 1670.5 | 4 % | K | 1311.4 | 3 % |
| L | 394.9 | 1 % | M_N | 4337.6 | 10 % |
| NRP | 13.9 | 0 % | O-Q | 11 857 | 28 % |
| R-U | 2192.7 | 5 % | TOTAL | 42 529 | 100 % |
Data for the period year 2022. Source of the data is Eurostat, table [lfst_r_lfe2en2].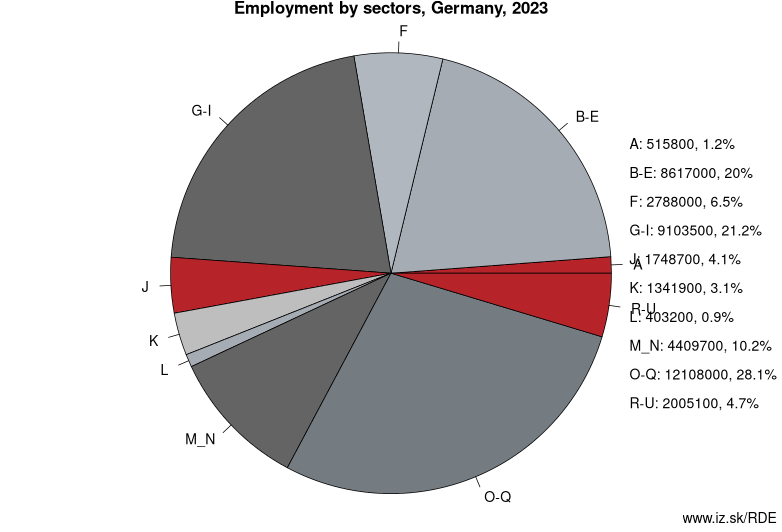 Germany
(German:
Deutschland
, German pronunciation:
[ˈdɔʏtʃlant]
), officially the
Federal Republic of Germany
(German:
Bundesrepublik Deutschland
,
listen
), is a country in Central and Western Europe, lying between the Baltic and North Seas to the north and the Alps, Lake Constance and the High Rhine to the south. It borders Denmark to the north, Poland and the Czech Republic to the east, Austria and Switzerland to the south, France to the southwest, and Luxembourg, Belgium and the Netherlands to the west.
Germany includes 16 constituent states, covers an area of 357,386 square kilometres (137,988 sq mi), and has a largely temperate seasonal climate. With 83 million inhabitants, it is the second most populous state of Europe after Russia, the most populous state lying entirely in Europe, as well as the most populous member state of the European Union. Germany is a very decentralised country. Its capital and largest metropolis is Berlin, while Frankfurt serves as its financial capital and has the country's busiest airport. Germany's largest urban area is the Ruhr, with its main centres of Dortmund and Essen. The country's other major cities are Hamburg, Munich, Cologne, Stuttgart, Düsseldorf, Leipzig, Bremen, Dresden, Hanover, and Nuremberg.
Various Germanic tribes have inhabited the northern parts of modern Germany since classical antiquity. A region named Germania was documented before AD 100.
Neighbours: Netherlands, Poland, Denmark, Austria, Czech Republic, Switzerland, Belgium, France, Luxembourg
Subregions: Baden-Württemberg, Bavaria, Berlin, Brandenburg, Free Hanseatic City of Bremen, Hamburg, Hesse, Mecklenburg-Western Pomerania, Lower Saxony, North Rhine-Westphalia, Rhineland-Palatinate, Saarland, Saxony, Saxony-Anhalt, Schleswig-Holstein, Thuringia
Suggested citation: Michal Páleník: EU regions - Germany – DE, IZ Bratislava, retrieved from: https://www.iz.sk/​en/projects/eu-regions/DE
---
https://www.iz.sk/en/projects/eu-regions/DE