Rhineland-Palatinate – DEB
EU regions: Germany > Rhineland-Palatinate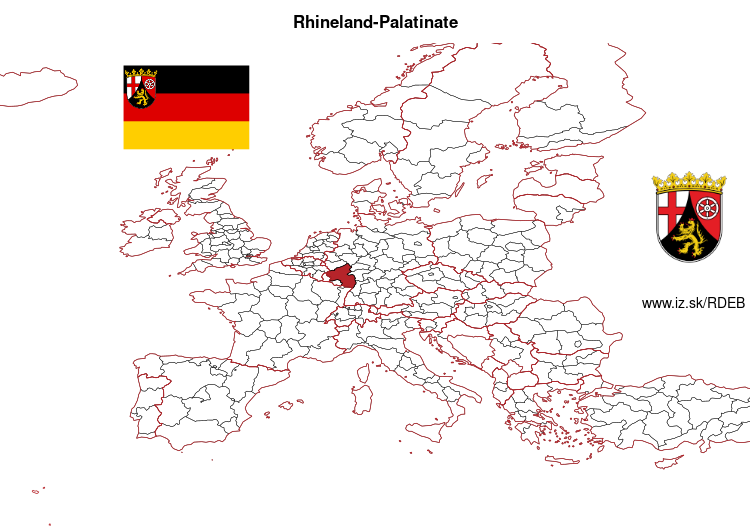 More on wikipedia wikidata Q1200 on OpenStreetMap Rhineland-Palatinate slovensky: DEB
Subregions: Koblenz Government Region, Trier Government Region, Rheinhessen-Pfalz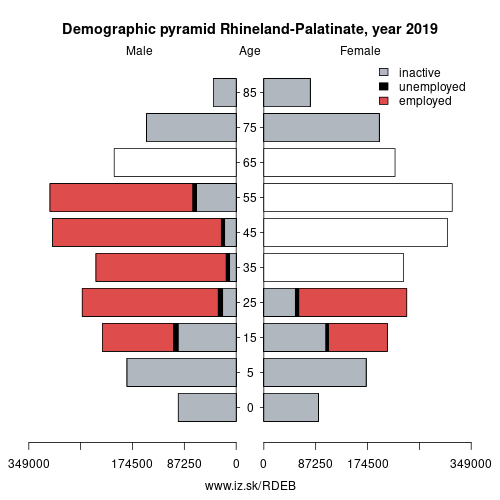 Unemployment
Demographics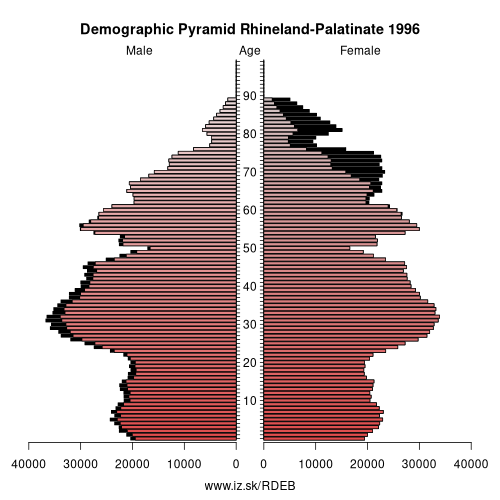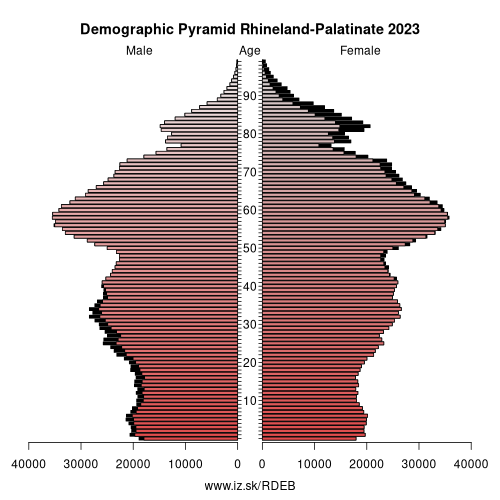 Employment by sectors, Rhineland-Palatinate
| NACE r2 | | % | NACE r2 | | % |
| --- | --- | --- | --- | --- | --- |
| A | 26.7 | 1 % | B-E | 453.8 | 22 % |
| F | 135 | 6 % | G-I | 432.4 | 21 % |
| J | 71.4 | 3 % | K | 69.1 | 3 % |
| M_N | 176.6 | 8 % | O-Q | 610.2 | 29 % |
| R-U | 109.8 | 5 % | TOTAL | 2097.2 | 100 % |
Data for the period year 2022. Source of the data is Eurostat, table [lfst_r_lfe2en2].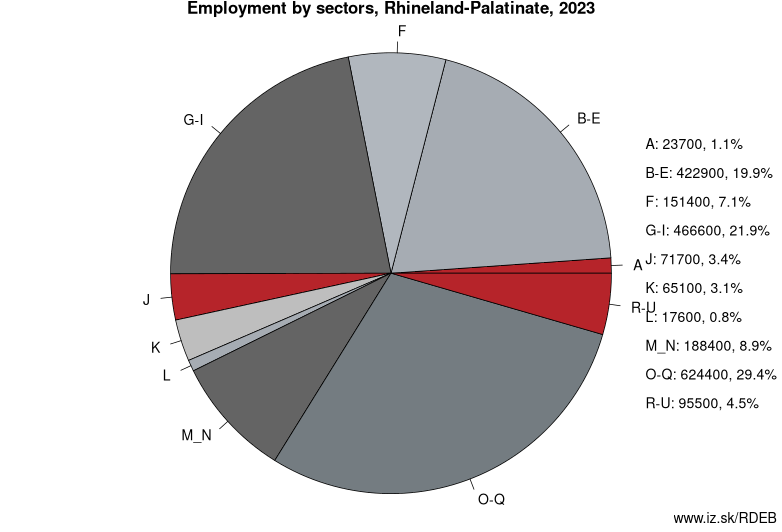 From Wikipedia: Rhineland-Palatinate (German: Rheinland-Pfalz, pronounced [ˈʁaɪ̯nlant ˈp͡falt͡s]) is a state of Germany.
Rhineland-Palatinate is located in western Germany covering an area of 19,846 km2 (7,663 sq mi) and a population of 4.05 million inhabitants, the seventh-most populous German state. Mainz is the state capital and largest city, while other major cities include Ludwigshafen am Rhein, Koblenz, Trier, Kaiserslautern, and Worms. Rhineland-Palatinate is surrounded by the states of North Rhine-Westphalia, Saarland, Baden-Württemberg, and Hesse. It also borders three foreign countries: France, Luxembourg, and Belgium.
Rhineland-Palatinate was established in 1946 after World War II from territory of the historically separate regions of the Free State of Prussia, People's State of Hesse, and Bavaria, by the French military administration in Allied-occupied Germany. Rhineland-Palatinate became part of the Federal Republic of Germany in 1949, and shared the country's only border with the Saar Protectorate until it was returned to German control in 1957. Rhineland-Palatinate has since developed its own identity built on its natural and cultural heritage, including the extensive Palatinate winegrowing region, its picturesque landscapes, and many castles and palaces.
History
The state of Rhineland-Palatinate was founded shortly after the Second World War on 30 August 1946. It was formed mainly from the southern part of the Prussian Rhine Province (the Regierungsbezirke of Koblenz and Trier), from Rhenish Hesse, from the western part of Nassau and the Bavarian Rhenish Palatinate minus the county of Saarpfalz. The Joint German-Luxembourg Sovereign Region (Gemeinschaftliches deutsch-luxemburgisches Hoheitsgebiet) is the only unincorporated area of the state of Rhineland-Palatinate.
Other: Germany, Bavaria, Schleswig-Holstein, Saarland, Mecklenburg-Western Pomerania, Hesse, Hamburg, North Rhine-Westphalia, Brandenburg, Baden-Württemberg, Bremen, Thuringia, Berlin, Lower Saxony, Rhineland-Palatinate, Saxony-Anhalt, Saxony
Neighbours: Saarland, Grand Est, Baden-Württemberg, North Rhine-Westphalia, Luxembourg, Hesse, Wallonia
Subregions: Koblenz Government Region, Trier Government Region, Rheinhessen-Pfalz
Suggested citation: Michal Páleník: EU regions - Rhineland-Palatinate – DEB, IZ Bratislava, retrieved from: https://www.iz.sk/​en/projects/eu-regions/DEB
---
https://www.iz.sk/en/projects/eu-regions/DEB