Saxony – DED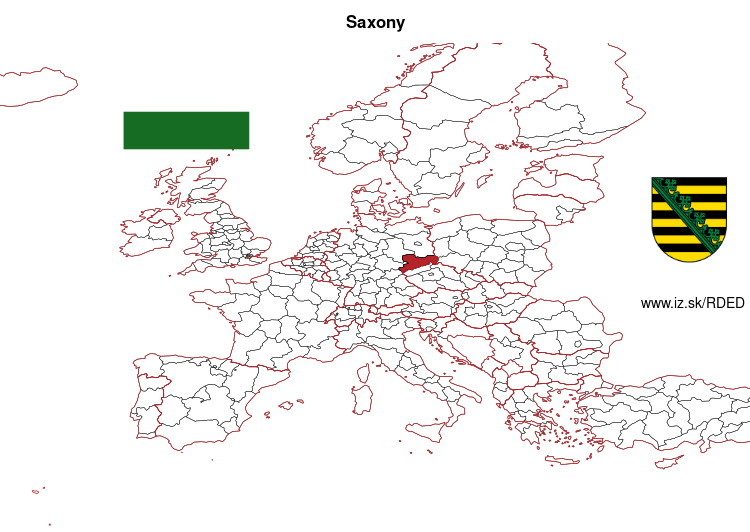 More on wikipedia wikidata Q1202 on OpenStreetMap Saxony slovensky: DED
Subregions: Dresden Directorate District, Chemnitz Government Region, Leipzig Government Region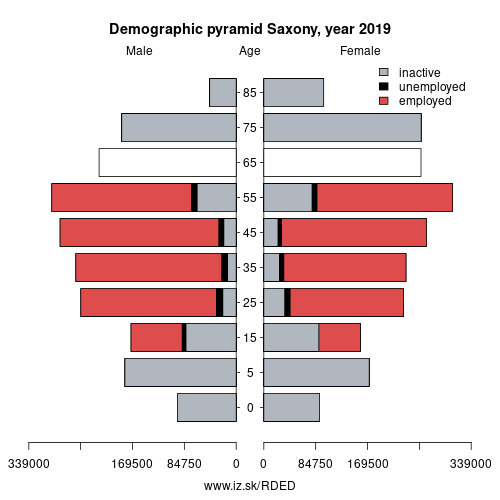 Unemployment
Demographics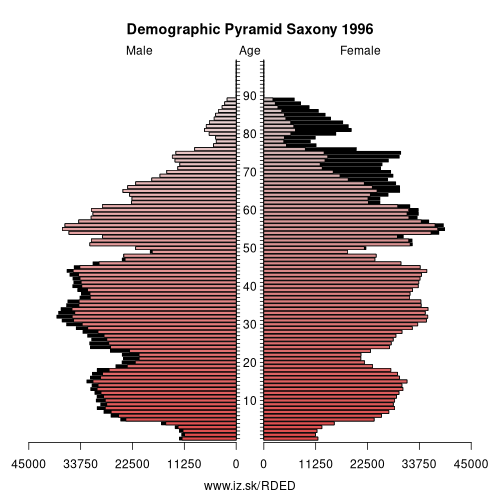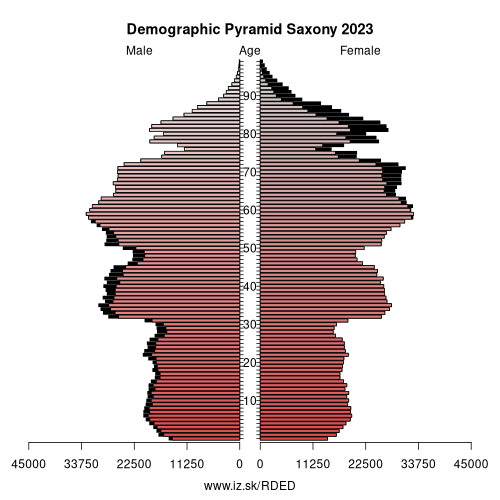 Employment by sectors, Saxony
NACE r2
%
NACE r2
%
A
26.1
1 %
B-E
416.4
21 %
F
157.9
8 %
G-I
391.5
20 %
J
74
4 %
K
34.5
2 %
L
23.4
1 %
M_N
184.7
9 %
O-Q
561.7
29 %
R-U
89.8
5 %
TOTAL
1960.2
100 %
Data for the period year 2022. Source of the data is Eurostat, table [lfst_r_lfe2en2].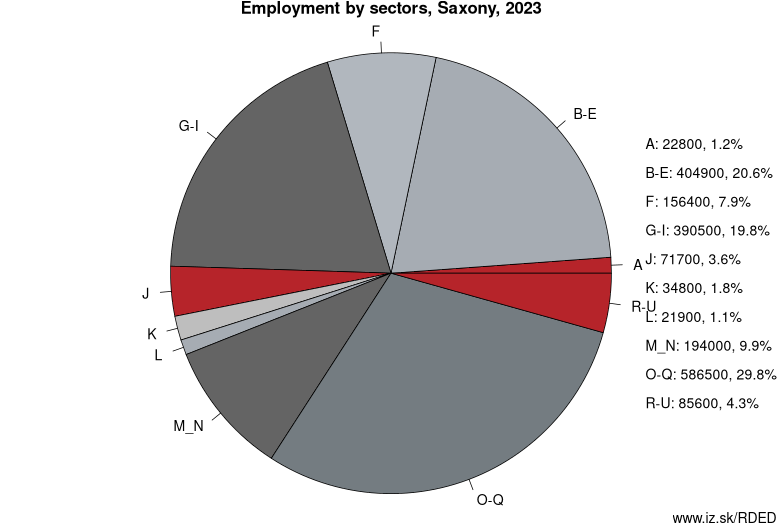 Saxony
(German:
Sachsen
, Upper Sorbian:
Sakska
) is a landlocked federal state of Germany, bordering the federal states of Brandenburg, Saxony Anhalt, Thuringia, and Bavaria, as well as the countries of Poland (Lower Silesian and Lubusz Voivodeships) and the Czech Republic (Karlovy Vary, Liberec, and Ústí nad Labem Regions). Its capital is Dresden, and its largest city is Leipzig.
Saxony is the tenth largest of Germany's sixteen states, with an area of 18,413 square kilometres (7,109 sq mi), and the sixth most populous, with 4 million people.
The history of the state of Saxony spans more than a millennium. It has been a medieval duchy, an electorate of the Holy Roman Empire, a kingdom, and twice a republic.
The area of the modern state of Saxony should not be confused with Old Saxony, the area inhabited by Saxons. Old Saxony corresponds roughly to the modern German states of Lower Saxony, Saxony-Anhalt, and the Westphalian part of North Rhine-Westphalia.
Geography
Administration
Saxony is divided into 10 districts:
  1. Bautzen (BZ)

  2. Erzgebirgskreis (ERZ)
  3.
Other: Germany, Bavaria, Schleswig-Holstein, Saarland, Mecklenburg-Western Pomerania, Hesse, Hamburg, North Rhine-Westphalia, Brandenburg, Baden-Württemberg, Bremen, Thuringia, Berlin, Lower Saxony, Rhineland-Palatinate, Saxony-Anhalt, Saxony
Neighbours: MAKROREGION POŁUDNIOWO-ZACHODNI, Brandenburg, Saxony-Anhalt, Thuringia, Bavaria, Czech Republic, MAKROREGION PÓŁNOCNO-ZACHODNI
Subregions: Dresden Directorate District, Chemnitz Government Region, Leipzig Government Region
Suggested citation: Michal Páleník: EU regions - Saxony – DED, IZ Bratislava, retrieved from: https://www.iz.sk/​en/projects/eu-regions/DED
---
https://www.iz.sk/en/projects/eu-regions/DED