Baden-Württemberg – DE1
EU regions: Germany > Baden-Württemberg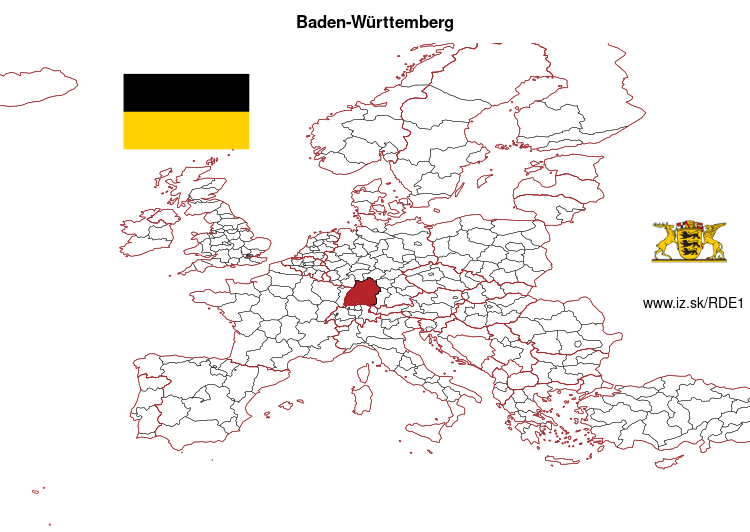 More on wikipedia wikidata Q985 on OpenStreetMap Baden-Württemberg slovensky: DE1
Subregions: Stuttgart Government Region, Karlsruhe Government Region, Freiburg Government Region, Tübingen Government Region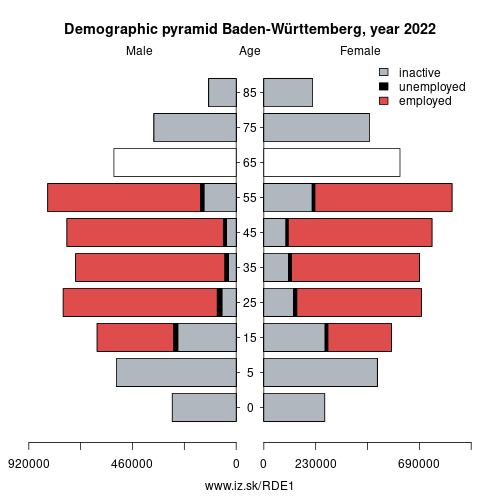 Unemployment
Demographics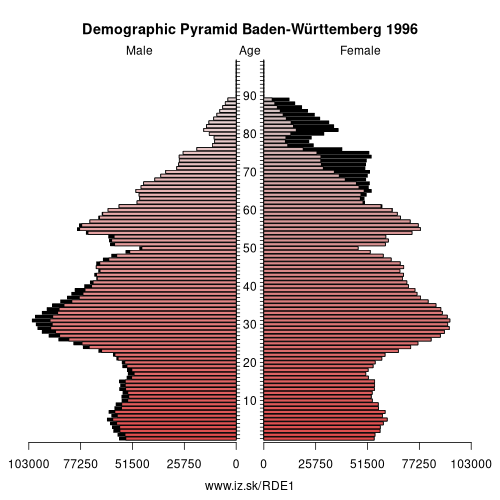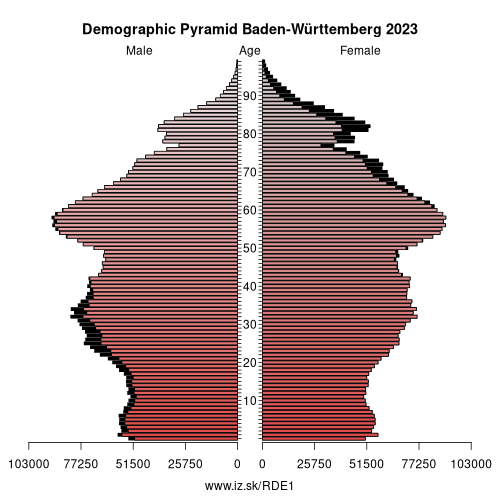 Employment by sectors, Baden-Württemberg
NACE r2
%
NACE r2
%
A
49.3
1 %
B-E
1745.7
29 %
F
344.8
6 %
G-I
1122.9
19 %
J
245.3
4 %
K
173
3 %
L
42.1
1 %
M_N
508.5
8 %
O-Q
1493.4
25 %
R-U
261.3
4 %
TOTAL
5986.8
100 %
Data for the period year 2022. Source of the data is Eurostat, table [lfst_r_lfe2en2].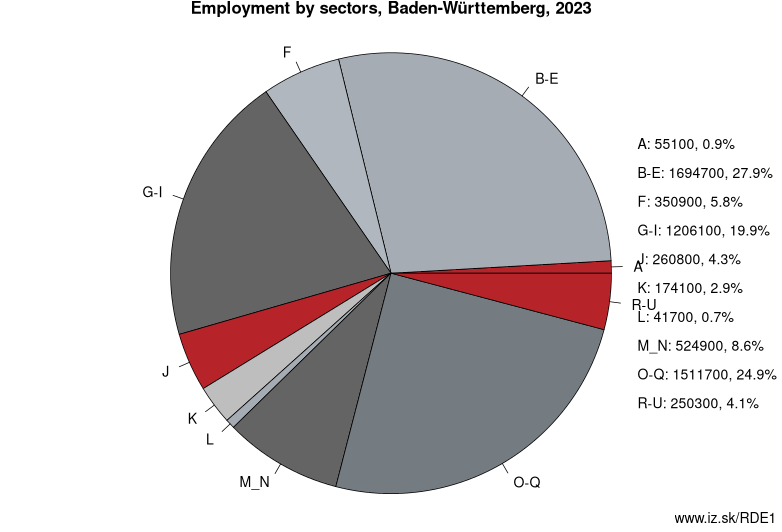 From Wikipedia: Baden-Württemberg (, German: [ˌbaːdn̩ ˈvʏʁtəmbɛʁk] (listen)) is a state in southwest Germany, east of the Rhine, which forms the border with France. It is Germany's third-largest state, with an area of 35,751 km2 (13,804 sq mi) and 11 million inhabitants. Baden-Württemberg is a parliamentary republic and partly sovereign, federated state which was formed in 1952 by a merger of the states of Württemberg-Baden, Baden and Württemberg-Hohenzollern. The largest city in Baden-Württemberg is the state capital of Stuttgart, followed by Karlsruhe and Mannheim. Other cities are Freiburg im Breisgau, Heidelberg, Heilbronn, Pforzheim, Reutlingen and Ulm.
The sobriquet Ländle ("little province" in the local Swabian and Alemannic German dialects) is sometimes used as a synonym for Baden-Württemberg.
History
Baden-Württemberg is formed from the historical territories of Baden, Prussian Hohenzollern, and Württemberg, and also parts of Swabia.
In 100 AD, the Roman Empire invaded and occupied Württemberg, constructing a limes (fortified boundary zone) along its northern borders. Over the course of the third century AD, the Alemanni forced the Romans to retreat west beyond the Rhine and Danube rivers. In 496 AD the Alemanni were defeated by a Frankish invasion led by Clovis I.
The Holy Roman Empire was later established. The majority of people in this region continued to be Roman Catholics, even after the Protestant Reformation influenced populations in northern Germany. In the late-nineteenth and early-twentieth centuries, numerous people emigrated from this mostly rural area to the United States for economic reasons.
Other: Germany, Saxony-Anhalt, Bavaria, Schleswig-Holstein, Hesse, Brandenburg, Thuringia, Berlin, Baden-Württemberg, North Rhine-Westphalia, Lower Saxony, Hamburg, Mecklenburg-Western Pomerania, Free Hanseatic City of Bremen, Rhineland-Palatinate, Saarland, Saxony
Neighbours: Grand Est, Westösterreich, Hesse, Bavaria, SCHWEIZ/SUISSE/SVIZZERA, Rhineland-Palatinate
Subregions: Stuttgart Government Region, Karlsruhe Government Region, Freiburg Government Region, Tübingen Government Region
Suggested citation: Michal Páleník: EU regions - Baden-Württemberg – DE1, IZ Bratislava, retrieved from: https://www.iz.sk/​en/projects/eu-regions/DE1
---
https://www.iz.sk/en/projects/eu-regions/DE1