Algarve – PT150
EU regions: Portugal > Continental Portugal > Algarve (NUTS 2) > Algarve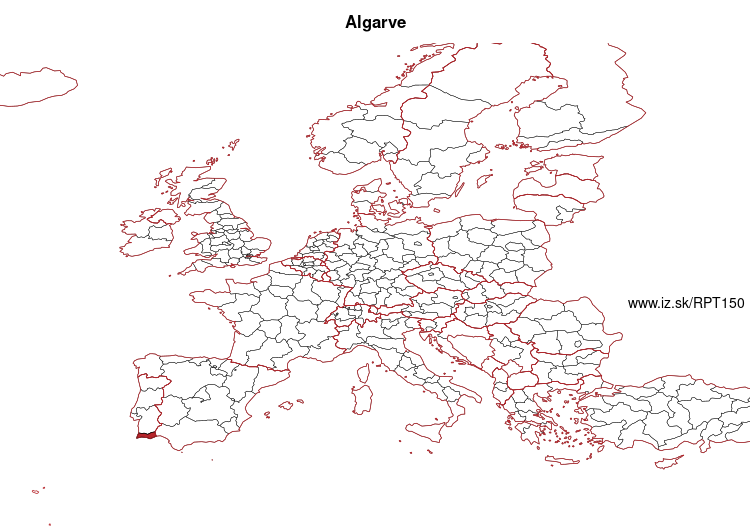 More on wikipedia wikidata Q26831 on OpenStreetMap Algarve slovensky: PT150
Demographics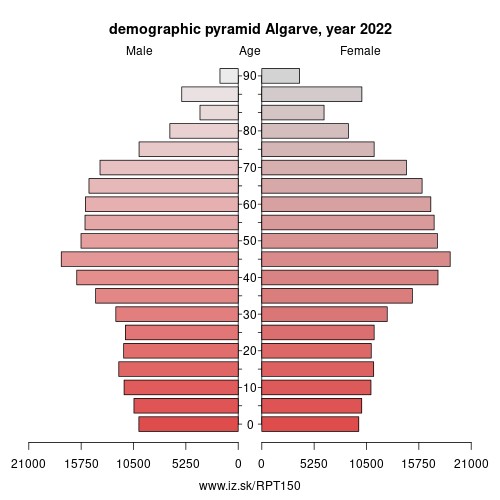 The Algarve (UK: , US: , Portuguese: [alˈɡaɾvɨ] (listen)) is the southernmost region of continental Portugal. It has an area of 4,997 km2 (1,929 sq mi) with 451,006 permanent inhabitants, and incorporates 16 municipalities. The region has its administrative centre in the city of Faro, where both the region's international airport (IATA: FAO) and public university, the University of Algarve, are located. Tourism and related activities are extensive and make up the bulk of the Algarve's summer economy. Production of food, which includes fish and other seafood, different types of fruit such as oranges, figs, plums, carob beans, and almonds, are also economically important in the region. Although Lisbon surpasses the Algarve in terms of tourism revenue, the Algarve is still, overall, considered to be the biggest and most important Portuguese tourist region, having received an estimated total of 7.1 million tourists in 2017. Its population triples in the peak holiday season due to seasonal residents. The Algarve is also increasingly sought after, mostly by central and northern Europeans, as a permanent place to settle. A 2016 American-based study concluded that the Algarve was the world's best place to retire.
The Algarve is one of the most developed regions of Portugal and, with a GDP per capita at 86 % of the European Union average, the third-richest (behind Lisbon and Madeira).
History
Human presence in southern Portugal dates back to the Paleolithic and Neolithic periods. The presence of megalithic stones in the area of Vila do Bispo attests to this presence.
Other: Algarve (NUTS 2), Algarve
Neighbours: Baixo Alentejo Subregion, Alentejo Litoral Subregion, Province of Huelva
Suggested citation: Michal Páleník: EU regions - Algarve – PT150, IZ Bratislava, retrieved from: https://www.iz.sk/​en/projects/eu-regions/PT150
---
https://www.iz.sk/en/projects/eu-regions/PT150