Valais – CH012
EU regions: Switzerland > SCHWEIZ/SUISSE/SVIZZERA > Lake Geneva region > Valais
More on wikipedia wikidata Q834 on OpenStreetMap Valais slovensky: CH012
Demographics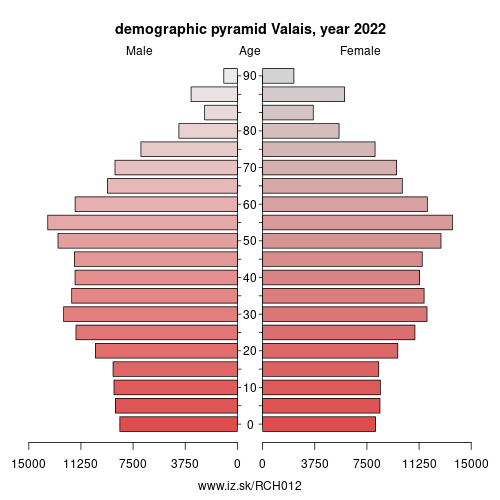 From Wikipedia: Valais (UK: VAL-ay, US: val-AY, French: (Canton du) Valais, French: [valɛ] (listen)), sometimes Wallis (German: (Kanton) Wallis [ˈvalɪs] (listen)), more formally the Canton of Valais, is one of the 26 cantons forming the Swiss Confederation. It is composed of thirteen districts and its capital and largest city is Sion. The flag of the canton is made of thirteen stars representing the districts, on a white-red background.
Valais is situated in the southwestern part of the country. It borders the cantons of Vaud and Bern to the north, the cantons of Uri and Ticino to the east, as well as Italy to the south and France to the west. It is one of the three large southern Alpine cantons, along with Ticino and the Grisons. It is a bilingual canton, French and German being its two official languages. Traditionally, the canton is divided into Lower, Central and Upper Valais, the latter region constituting the German-speaking minority.
Valais essentially coincides with the valley of the Rhône from its headwaters to Lake Geneva, separating the Pennine Alps from the Bernese Alps. A major wine region, the canton is simultaneously one of the driest regions of Switzerland in its central Rhône valley and among the wettest, having large amounts of snow and rain up on the highest peaks found in Switzerland, such as Monte Rosa and the Finsteraarhorn.
Other: Lake Geneva region, Valais, canton Vaud, Canton of Geneva
Neighbours: Province of Verbano-Cusio-Ossola, Uri, Bern, Haute-Savoie, Ticino, canton Vaud, Aosta Valley, Province of Vercelli
Suggested citation: Michal Páleník: EU regions - Valais – CH012, IZ Bratislava, retrieved from: https://www.iz.sk/​en/projects/eu-regions/CH012
---
https://www.iz.sk/en/projects/eu-regions/CH012