Bornholm – DK014
EU regions: Denmark > Denmark > Capital Region of Denmark > Bornholm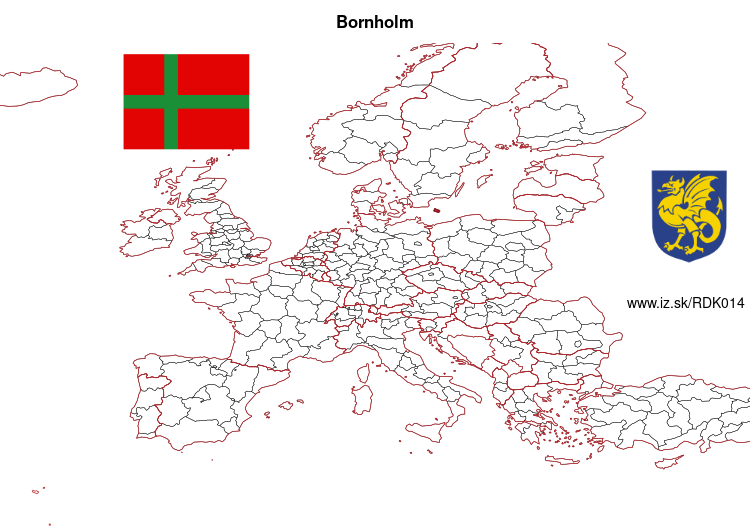 More on wikipedia wikidata Q769680 Bornholm slovensky: DK014
Demographics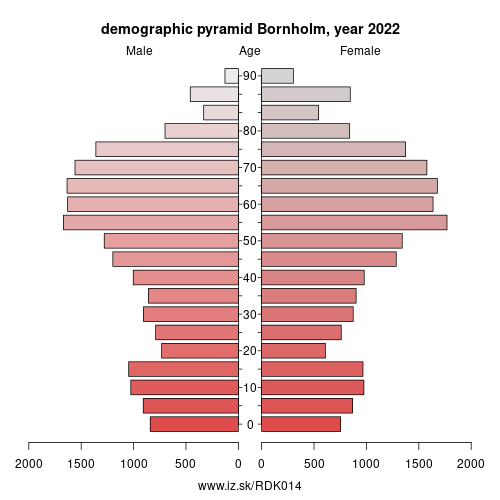 Bornholm
(Danish: 
[pɒːnˈhɒlˀm]
; Old Norse:
Burgundaholmr
) is a Danish island in the Baltic Sea, to the east of the rest of Denmark, south of Sweden, northeast of Germany and north of the westernmost part of Poland. Occupying an area of 588.36 square kilometres (227.17 sq mi), the island had a total population on 1 January 2019 of 39,572.
Among Bornholm's chief industrial activities are dairy farming and arts and crafts industries such as glass production and pottery using locally worked clay. Tourism is also important during the summer months. The island is home to an especially large number of Denmark's round churches.
The island is known as solskinsøen (Sunshine Island) because of its weather and klippeøen (Rock Island) because of its geology, which consists of granite, except along the southern coast. The heat from the summer is stored in the rock formations and the weather is quite warm until October. As a result of the climate, a local variety of the common fig, known as Bornholm's Diamond, can grow locally on the island. The island's topography consists of dramatic rock formations in the north (unlike the rest of Denmark, which is mostly gentle rolling hills) sloping down towards pine and deciduous forests (greatly affected by storms in the 1950s), farmland in the middle and sandy beaches in the south.
Strategically located in the Baltic Sea, Bornholm has been fought over for centuries. Usually it had been ruled by Denmark, but also by Sweden and Lübeck, Germany.
Other: Capital Region of Denmark, North Zealand, Byen København, Københavns omegn, Bornholm
Suggested citation: Michal Páleník: EU regions - Bornholm – DK014, IZ Bratislava, retrieved from: https://www.iz.sk/​en/projects/eu-regions/DK014
---
https://www.iz.sk/en/projects/eu-regions/DK014