Menorca – ES533
EU regions: Spain > Este > Balearic Islands > Menorca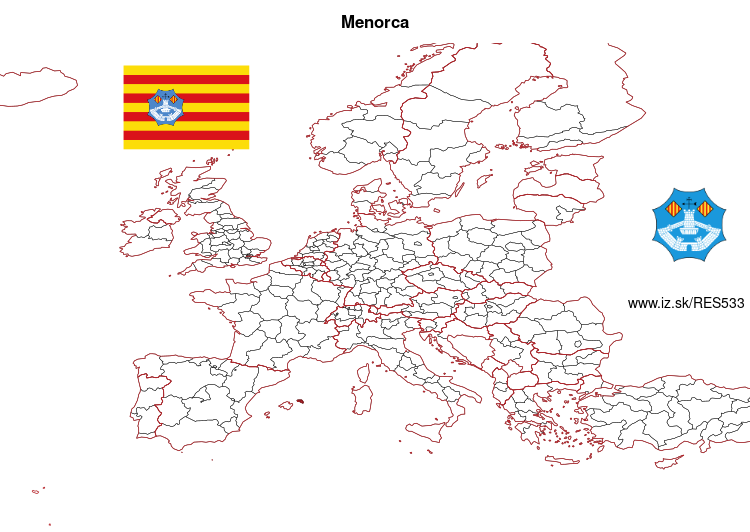 More on wikipedia wikidata Q52636 on OpenStreetMap Menorca slovensky: ES533
Demographics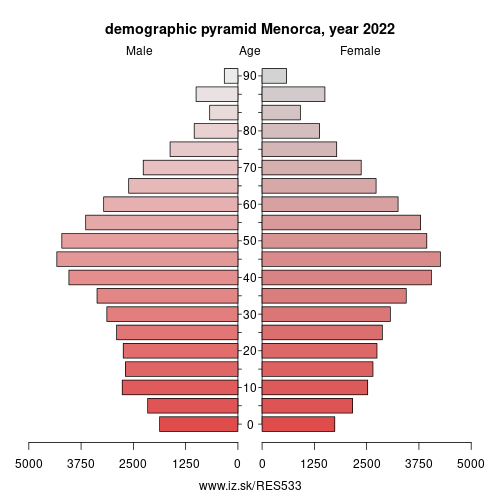 From Wikipedia: Menorca (Catalan: [məˈnɔɾkə], Spanish: [meˈnoɾka]) or Minorca (English: min-OR-kə; from Latin: Insula Minor, lit. 'smaller island', later Minorica) is one of the Balearic Islands located in the Mediterranean Sea belonging to Spain. Its name derives from its size, contrasting it with nearby Majorca.
Menorca has a population of approximately 91,170 (at 1 January 2017). It is located 39°47' to 40°00'N, 3°52' to 4°24'E. Its highest point, called El Toro or Monte Toro, is 358 metres (1,175 feet) above sea level.
History
The island is known for its collection of megalithic stone monuments: navetes, taules and talaiots, which indicate very early prehistoric human activity. Some of the earliest culture on Menorca was influenced by other Mediterranean cultures, including the Greek Minoans of ancient Crete (see also Gymnesian Islands). For example, the use of inverted plastered timber columns at Knossos is thought to have influenced early peoples of Menorca in imitating this practice.
The end of the Punic wars saw an increase in piracy in the western Mediterranean. The Roman occupation of Hispania had meant a growth of maritime trade between the Iberian and Italian peninsulas. Pirates took advantage of the strategic location of the Balearic Islands to raid Roman commerce, using both Menorca and Majorca as bases. In reaction to this, the Romans invaded Menorca.
Other: Balearic Islands, Mallorca, Eivissa y Formentera, Menorca
Suggested citation: Michal Páleník: EU regions - Menorca – ES533, IZ Bratislava, retrieved from: https://www.iz.sk/​en/projects/eu-regions/ES533
---
https://www.iz.sk/en/projects/eu-regions/ES533