Orne – FRD13
EU regions: France > Normandy > Lower Normandy > Orne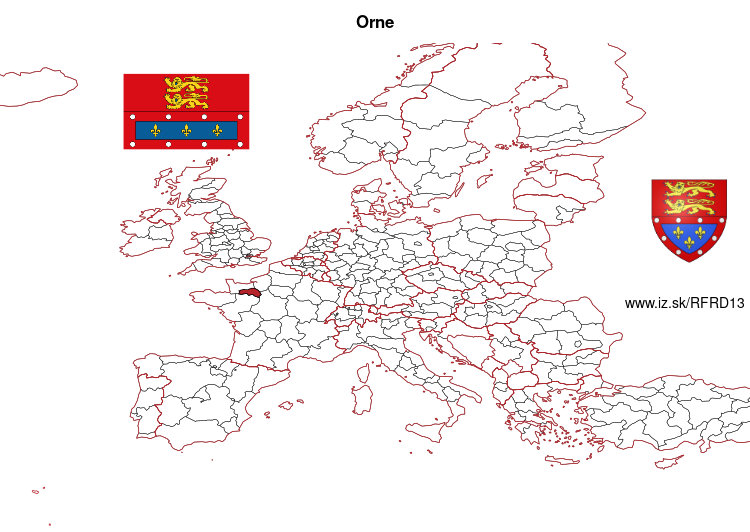 More on wikipedia wikidata Q12679 on OpenStreetMap Orne slovensky: FRD13
Demographics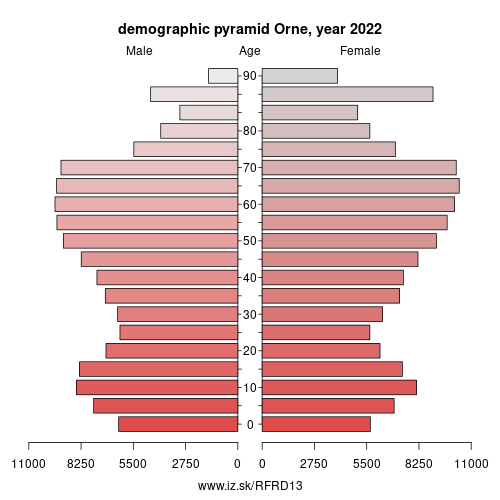 From Wikipedia: Orne (French pronunciation: [ɔʁn] (listen)) is a department in the northwest of France, named after the River Orne.
History
Orne is one of the original 83 departments created during the French Revolution, on 4 March 1790. It was created from parts of the former provinces of Normandy and Perche. It is the birthplace of Charlotte Corday, Girondist and the assassin of Jean-Paul Marat.
Geography
Orne is in the region of Normandy neighbouring Eure, Eure-et-Loir, Sarthe, Manche, Mayenne, and Calvados. It is the only department of Normandy to be landlocked.
Economy
The largest town by a considerable margin is the prefecture, Alençon, which is an administrative and commercial centre for what is still an overwhelmingly rural department. There are no large industrial centres, as agriculture remains the economic focus of Orne.
Demographics
The inhabitants of the department are called Ornais.
The recorded population level peaked at 443,688 in 1836.
Other: Lower Normandy, Calvados, Manche, Orne
Neighbours: Calvados, Manche, Eure-et-Loir, Sarthe, Mayenne, Eure
Suggested citation: Michal Páleník: EU regions - Orne – FRD13, IZ Bratislava, retrieved from: https://www.iz.sk/​en/projects/eu-regions/FRD13
---
https://www.iz.sk/en/projects/eu-regions/FRD13