Blackpool – UKD42
EU regions: United Kingdom > North West England > Lancashire > Blackpool
More on wikipedia wikidata Q20989106 on OpenStreetMap Blackpool slovensky: UKD42
Demographics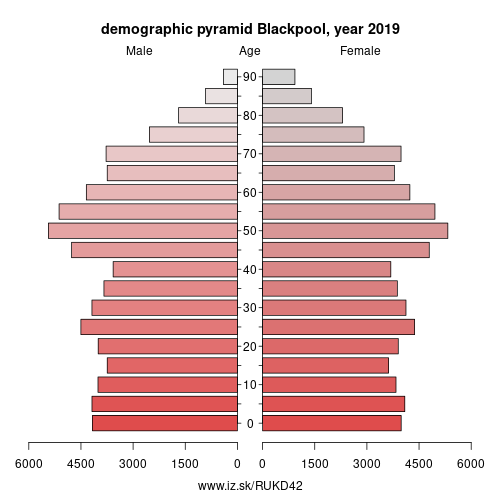 Blackpool
(

listen

)
is a town and seaside resort on the Lancashire coast in North West England. The town is on the Irish Sea, between the Ribble and Wyre estuaries, 15 miles (24 km) northwest of Preston, 27 miles (43 km) north of Liverpool, 28 miles (45 km) northwest of Bolton and 40 miles (64 km) northwest of Manchester. It had an estimated population of 139,720 at the 2011 Census, making it the most populous town in Lancashire.
Throughout the Medieval and Early Modern period, Blackpool was a coastal hamlet in Lancashire's Hundred of Amounderness, and remained such until the mid-18th century when it became fashionable in England to travel to the coast in the summer to improve well-being. In 1781, visitors attracted to Blackpool's 7-mile (11 km) sandy beach were able to use a new private road, built by Thomas Clifton and Sir Henry Hoghton. Stagecoaches began running to Blackpool from Manchester in the same year, and from Halifax in 1782. In the early 19th century, Henry Banks and his son-in-law John Cocker erected new buildings in Blackpool such that its population grew from less than 500 in 1801 to over 2,500 in 1851. St John's Church in Blackpool was consecrated in 1821.
Blackpool rose to prominence as a major centre of tourism in England when a railway was built in the 1840s connecting it to the industrialised regions of Northern England. The railway made it much easier and cheaper for visitors to reach Blackpool, triggering an influx of settlers, such that in 1876 Blackpool was incorporated as a borough, governed by its own town council and aldermen. In 1881, Blackpool was a booming resort with a population of 14,000 and a promenade complete with piers, fortune-tellers, public houses, trams, donkey rides, fish-and-chip shops and theatres.
Other: Lancashire, East Lancashire, Chorley and West Lancashire, Mid Lancashire, Blackpool, Blackburn with Darwen, Lancaster and Wyre
Neighbours: Mid Lancashire, Lancaster and Wyre
Suggested citation: Michal Páleník: EU regions - Blackpool – UKD42, IZ Bratislava, retrieved from: https://www.iz.sk/​en/projects/eu-regions/UKD42
---
https://www.iz.sk/en/projects/eu-regions/UKD42