Lancashire - UKD4
EU regions: United Kingdom > North West England > Lancashire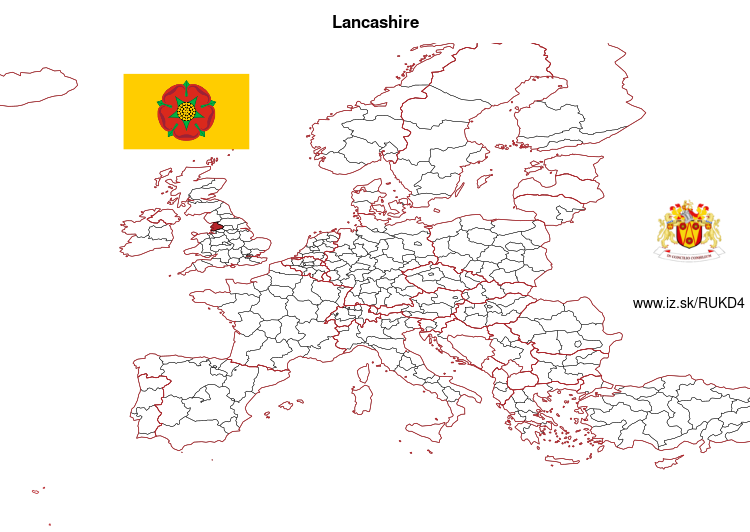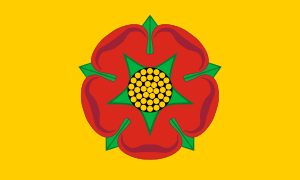 more on wikipedia * more on wikidata Q23077 * Lancashire slovensky: UKD4
Composition of population according to age group, education and economic activity, Lancashire
| age group | low education | middle education | high education |
| --- | --- | --- | --- |
note: in thousands, according to labour force sample survey. P – total population, E – employed, U – unemployed, I – number of ecnomically inactive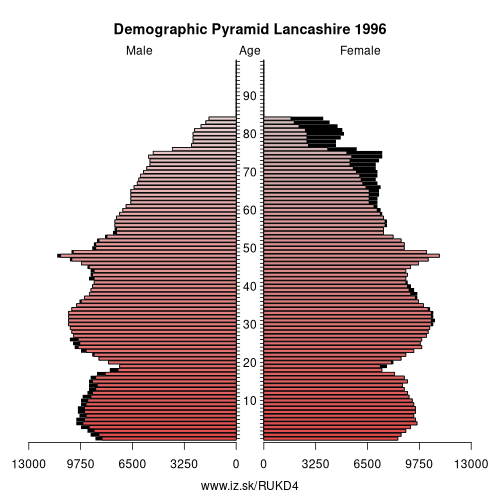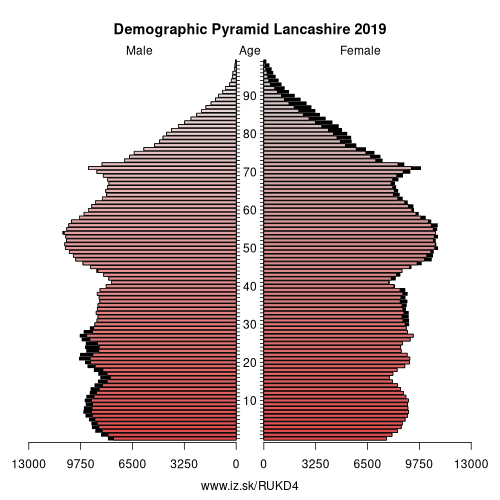 Employment by sectors, Lancashire
| nace_r2 | | % |
| --- | --- | --- |
| A | 6.2 | 1 % |
| B-E | 100.3 | 14 % |
| F | 39.1 | 6 % |
| G-I | 176.8 | 25 % |
| J | 18.6 | 3 % |
| K | 15.9 | 2 % |
| L | 11 | 2 % |
| M_N | 73.4 | 10 % |
| O-Q | 217.9 | 31 % |
| R-U | 41 | 6 % |
| TOTAL | 701.9 | 100 % |
za 2019, tabulka='lfst_r_lfe2en2' and tags->'age'='Y_GE15' and tags->'sex'='T'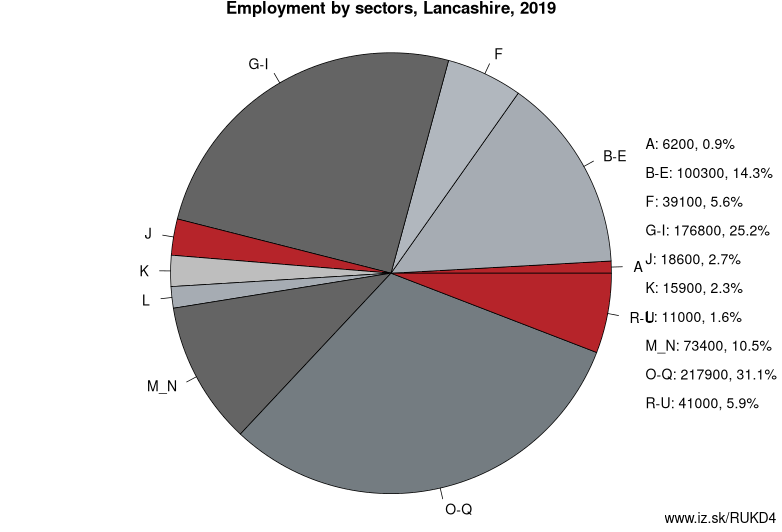 From
wikipedia
:
Lancashire ( LANG-kə-shər, -⁠sheer; abbreviated Lancs.) is a ceremonial county in North West England. The administrative centre is Preston. The county has a population of 1,449,300 and an area of 1,189 square miles (3,080 km2). People from Lancashire are known as Lancastrians.
The history of Lancashire begins with its founding in the 12th century. In the Domesday Book of 1086, some of its lands were treated as part of Yorkshire. The land that lay between the Ribble and Mersey, Inter Ripam et Mersam, was included in the returns for Cheshire. When its boundaries were established, it bordered Cumberland, Westmorland, Yorkshire, and Cheshire.
Lancashire emerged as a major commercial and industrial region during the Industrial Revolution. Liverpool and Manchester grew into its largest cities, with economies built around the docks and the cotton mills respectively.
other: North West England, Cheshire, Merseyside, Cumbria, Greater Manchester, Lancashire
neighbours: Cumbria, West Yorkshire, Greater Manchester, Merseyside, North Yorkshire
subregions: Blackburn with Darwen, Blackpool, Lancaster and Wyre, Mid Lancashire, East Lancashire, Chorley and West Lancashire
Suggested citation: Michal Páleník: EU regions - Lancashire - UKD4, IZ Bratislava, retrieved from: https://www.iz.sk/en/projects/eu-regions/UKD4
---
https://www.iz.sk/en/projects/eu-regions/UKD4