Luton – UKH21
EU regions: United Kingdom > East of England > Bedfordshire and Hertfordshire > Luton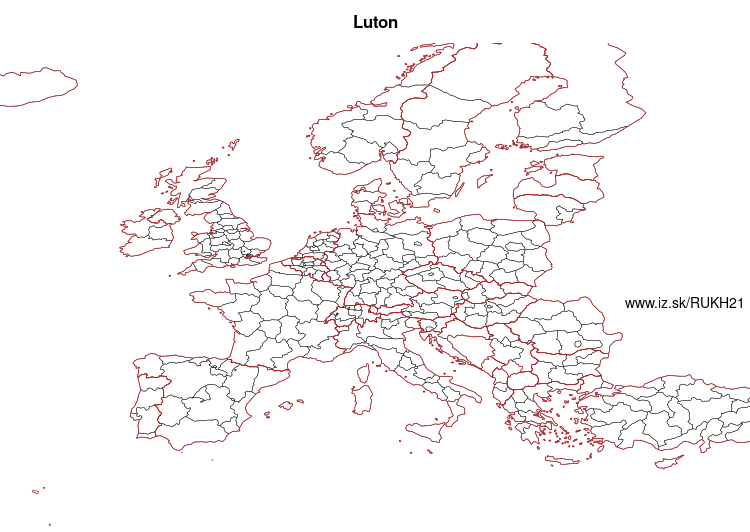 More on wikipedia wikidata Q203889 Luton slovensky: UKH21
Demographics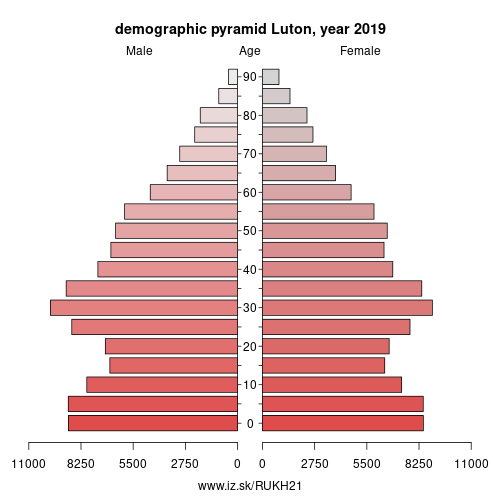 Luton
(
(

listen

)
) is a large town, borough and unitary authority area of Bedfordshire, situated in the south east of England, but in the East of England region for administrative purposes. It has a population of 214,109 (mid-2018 est.) and is one of the most populous towns without city status in the United Kingdom. The town is situated on the River Lea, about 30 miles (50 km) northwest of London. The town's foundation dates to the sixth century as a Saxon outpost on the River Lea, from which Luton derives its name. Luton is recorded in the Domesday Book as
Loitone
and
Lintone
and one of the largest churches in Bedfordshire, St Mary's Church, was built in the 12th century. There are local museums which explore Luton's history in Wardown Park and Stockwood Park.
Luton was for many years famous for hatmaking, and also had a large Vauxhall Motors factory. Car production at the plant began in 1905 and continued until the plant's closure in 2002. Production of commercial vehicles continues, and the head office of Vauxhall Motors is still in the town. London Luton Airport opened in 1938, and is now one of Britain's major airports, with three railway stations also in the town. The University of Bedfordshire was created from a merger with the University of Luton, and two of its campuses are in Luton.
Luton Town Football Club, nicknamed "the Hatters" due to the town's connection to hatmaking, has had several spells in the top flight of the English league as well as a Football League Cup triumph in 1988.
Other: Bedfordshire and Hertfordshire, Hertfordshire, Bedford, Luton, Central Bedfordshire
Neighbours: Hertfordshire, Central Bedfordshire
Suggested citation: Michal Páleník: EU regions - Luton – UKH21, IZ Bratislava, retrieved from: https://www.iz.sk/​en/projects/eu-regions/UKH21
---
https://www.iz.sk/en/projects/eu-regions/UKH21