Southampton – UKJ32
EU regions: United Kingdom > South East England > Hampshire and Isle of Wight > Southampton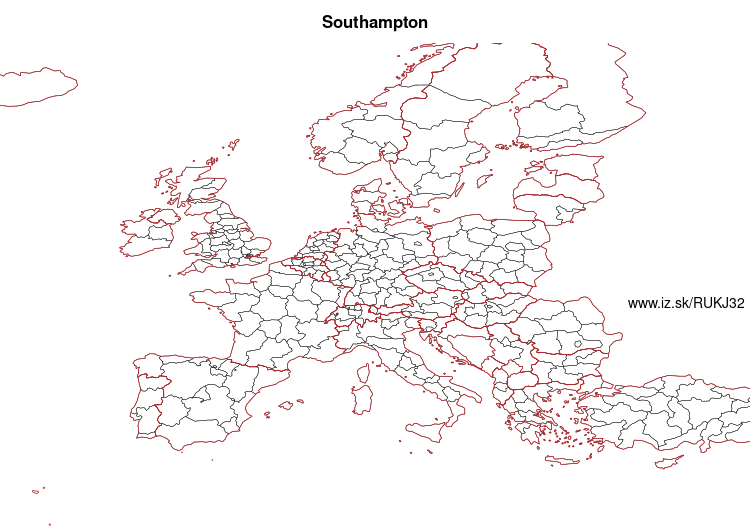 More on wikipedia wikidata Q79848 on OpenStreetMap Southampton slovensky: UKJ32
Demographics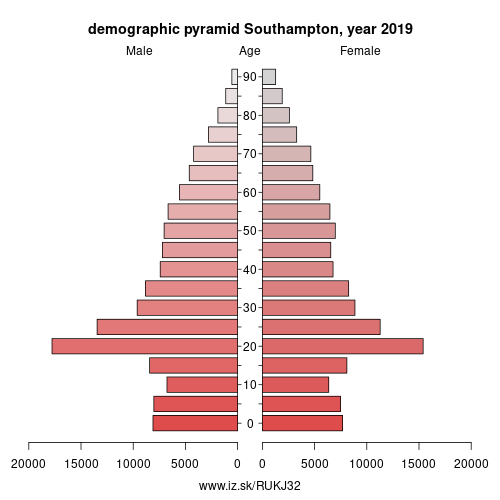 Southampton
(
(

listen

)
) is a city in Hampshire, England, and the largest in South East England, 70 miles (110 km) south-west of London and 15 miles (24 km) north-west of Portsmouth. A major port, and close to the New Forest, it lies at the northernmost point of Southampton Water, at the confluence of the River Test and Itchen, with the River Hamble joining to the south. The unitary authority had a population of 253,651 at the 2011 census. A resident of Southampton is called a Sotonian.
Significant employers in the city include Southampton City Council, the University of Southampton, Solent University, Southampton Airport, Ordnance Survey, BBC South, the NHS, Associated British Ports (ABP) and Carnival UK. Southampton is noted for its association with the RMS Titanic, the Spitfire, as one of the departure points for D-Day, and more recently as the home port of some of the largest cruise ships in the world. Southampton also has a large shopping centre and retail park, Westquay.
History
Early Southampton
Archaeological finds suggest that the area has been inhabited since the stone age. Following the Roman invasion of Britain in AD 43 and the conquering of the local Britons in AD 70 the fortress settlement of Clausentum was established. It was an important trading port and defensive outpost of Winchester, at the site of modern Bitterne Manor. Clausentum was defended by a wall and two ditches and is thought to have contained a bath house. Clausentum was not abandoned until around 410.
The Anglo-Saxons formed a new, larger, settlement across the Itchen centred on what is now the St Mary's area of the city.
Other: Hampshire and Isle of Wight, South Hampshire, North Hampshire, Isle of Wight, Portsmouth, Southampton, Central Hampshire
Neighbours: Central Hampshire, South Hampshire
Suggested citation: Michal Páleník: EU regions - Southampton – UKJ32, IZ Bratislava, retrieved from: https://www.iz.sk/​en/projects/eu-regions/UKJ32
---
https://www.iz.sk/en/projects/eu-regions/UKJ32