Funen – DK031
EU regions: Denmark > Denmark > Southern Denmark > Funen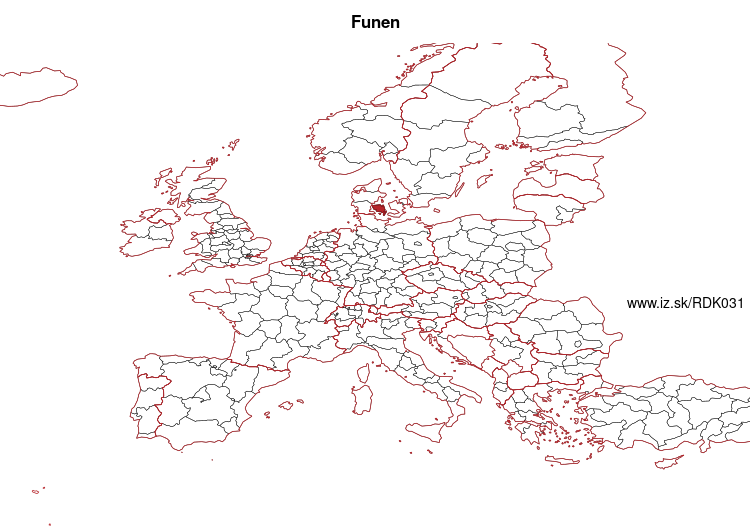 More on wikipedia wikidata Q26503 Funen slovensky: DK031
Demographics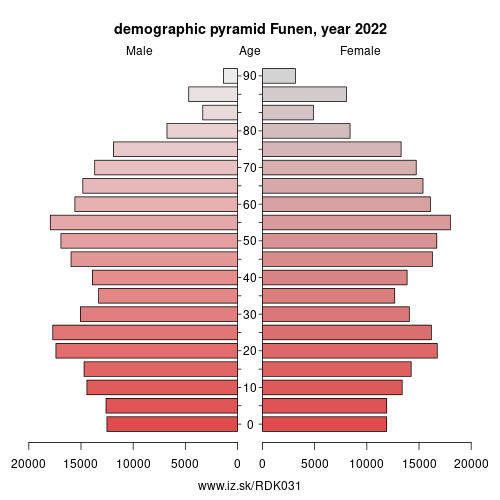 Funen
(Danish:
Fyn
, pronounced 
[ˈfyːˀn]
), with an area of 3,099.7 square kilometres (1,196.8 sq mi), is the third-largest island of Denmark, after Zealand and Vendsyssel-Thy. It is the 165th-largest island in the world. It is located in the central part of the country and has a population of 466,284 (2013). Funen's main city is Odense, which is connected to the sea by a seldom-used canal. The city's shipyard, Odense Steel Shipyard, has been relocated outside Odense proper.
Funen belongs administratively to the Region of Southern Denmark. From 1970 to 2006 the island formed the biggest part of Funen County, which also included the islands of Langeland, Ærø, Tåsinge, and a number of smaller islands.
Funen is linked to Zealand, Denmark's largest island, by the Great Belt Bridge, which carries both trains and cars. The bridge is in reality three bridges; low road and rail bridges connect Funen to the small island of Sprogø in the middle of the Great Belt, and a long road suspension bridge (the second longest in the world at the time of opening) connects Funen the rest of the way to Zealand, paralleled by a rail tunnel.
Two bridges connect Funen to the Danish mainland, Jutland.
Other: Southern Denmark, Funen, Southern Jutland
Suggested citation: Michal Páleník: EU regions - Funen – DK031, IZ Bratislava, retrieved from: https://www.iz.sk/​en/projects/eu-regions/DK031
---
https://www.iz.sk/en/projects/eu-regions/DK031