Melilla – ES640
EU regions: Spain > Sur > Melilla > Melilla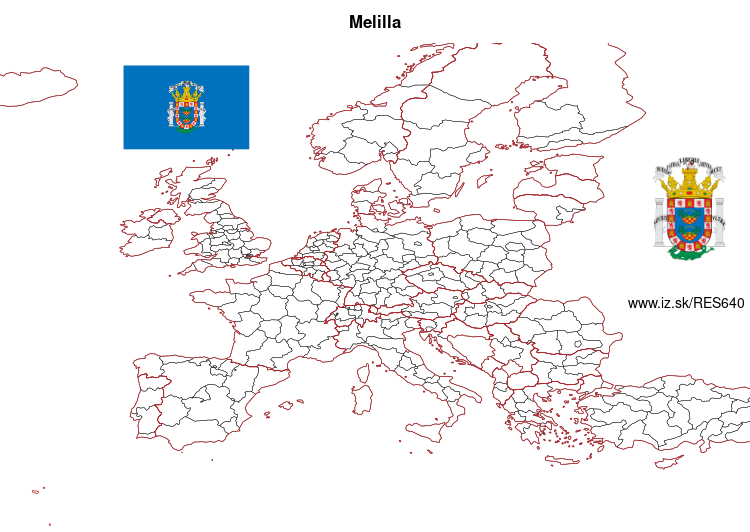 More on wikipedia wikidata Q5831 on OpenStreetMap Melilla slovensky: ES640
Demographics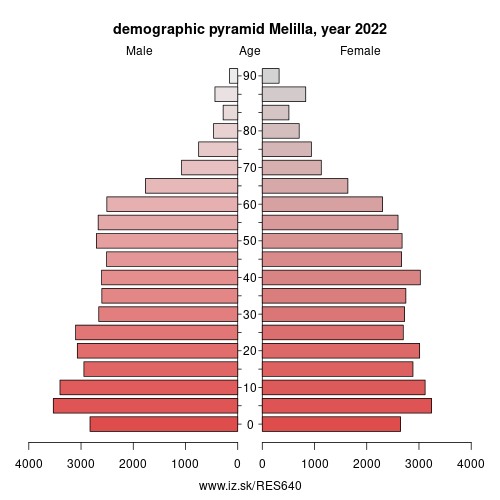 Melilla

(

US:

mə-

LEE

-yə

,

UK:

meh-

, Spanish: 

[meˈliʎa]

; Tarifit:

Mlilt

) is a Spanish autonomous city located on the north coast of Africa, sharing a border with Morocco, with an area of 12.3 km

2

(4.7 sq mi). Melilla is one of two permanently inhabited Spanish cities in mainland Africa, the other being Ceuta. It was part of the Province of Málaga until 14 March 1995, when the city's Statute of Autonomy was passed.

Melilla, like Ceuta, was a free port before Spain joined the European Union. In 2011 it had a population of 78,476, made up of Catholics of Iberian origin (primarily from Andalusia and Catalonia), ethnic Riffian Berbers and a small number of Sephardic Jews and Sindhi Hindus. Spanish and Riffian-Berber are the two most widely spoken languages, with Spanish as the only official language.

Melilla, like Ceuta, is officially claimed by Morocco.
History
The current Berber name of Melilla is Mřič or Mlilt, which means the "white one". Melilla was an ancient Berber village and a Phoenician and later Punic trade establishment under the name of Rusadir (Rusaddir for the Romans and Russadeiron (Ancient Greek: Ῥυσσάδειρον) for the Greeks). Later it became a part of the Roman province of Mauretania Tingitana. Rusaddir is mentioned by Ptolemy (IV, 1) and Pliny (V, 18) who called it "oppidum et portus", also cited by Mela (I, 33) as Rusicada, and by the Itinerarium Antonini.
Suggested citation: Michal Páleník: EU regions - Melilla – ES640, IZ Bratislava, retrieved from: https://www.iz.sk/​en/projects/eu-regions/ES640
---
https://www.iz.sk/en/projects/eu-regions/ES640