Satakunta – FI196
EU regions: Finland > Mainland Finland > Länsi-Suomi > Satakunta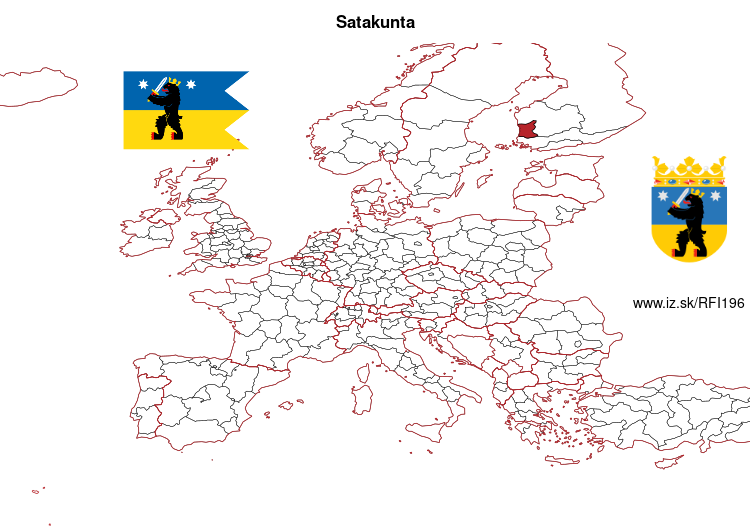 More on wikipedia wikidata Q5709 on OpenStreetMap Satakunta slovensky: FI196
Demographics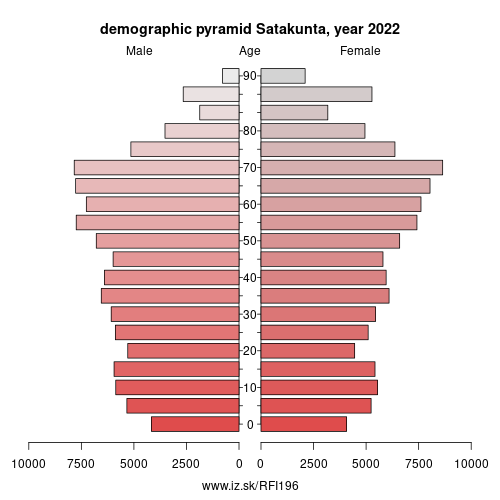 From Wikipedia: Satakunta (Swedish: Satakunta) is a region (maakunta / landskap) of Finland, part of the former Western Finland Province. It borders the regions of Southwest Finland, Pirkanmaa, South Ostrobothnia and Ostrobothnia. The capital city of the region is Pori. The name of the region literally means Hundred. The historical province of the same name was a larger area within Finland, covering modern Satakunta as well as much of Pirkanmaa.
Municipalities
The region of Satakunta is made up of 18 municipalities, of which 6 have city status (marked in bold).
Politics
Results of the 2019 Finnish parliamentary election in Satakunta:
Social Democratic Party 25.2 %
Finns Party 24.1 %
Centre Party 16.7 %
National Coalition Party 14.1 %
Left Alliance 9.9 %
Green League 6.0 %
Christian Democrats 2.7 %
Heraldry
The arms are crowned by a ducal coronet, though in Finnish tradition this resembles a Swedish count's coronet. Blazon: "Per fess Azure and Or, a bear rampant Sable, armed and langued Gules, crowned Or, holding in both paws a sword Argent, sword handle Or; surmounted by two mullets of seven Argent".
History
According to one theory, Satakunta was a political and military entity already in the Late Iron Age of Finland (550 – 1150 AD). During the 13th century, the Swedish rule was consolidated.
Other: Länsi-Suomi, Central Finland, Southern Ostrobothnia, Ostrobothnia, Satakunta, Pirkanmaa
Neighbours: Pirkanmaa, Ostrobothnia, Finland Proper, Southern Ostrobothnia
Suggested citation: Michal Páleník: EU regions - Satakunta – FI196, IZ Bratislava, retrieved from: https://www.iz.sk/​en/projects/eu-regions/FI196
---
https://www.iz.sk/en/projects/eu-regions/FI196