Kymenlaakso – FI1C4
EU regions: Finland > Mainland Finland > Southern Finland > Kymenlaakso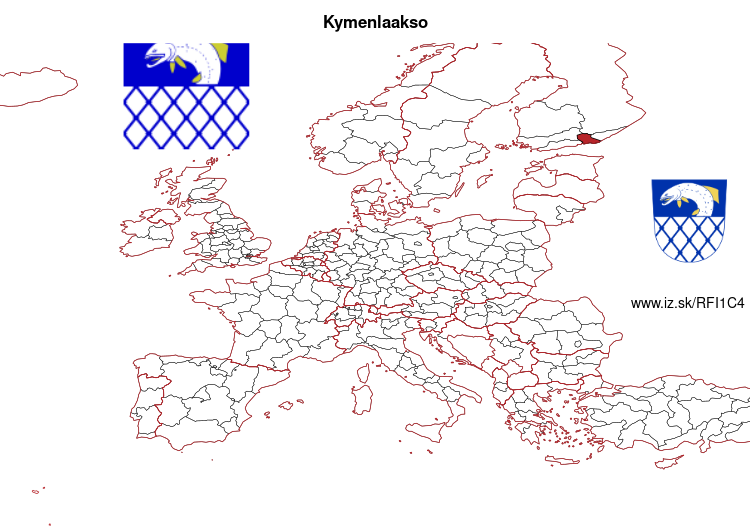 More on wikipedia wikidata Q5698 on OpenStreetMap Kymenlaakso slovensky: FI1C4
Demographics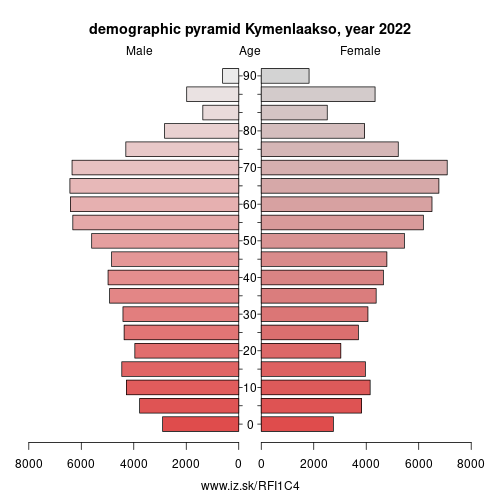 From Wikipedia: Kymenlaakso (literally Kymi Valley) (Swedish: Kymmenedalen) is a region in Finland. It borders the regions of Uusimaa, Päijät-Häme, South Savo and South Karelia and Russia (Leningrad Oblast). Its name means literally The Valley of River Kymijoki. Kymijoki is one of the biggest rivers in Finland with a drainage basin with 11 % of the area of Finland. The city of Kotka with 55,000 inhabitants is located at the delta of River Kymijoki and has the most important import harbour in Finland. Other cities are Kouvola further in the inland which has after a municipal merger 88,000 inhabitants and the old bastion town Hamina.
Kymenlaakso was one of the first industrialized regions of Finland. It became the most important region for paper and pulp industry in Finland. Since the late 1900s many plants have closed, which has caused some deindustrialization, unemployment and population decline in Kymenlaakso, especially in those communes that were built around plants such as Myllykoski in Kouvola.
Historical provinces
For history, geography and culture see: Uusimaa, Karelia and Tavastia
Municipalities
The region of Kymenlaakso is made up of seven municipalities, of which three have city status (marked in bold).
Other: Southern Finland, Tavastia Proper, Päijänne Tavastia, Kymenlaakso, Finland Proper, South Karelia
Neighbours: Päijänne Tavastia, South Karelia, Southern Savonia, Helsinki
Suggested citation: Michal Páleník: EU regions - Kymenlaakso – FI1C4, IZ Bratislava, retrieved from: https://www.iz.sk/​en/projects/eu-regions/FI1C4
---
https://www.iz.sk/en/projects/eu-regions/FI1C4