Lot-et-Garonne – FRI14
EU regions: France > New Aquitaine > Aquitaine > Lot-et-Garonne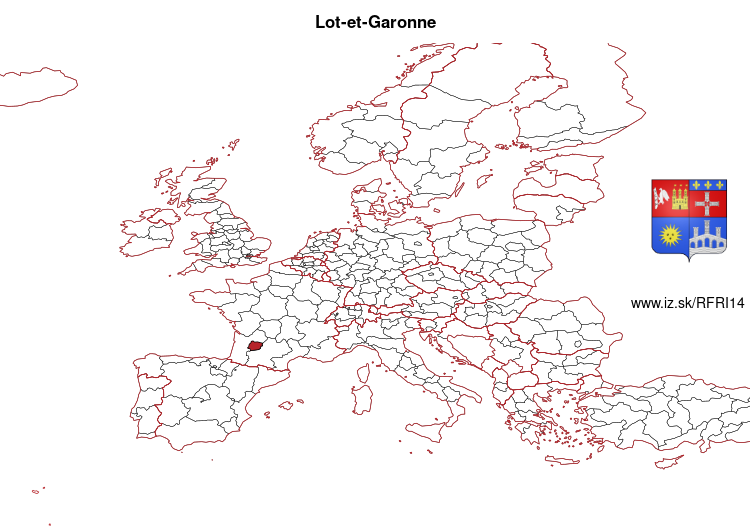 More on wikipedia wikidata Q12578 on OpenStreetMap Lot-et-Garonne slovensky: FRI14
Demographics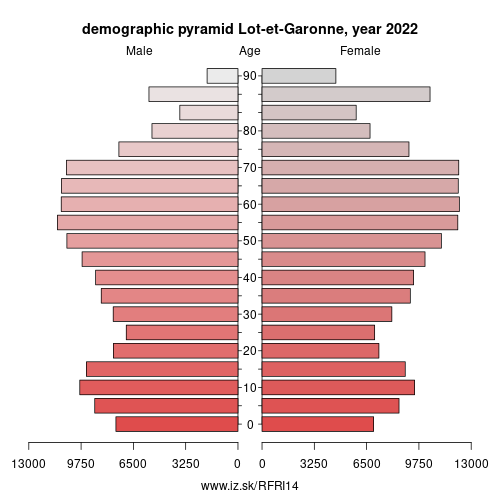 From Wikipedia: Lot-et-Garonne (French: [lɔt‿e ɡaʁɔn], Occitan: Òlt e Garona) is a department in the southwest of France named after the Lot and Garonne rivers.
History
Lot-et-Garonne is one of the original eighty-three departments created on March 4, 1790, as a result of the French Revolution. It was created from part of the province of Guyenne and Gascony; originally the territory of the ancient county of Agenais constituted nearly the whole.
Several of the original southeastern cantons in the arrondissements of Agen and Villeneuve-sur-Lot were separated from it in 1808 to become a part of the newly created department of Tarn-et-Garonne.
Geography
Lot-et-Garonne is part of the current region of Nouvelle-Aquitaine and is surrounded by the departments of Lot, Tarn-et-Garonne, Gers, Landes, Gironde, and Dordogne.
The north of the department is composed of limestone hills. Between Lot and Garonne, there is a plateau carved by many valleys. In the west of the department, the Landes forest is planted in sand. It's composed of maritime pines. Between the forest and Agen, there is the Albret, a very hilly country .
Politics
Current National Assembly Representatives
Economy
Food-processing, chemicals, and pharmaceuticals are all major industries of the department.
Other: Aquitaine, Pyrénées-Atlantiques, Dordogne, Gironde, Landes, Lot-et-Garonne
Neighbours: Tarn-et-Garonne, Landes, Dordogne, Gers, Gironde, Lot
Suggested citation: Michal Páleník: EU regions - Lot-et-Garonne – FRI14, IZ Bratislava, retrieved from: https://www.iz.sk/​en/projects/eu-regions/FRI14
---
https://www.iz.sk/en/projects/eu-regions/FRI14