Aquitaine – FRI1
EU regions: France > New Aquitaine > Aquitaine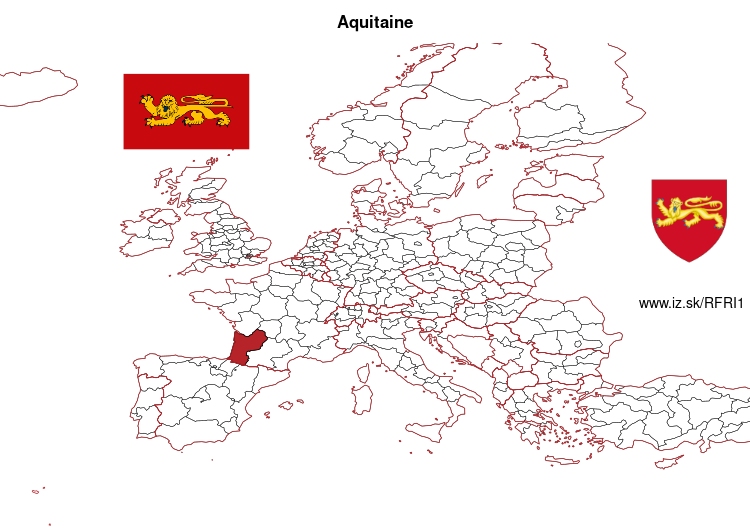 More on wikipedia wikidata Q1179 on OpenStreetMap Aquitaine slovensky: FRI1
Subregions: Dordogne, Gironde, Landes, Lot-et-Garonne, Pyrénées-Atlantiques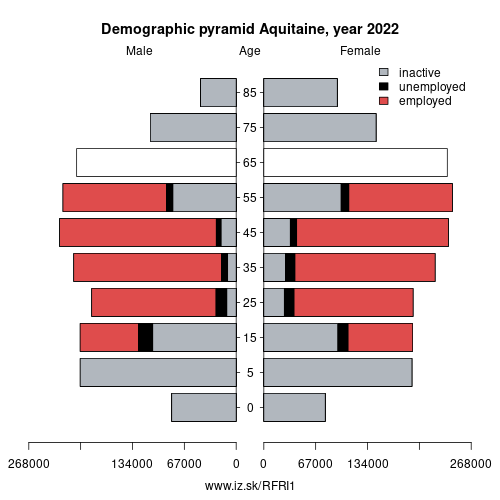 Unemployment
Demographics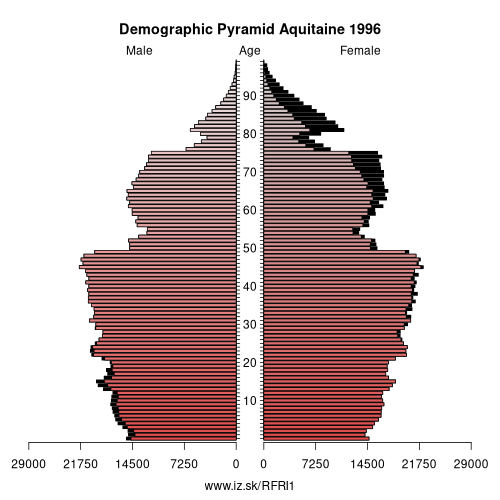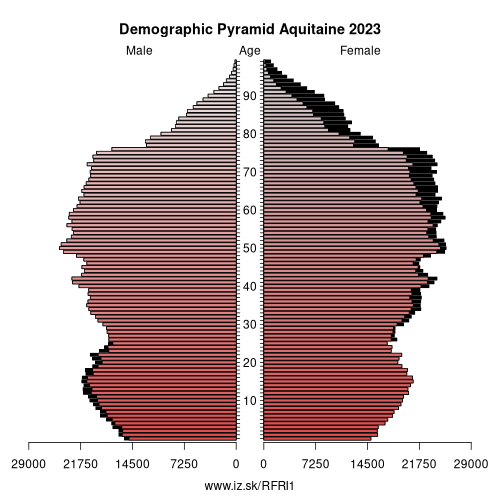 Employment by sectors, Aquitaine
| NACE r2 | | % | NACE r2 | | % |
| --- | --- | --- | --- | --- | --- |
| A | 56.4 | 4 % | B-E | 176.5 | 12 % |
| F | 132.3 | 9 % | G-I | 342.5 | 22 % |
| J | 47.3 | 3 % | K | 51.4 | 3 % |
| L | 15 | 1 % | M_N | 153.4 | 10 % |
| NRP | 18.7 | 1 % | O-Q | 446.8 | 29 % |
| R-U | 91.6 | 6 % | TOTAL | 1531.9 | 100 % |
Data for the period year 2022. Source of the data is Eurostat, table [lfst_r_lfe2en2].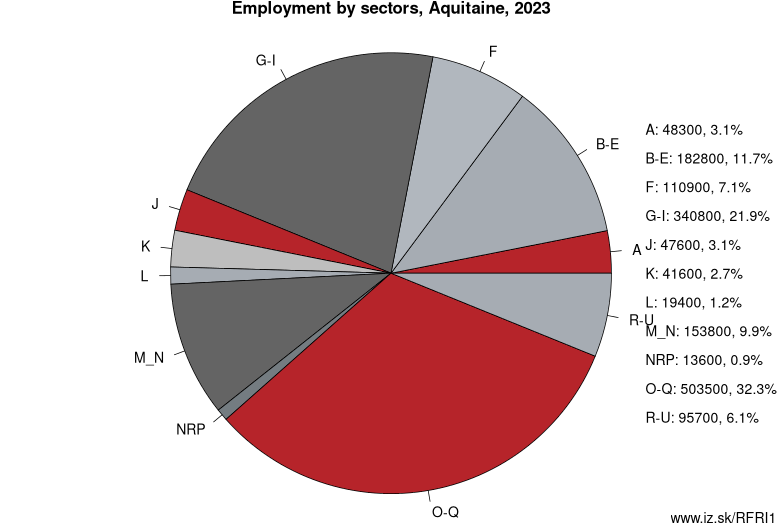 Aquitaine

(

UK:

AK

-wih-

TAYN

,

US:

AK

-wit-ayn

, French: 

[akitɛn]

(

listen

)

; Occitan:

Aquitània

[akiˈtanjɔ]

; Basque:

Akitania

; Poitevin-Saintongeais:

Aguiéne

), archaic

Guyenne

or

Guienne

(Occitan:

Guiana

), is a historical region of southwestern France and a former administrative region of the country. Since 1 January 2016 it has been part of the region of Nouvelle-Aquitaine. It is situated in the far southwest corner of Metropolitan France, along the Atlantic Ocean and the Pyrenees mountain range on the border with Spain. It is composed of the five departments of Dordogne, Lot-et-Garonne, Pyrénées-Atlantiques, Landes and Gironde. In the Middle Ages, Aquitaine was a kingdom and a duchy, whose boundaries fluctuated considerably.
History
Ancient history
There are traces of human settlement by prehistoric peoples, especially in the Périgord, but the earliest attested inhabitants in the south-west were the Aquitani, who were not considered Celtic people, but more akin to the Iberians (see Gallia Aquitania). Although a number of different languages and dialects were in use in the area during ancient times, it is most likely that the prevailing language of Aquitaine during the late pre-historic to Roman period was an early form of the Basque language. This has been demonstrated by various Aquitanian names and words that were recorded by the Romans, and which are currently easily readable as Basque. Whether this Aquitanian language (Proto-Basque) was a remnant of a Vasconic language group that once extended much farther, or it was generally limited to the Aquitaine/Basque region is not known. One reason the language of Aquitaine is important is because Basque is the last surviving non-Indo-European language in western Europe and it has had some effect on the languages around it, including Spanish and, to a lesser extent, French.
Other: New Aquitaine, Limousin, Poitou-Charentes, Aquitaine
Neighbours: Midi-Pyrénées, Poitou-Charentes, Aragon, Basque Autonomous Community, Navarre, Limousin
Subregions: Dordogne, Gironde, Landes, Lot-et-Garonne, Pyrénées-Atlantiques
Suggested citation: Michal Páleník: EU regions - Aquitaine – FRI1, IZ Bratislava, retrieved from: https://www.iz.sk/​en/projects/eu-regions/FRI1
---
https://www.iz.sk/en/projects/eu-regions/FRI1