Poitou-Charentes – FRI3
EU regions: France > New Aquitaine > Poitou-Charentes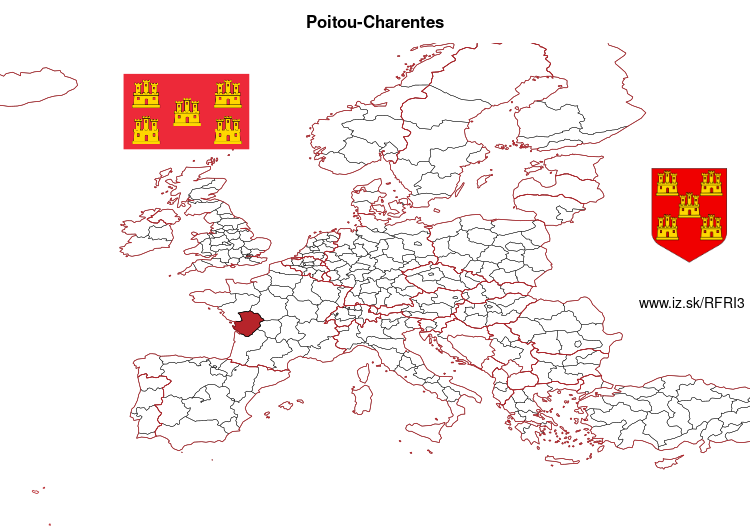 More on wikipedia wikidata Q17009 on OpenStreetMap Poitou-Charentes slovensky: FRI3
Subregions: Charente, Charente-Maritime, Deux-Sèvres, Vienne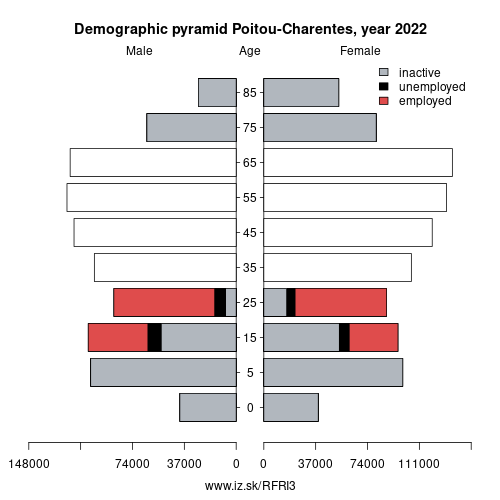 Unemployment
Demographics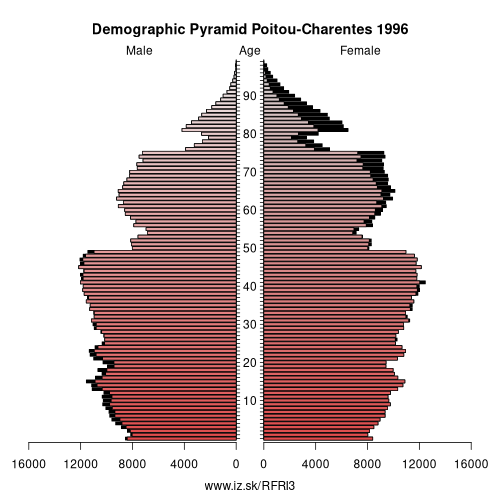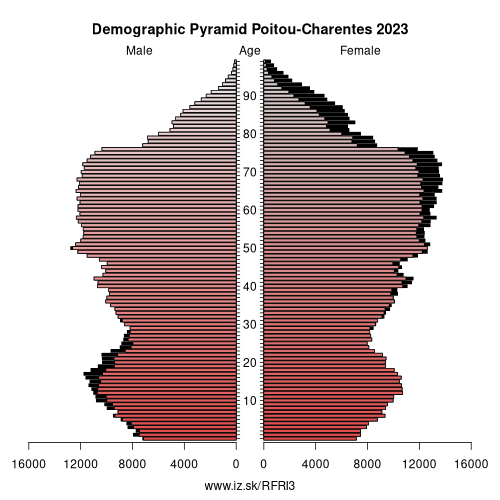 Employment by sectors, Poitou-Charentes
| NACE r2 | | % | NACE r2 | | % |
| --- | --- | --- | --- | --- | --- |
| A | 36.6 | 5 % | B-E | 113.3 | 16 % |
| F | 50.9 | 7 % | G-I | 148.6 | 21 % |
| J | 10.5 | 1 % | K | 27.7 | 4 % |
| L | 6 | 1 % | M_N | 58.1 | 8 % |
| NRP | 7.9 | 1 % | O-Q | 201.9 | 28 % |
| R-U | 50.7 | 7 % | TOTAL | 712.2 | 100 % |
Data for the period year 2022. Source of the data is Eurostat, table [lfst_r_lfe2en2].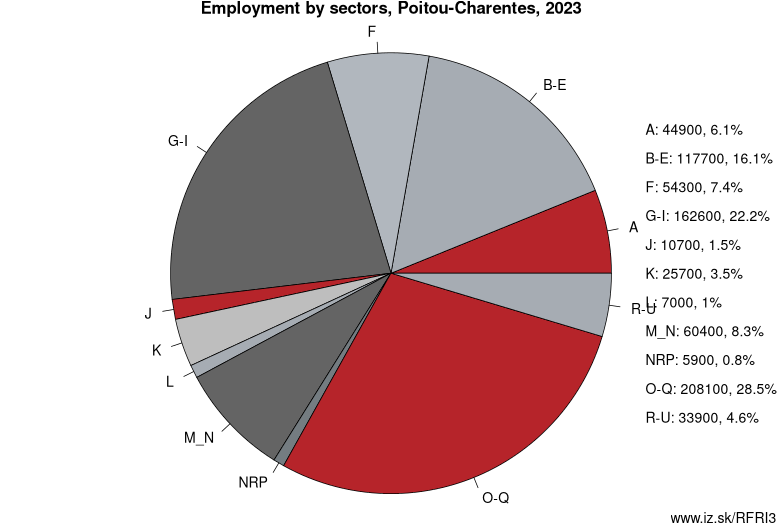 From Wikipedia: Poitou-Charentes (French pronunciation: [pwatu ʃaʁɑ̃t] (listen); Occitan: Peitau-Charantas; Poitevin-Saintongese: Poetou-Chérentes) is a former administrative region on the south-west coast of France. It is part of the new region Nouvelle-Aquitaine. It comprises four departments: Charente, Charente-Maritime, Deux-Sèvres and Vienne. Historical provinces are Angoumois, Aunis, Saintonge and Poitou.
The regional capital is Poitiers. Other important cities are La Rochelle, Niort, Angoulême, Châtellerault, Saintes, Rochefort and Royan.
Poitou-Charentes was merged with Aquitaine and Limousin to form the new administrative region of Nouvelle-Aquitaine on January 1, 2016.
Politics
The regional council is composed of 56 members. The region is the home of France's losing presidential candidate Socialist Ségolène Royal in the election of 2007.
Demographics
In French, the region's residents are known as Picto-Charentais.
Other: New Aquitaine, Poitou-Charentes, Limousin, Aquitaine
Neighbours: Limousin, Centre-Val de Loire, Pays de la Loire, Aquitaine
Subregions: Charente, Charente-Maritime, Deux-Sèvres, Vienne
Suggested citation: Michal Páleník: EU regions - Poitou-Charentes – FRI3, IZ Bratislava, retrieved from: https://www.iz.sk/​en/projects/eu-regions/FRI3
---
https://www.iz.sk/en/projects/eu-regions/FRI3