Limousin – FRI2
EU regions: France > New Aquitaine > Limousin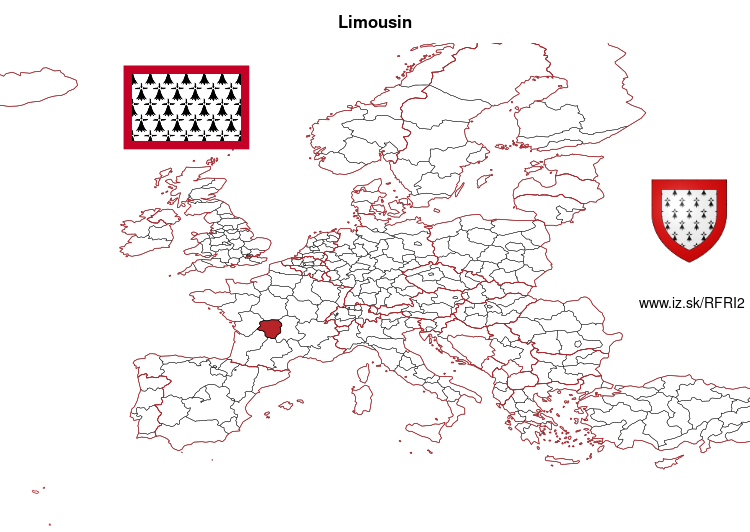 More on wikipedia wikidata Q1190 on OpenStreetMap Limousin slovensky: FRI2
Subregions: Corrèze, Creuse, Haute-Vienne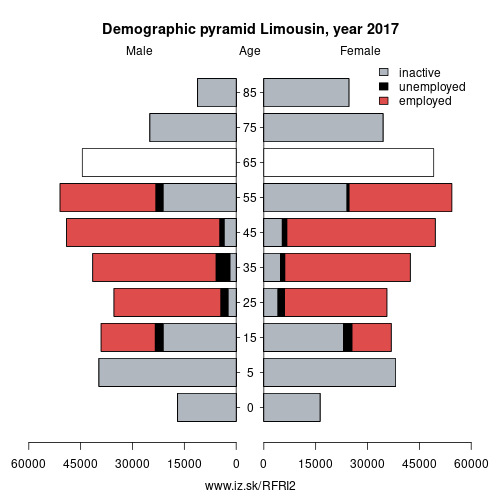 Unemployment
Demographics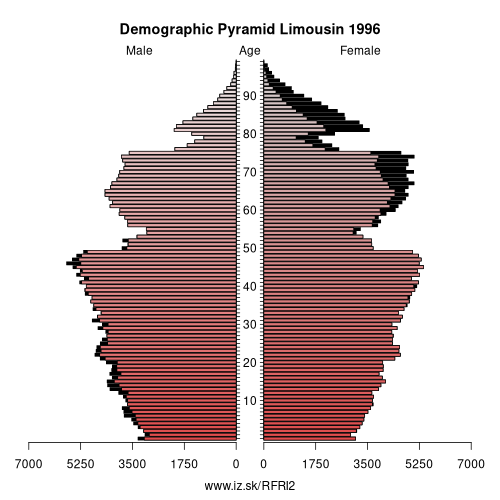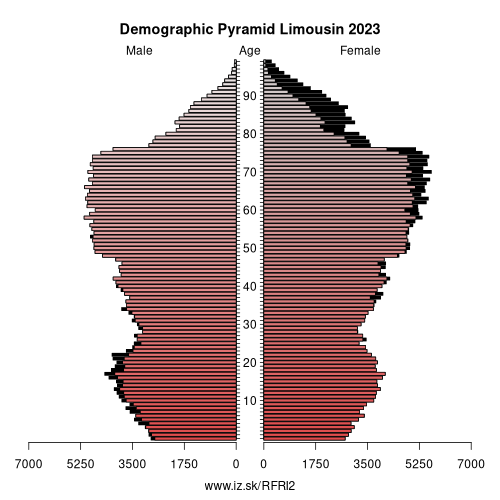 Employment by sectors, Limousin
| NACE r2 | | % | NACE r2 | | % |
| --- | --- | --- | --- | --- | --- |
| A | 16.5 | 6 % | B-E | 35.8 | 13 % |
| F | 19.6 | 7 % | G-I | 52.9 | 19 % |
| M_N | 19.2 | 7 % | O-Q | 107.5 | 38 % |
| R-U | 14.4 | 5 % | TOTAL | 281.6 | 100 % |
Data for the period year 2022. Source of the data is Eurostat, table [lfst_r_lfe2en2].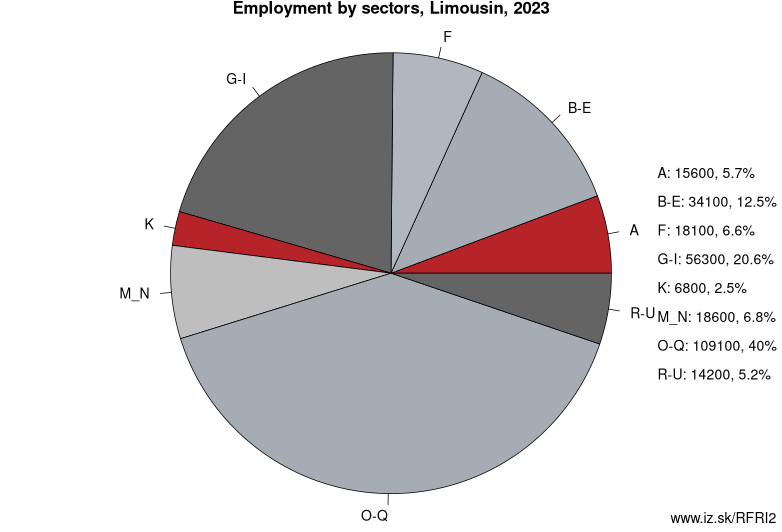 From Wikipedia: Limousin (French: [limuzɛ̃] (listen); Occitan: Lemosin [lemuˈzi]) is a former administrative region of southwest-central France. On 1 January 2016, it became part of the new administrative region of Nouvelle-Aquitaine. It comprised three departments: Corrèze, Creuse, and Haute-Vienne.
Situated mostly in the west side of south-central French Massif Central, Limousin had (in 2010) 742,770 inhabitants spread out on nearly 17,000 km2 (6,600 square miles), making it the least populated region of metropolitan France.
Forming part of the southwest of the country, Limousin is bordered by the regions of Centre-Val de Loire to the north, Auvergne to the east, Midi-Pyrénées to the south, Aquitaine to the southwest, and Poitou-Charentes to the west. Limousin is also part of the larger historical Occitania region.
Formation
The modern region of Limousin is essentially composed of two historical French provinces:
Limousin: the department of Corrèze in its entirety and the central and southeastern part of Haute-Vienne. The entire old province of Limousin is contained within the modern Limousin.
Marche: most of the department of Creuse and the north of Haute-Vienne. The old province of Marche is almost entirely contained within the modern region of Limousin, with only a small part of Marche now belonging to the region of Centre.
Beside these two main provinces, Limousin is also composed of small parts of other former provinces:
Angoumois: extreme south-west of Haute-Vienne
Poitou: extreme west of Haute-Vienne
Auvergne: extreme east of Creuse
Berry: extreme north of Creuse
Today the province of Limousin is the most populous part of the Limousin region. Limoges, the historical capital and largest city of the province of Limousin, is the capital of the Limousin administrative region.
Other: New Aquitaine, Limousin, Poitou-Charentes, Aquitaine
Neighbours: Auvergne, Centre-Val de Loire, Midi-Pyrénées, Poitou-Charentes, Aquitaine
Subregions: Corrèze, Creuse, Haute-Vienne
Suggested citation: Michal Páleník: EU regions - Limousin – FRI2, IZ Bratislava, retrieved from: https://www.iz.sk/​en/projects/eu-regions/FRI2
---
https://www.iz.sk/en/projects/eu-regions/FRI2