Warrington – UKD61
EU regions: United Kingdom > North West England > Cheshire > Warrington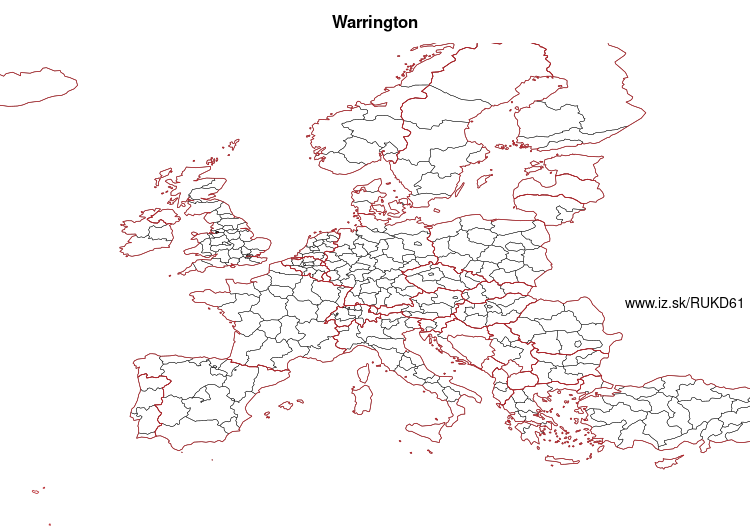 More on wikipedia wikidata Q215733 Warrington slovensky: UKD61
Demographics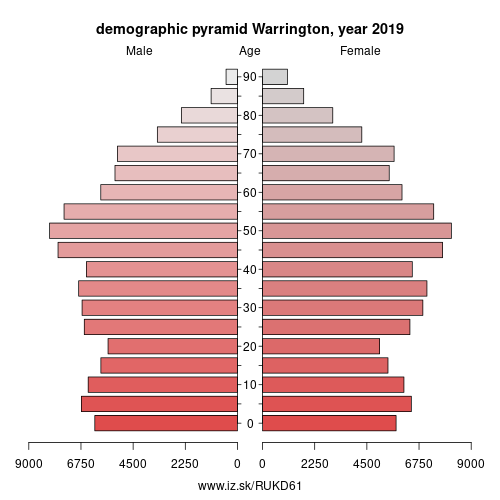 Warrington
() is a large town and unitary authority area in Cheshire, England, on the banks of the River Mersey. It is 20 miles (32 km) east of Liverpool, and 20 miles (32 km) west of Manchester. The population in 2017 was estimated at 209,700, more than double that of 1968 when it became a New Town. Warrington is the largest town in the county of Cheshire.
Warrington was founded by the Romans at an important crossing place on the River Mersey. A new settlement was established by the Saxons. By the Middle Ages, Warrington had emerged as a market town at the lowest bridging point of the river. A local tradition of textile and tool production dates from this time.
Historically part of Lancashire, the expansion and urbanisation of Warrington coincided with the Industrial Revolution, particularly after the Mersey was made navigable in the 18th century. The West Coast Main Line runs north to south through the town, and the Liverpool to Manchester railway (the Cheshire Lines route) west to east. The Manchester Ship Canal cuts through the south of the borough (west to east).
Other: Cheshire, Warrington, Cheshire East, Cheshire West and Chester
Neighbours: Cheshire West and Chester, Cheshire East, Greater Manchester South West, East Merseyside, Greater Manchester North West
Suggested citation: Michal Páleník: EU regions - Warrington – UKD61, IZ Bratislava, retrieved from: https://www.iz.sk/​en/projects/eu-regions/UKD61
---
https://www.iz.sk/en/projects/eu-regions/UKD61