Oxfordshire – UKJ14
EU regions: United Kingdom > South East England > Berkshire, Buckinghamshire and Oxfordshire > Oxfordshire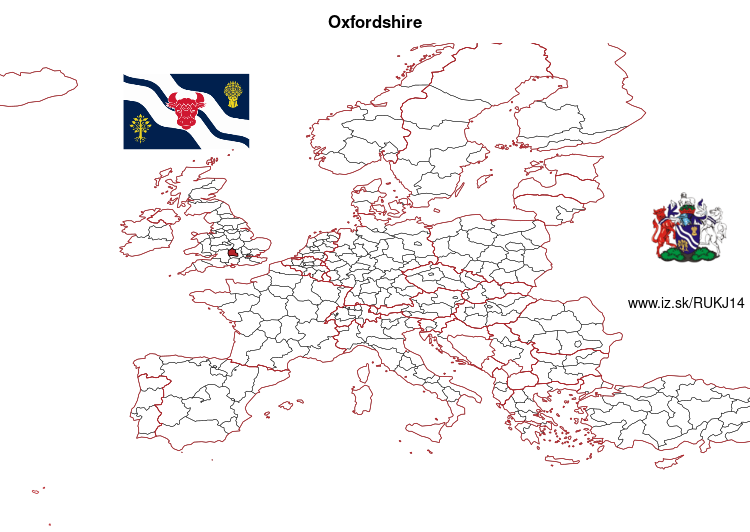 More on wikipedia wikidata Q23169 on OpenStreetMap Oxfordshire slovensky: UKJ14
Demographics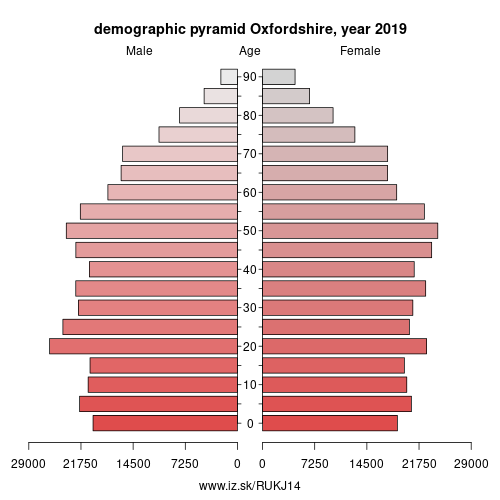 Oxfordshire
(abbreviated
Oxon
, from
Oxonium
, the Latin name for Oxford) is a county in South East England. The ceremonial county borders Warwickshire to the north-west, Northamptonshire to the north-east, Buckinghamshire to the east, Berkshire to the south, Wiltshire to the south-west and Gloucestershire to the west.
The county has major education and tourist industries and is noted for the concentration of performance motorsport companies and facilities. Oxford University Press is the largest firm among a concentration of print and publishing firms; the University of Oxford is also linked to the concentration of local biotechnology companies.
As well as the city of Oxford, other centres of population are Banbury, Bicester, Kidlington and Chipping Norton to the north of Oxford; Carterton and Witney to the west; Thame and Chinnor to the east; and Abingdon-on-Thames, Wantage, Didcot, Wallingford and Henley-on-Thames to the south. The areas south of the Thames, the Vale of White Horse and parts of South Oxfordshire, are in the historic county of Berkshire, as is the highest point, the 261 metres (856 ft) White Horse Hill.
Oxfordshire's county flower is the snake's-head fritillary.
History
Oxfordshire was recorded as a county in the early years of the 10th century and lies between the River Thames to the south, the Cotswolds to the west, the Chilterns to the east and the Midlands to the north, with spurs running south to Henley-on-Thames and north to Banbury.
Although it had some significance as an area of valuable agricultural land in the centre of the country, it was largely ignored by the Romans, and did not grow in importance until the formation of a settlement at Oxford in the 8th century. Alfred the Great was born across the Thames in Wantage, Vale of White Horse. The University of Oxford was founded in 1096, though its collegiate structure did not develop until later on. The university in the county town of Oxford (whose name came from Anglo-Saxon Oxenaford = "ford for oxen") grew in importance during the Middle Ages and early modern period.
Other: Berkshire, Buckinghamshire and Oxfordshire, Berkshire, Buckinghamshire, Oxfordshire, Milton Keynes
Neighbours: Warwickshire, Swindon, Gloucestershire, West Northamptonshire, Buckinghamshire, Wiltshire, Berkshire
Suggested citation: Michal Páleník: EU regions - Oxfordshire – UKJ14, IZ Bratislava, retrieved from: https://www.iz.sk/​en/projects/eu-regions/UKJ14
---
https://www.iz.sk/en/projects/eu-regions/UKJ14