Wiltshire – UKK15
EU regions: United Kingdom > South West England > Gloucestershire, Wiltshire and Bristol/Bath area > Wiltshire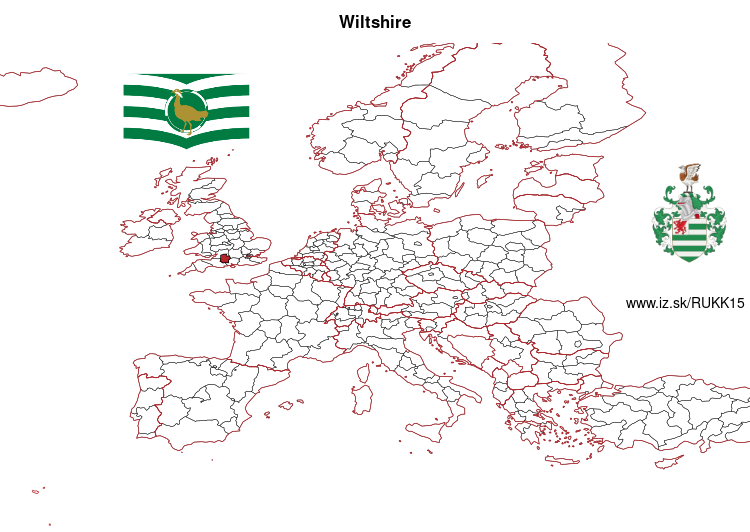 More on wikipedia wikidata Q21694746 on OpenStreetMap Wiltshire slovensky: UKK15
Demographics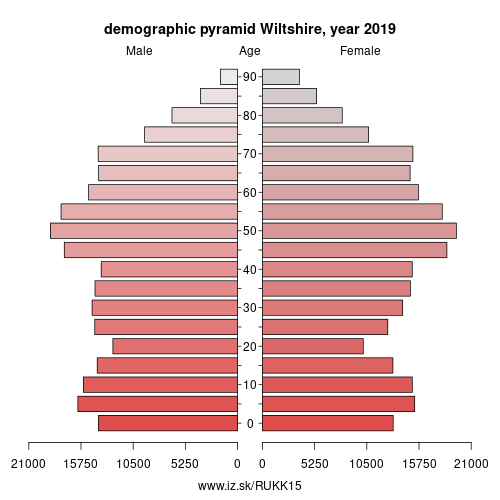 Wiltshire
(; abbreviated
Wilts
) is a county in South West England with an area of 3,485 km
2
(1,346 square miles). It is landlocked and borders the counties of Dorset, Somerset, Hampshire, Gloucestershire, Oxfordshire and Berkshire. The county town was originally Wilton, after which the county is named, but Wiltshire Council is now based in the county town of Trowbridge. Within the county's boundary are two unitary authority areas, Wiltshire and Swindon, governed respectively by Wiltshire Council and Swindon Borough Council.
Wiltshire is characterised by its high downland and wide valleys. Salisbury Plain is noted for being the location of the Stonehenge and Avebury stone circles and other ancient landmarks, and as a training area for the British Army. The city of Salisbury is notable for its medieval cathedral. Important country houses open to the public include Longleat, near Warminster, and the National Trust's Stourhead, near Mere. It is a UNESCO Cultural and World Heritage site.
Toponymy
The county, in the 9th century written as Wiltunscir, later Wiltonshire, is named after the former county town of Wilton.
History
Wiltshire is notable for its pre-Roman archaeology. The Mesolithic, Neolithic and Bronze Age people that occupied southern Britain built settlements on the hills and downland that cover Wiltshire.
Other: Gloucestershire, Wiltshire and Bristol/Bath area, Wiltshire, Bristol, Gloucestershire, Bath and North East Somerset, North Somerset and South Gloucestershire, Swindon
Neighbours: Dorset, Swindon, Gloucestershire, Somerset, Oxfordshire, Central Hampshire, Bath and North East Somerset, North Somerset and South Gloucestershire, Berkshire
Suggested citation: Michal Páleník: EU regions - Wiltshire – UKK15, IZ Bratislava, retrieved from: https://www.iz.sk/​en/projects/eu-regions/UKK15
---
https://www.iz.sk/en/projects/eu-regions/UKK15