Warwickshire – UKG13
EU regions: United Kingdom > West Midlands > Herefordshire, Worcestershire and Warwickshire > Warwickshire
More on wikipedia wikidata Q23140 on OpenStreetMap Warwickshire slovensky: UKG13
Demographics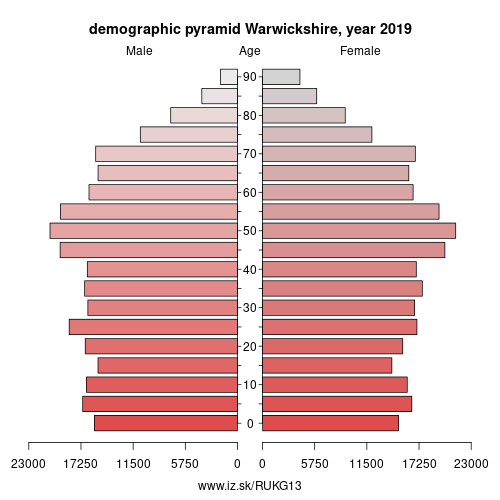 Warwickshire
(
(

listen

)
; postal abbreviation
Warks.
) is a landlocked county in the West Midlands region of England. The county town is Warwick, although the largest town is Nuneaton. The county is famous for being the birthplace of William Shakespeare.
The county is divided into five districts of North Warwickshire, Nuneaton and Bedworth, Rugby, Warwick and Stratford-on-Avon. The current county boundaries were set in 1974 by the Local Government Act 1972. The historic county boundaries include Coventry, Sutton Coldfield and Solihull, as well as much of Birmingham.
Geography
The county is bordered by Leicestershire to the northeast, Staffordshire to the northwest, Worcestershire and the West Midlands to the west, Northamptonshire to the east and southeast, Gloucestershire to the southwest and Oxfordshire to the south. The northern tip of the county is only 3 miles (5 km) from the Derbyshire border. An average-sized English county covering an area of almost 2,000 km2, it runs some 60 miles (97 km) north to south. Equivalently it extends as far north as Shrewsbury in Shropshire and as far south as Banbury in north Oxfordshire.
The majority of Warwickshire's population live in the north and centre of the county.
Other: Herefordshire, Worcestershire and Warwickshire, Worcestershire, Herefordshire, Warwickshire
Neighbours: Gloucestershire, West Northamptonshire, Staffordshire, Coventry, Oxfordshire, Leicestershire, Birmingham, Solihull, Worcestershire
Suggested citation: Michal Páleník: EU regions - Warwickshire – UKG13, IZ Bratislava, retrieved from: https://www.iz.sk/​en/projects/eu-regions/UKG13
---
https://www.iz.sk/en/projects/eu-regions/UKG13