Coventry – UKG33
EU regions: United Kingdom > West Midlands > West Midlands > Coventry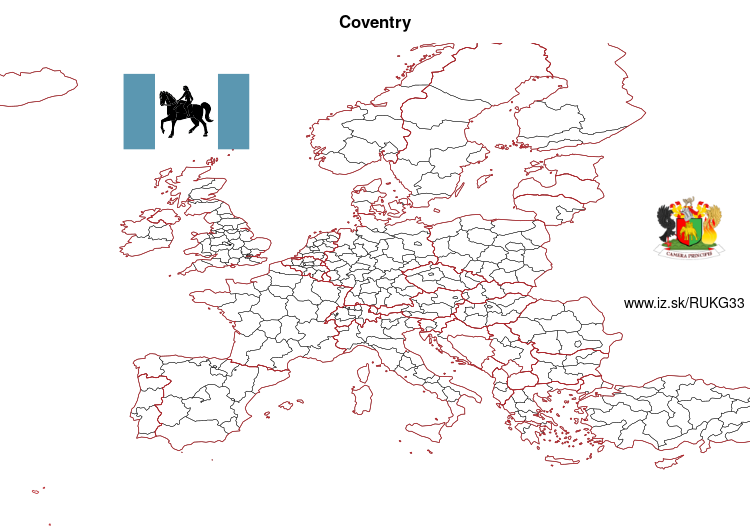 More on wikipedia wikidata Q6225 Coventry slovensky: UKG33
Demographics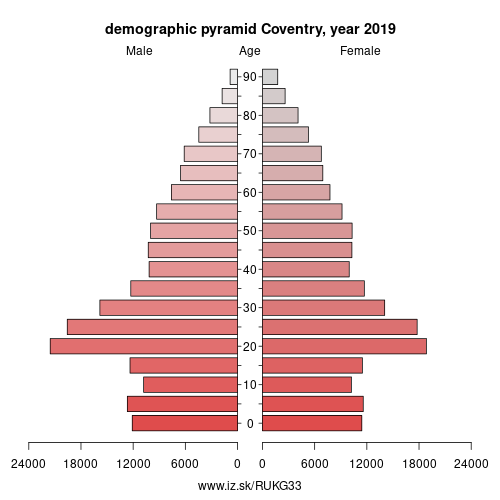 Coventry

(

(

listen

)

KOV

-ən-tree

or

KUV

-

) is a city and metropolitan borough in the West Midlands, England.

Historically part of Warwickshire, Coventry is the 9th largest city in England and the 12th largest in the United Kingdom. It is the second largest city in the West Midlands region, after Birmingham, and although proximite to the West Midlands conurbation, it is just outside it.

Coventry is 19 miles (31 km) east-southeast of Birmingham, 24 miles (39 km) southwest of Leicester, 11 miles (18 km) north of Warwick and 94 miles (151 km) northwest of London. Coventry is also the most central city in England, being only 11 miles (18 km) south-southwest of the country's geographical centre in Leicestershire and is located in the West Midlands.

The current Coventry Cathedral was built after the majority of the 14th century cathedral church of Saint Michael was destroyed by the Luftwaffe in the Coventry Blitz of 14 November 1940. Coventry motor companies have contributed significantly to the British motor industry. The city has three universities, Coventry University in the city centre, the University of Warwick on the southern outskirts and the smaller private Arden University, headquartered close to Coventry Airport.

On 7 December 2017, the city won the title of UK City of Culture 2021, after beating Paisley, Stoke-on-Trent, Swansea and Sunderland to the title. They will be the third title holder, of the quadrennial award which began in 2013.
History
The Romans founded a settlement in Baginton, next to the River Sowe, and another formed around a Saxon nunnery, founded c.  AD 700 by St Osburga, that was later left in ruins by King Canute's invading Danish army in 1016.
Other: West Midlands, Birmingham, Solihull, Dudley, Coventry, Walsall, Wolverhampton, Sandwell
Neighbours: Solihull, Warwickshire
Suggested citation: Michal Páleník: EU regions - Coventry – UKG33, IZ Bratislava, retrieved from: https://www.iz.sk/​en/projects/eu-regions/UKG33
---
https://www.iz.sk/en/projects/eu-regions/UKG33