Wolverhampton – UKG39
EU regions: United Kingdom > West Midlands > West Midlands > Wolverhampton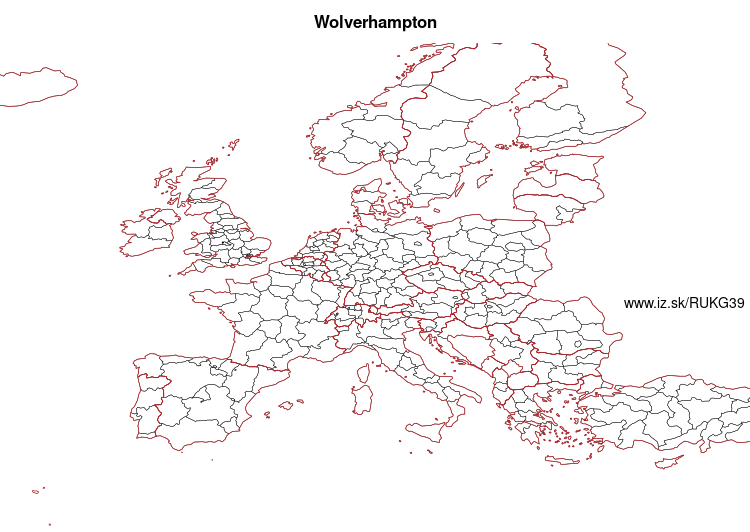 More on wikipedia wikidata Q126269 on OpenStreetMap Wolverhampton slovensky: UKG39
Demographics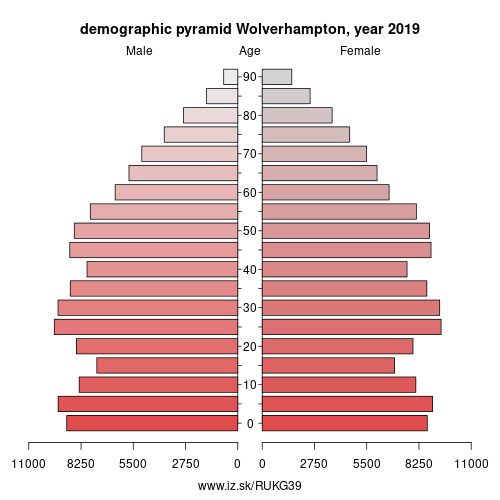 Wolverhampton
(
(

listen

)
) is a city and metropolitan borough in the West Midlands, England. At the 2011 census, it had a population of 249,470. The demonym for people from the city is 'Wulfrunian.'
Historically part of Staffordshire, the city grew initially as a market town specialising in the woollen trade. In the Industrial Revolution, it became a major centre for coal mining, steel production, lock making, and the manufacture of cars and motorcycles. The economy of the city is still based on engineering, including a large aerospace industry, as well as the service sector.
Toponym
The city is named after Wulfrun, who founded the town in 985, from the Anglo-Saxon Wulfrūnehēantūn ("Wulfrūn's high or principal enclosure or farm"). Prior to the Norman Conquest, the area's name appears only as variants of Heantune or Hamtun, the prefix Wulfrun or similar appearing in 1070 and thereafter. Alternatively, the city may have earned its original name from Wulfereēantūn ("Wulfhere's high or principal enclosure or farm") after the Mercian King, who tradition tells us established an abbey in 659, though no evidence of an abbey has been found. The variation Wolveren Hampton is seen in medieval records, e.g. in 1381.
History
A local tradition states that King Wulfhere of Mercia founded an abbey of St Mary at Wolverhampton in 659.
Wolverhampton is recorded as being the site of a decisive battle between the unified Mercian Angles and West Saxons against the raiding Danes in 910, although sources are unclear as to whether the battle itself took place in Wednesfield or Tettenhall. The Mercians and West Saxons claimed a decisive victory, and the field of Woden is recognised by numerous place names in Wednesfield.
In 985, King Ethelred the Unready granted lands at a place referred to as Heantun to Lady Wulfrun by royal charter, and hence founding the settlement.
Other: West Midlands, Sandwell, Solihull, Coventry, Birmingham, Dudley, Walsall, Wolverhampton
Neighbours: Dudley, Sandwell, Staffordshire, Walsall
Suggested citation: Michal Páleník: EU regions - Wolverhampton – UKG39, IZ Bratislava, retrieved from: https://www.iz.sk/​en/projects/eu-regions/UKG39
---
https://www.iz.sk/en/projects/eu-regions/UKG39