Innviertel – AT311
EU regions: Austria > Westösterreich > Upper Austria > Innviertel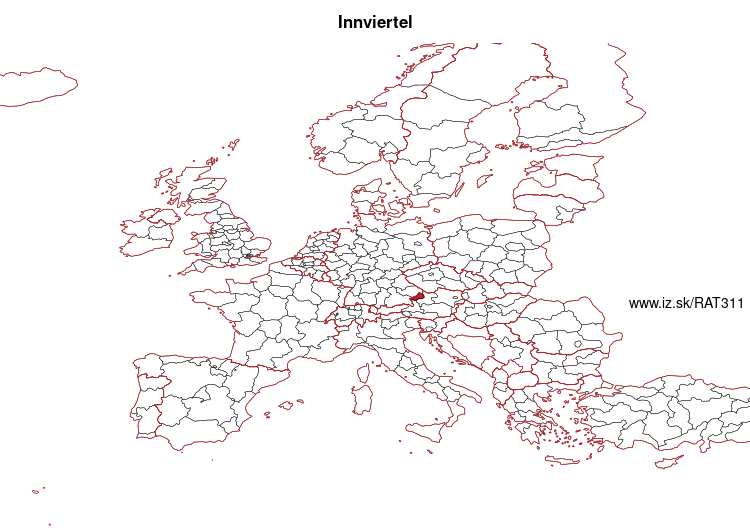 More on wikipedia wikidata Q700460 Innviertel slovensky: AT311
Demographics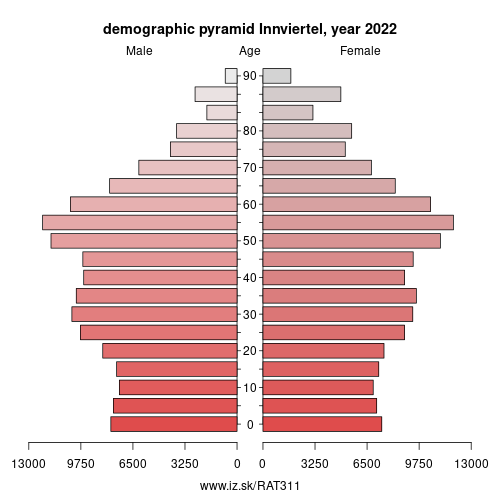 From Wikipedia: The Innviertel (literally German for "Inn quarter"; also called Innkreis; Austro-Bavarian: Innviadl) is a traditional Austrian region southeast of the Inn river. It forms the western part of the state of Upper Austria and borders the German state of Bavaria. The Innviertel is one of the four traditional "quarters" of Upper Austria, the others being Hausruckviertel, Mühlviertel, and Traunviertel.
Geography
The quarter spans the Austrian political districts of Schärding, Ried im Innkreis and Braunau am Inn. Major towns in Innviertel include the district capitals Braunau am Inn, Ried im Innkreis and Schärding as well as Mattighofen and Altheim.
Located within the Alpine foothills, the rural Innviertel is approximately 2250 km² in area and comprises the broad Inn valley, which is largely flat and fertile, and the adjacent undulating landscape in the east, which is rich in granite in the north and coal.
History
Since the Early Middle Ages the region had belonged to the German stem duchy of Bavaria and was called Innbaiern. Administered from the town of Burghausen, the lands beyond the Inn river for centuries had two important roles: strategically as an eastern defence line against the rising Archduchy of Austria, and economically as arable land for crop farming. In the course of the Bavarian People's Uprising against the occupation by the Habsburg Emperor Joseph I, the short-lived Braunau Parliament convened in 1705, an early occurrence of a parliamentary system in the Holy Roman Empire.
Following the War of the Bavarian Succession and the Treaty of Teschen in 1779 it had to be ceded to Austria.
Other: Upper Austria, Linz-Wels, Steyr-Kirchdorf, Innviertel, Mühlviertel, Traunviertel
Neighbours: Traunviertel, Altötting, Passau, Linz-Wels, Rottal-Inn, Passau, Mühlviertel, Salzburg und Umgebung, Traunstein
Suggested citation: Michal Páleník: EU regions - Innviertel – AT311, IZ Bratislava, retrieved from: https://www.iz.sk/​en/projects/eu-regions/AT311
---
https://www.iz.sk/en/projects/eu-regions/AT311