Herefordshire – UKG11
EU regions: United Kingdom > West Midlands > Herefordshire, Worcestershire and Warwickshire > Herefordshire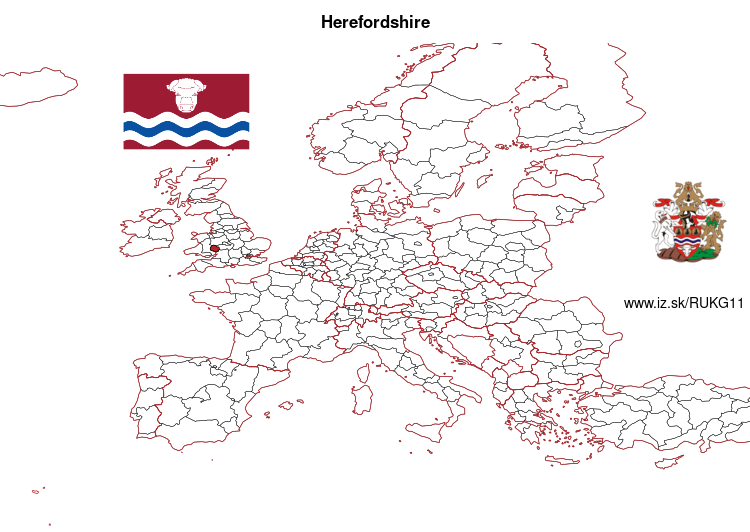 More on wikipedia wikidata Q23129 on OpenStreetMap Herefordshire slovensky: UKG11
Demographics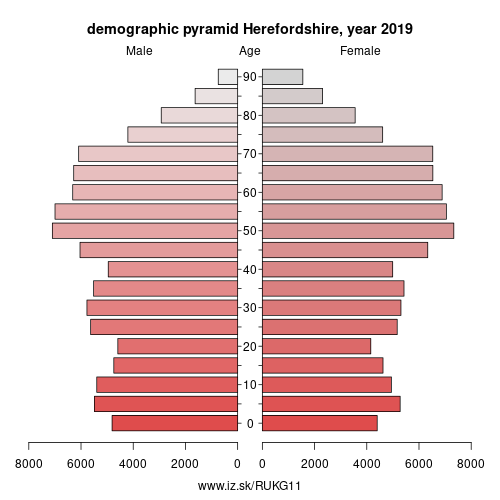 Herefordshire
() is a county in the West Midlands of England, governed by Herefordshire Council. It borders Shropshire to the north, Worcestershire to the east, Gloucestershire to the south-east, and the Welsh counties of Monmouthshire and Powys to the west.
Hereford is a cathedral city and is the county town; with a population of approximately 55,800 inhabitants it is also the largest settlement. Situated in the historic Welsh Marches, Herefordshire is one of the most rural and sparsely populated counties in England, with a population density of 82/km² (212/sq mi), and a 2017 population of 191,000 – the fourth-smallest of any ceremonial county in England. The land use is mostly agricultural and the county is well known for its fruit and cider production, and the Hereford cattle breed.
Constitution
From 1974 to 1998, Herefordshire was part of the former non-metropolitan county of Hereford and Worcester.
Herefordshire was reconstituted both as a new district (effective 19 July 1996) and as a new county (coextensive with the area of the aforementioned district) (effective 1 April 1998) by Statutory Instrument as defined in The Hereford and Worcester (Structural, Boundary and Electoral Changes) Order 1996. This Order established Herefordshire as a unitary authority on 1 April 1998, combining county and district functions into a single council. Herefordshire is also commonly called a unitary district, but this is not official nomenclature. Herefordshire is officially known as a unitary authority for local government purposes.
Other: Herefordshire, Worcestershire and Warwickshire, Worcestershire, Herefordshire, Warwickshire
Neighbours: Gloucestershire, Monmouthshire and Newport, Shropshire, Powys, Worcestershire
Suggested citation: Michal Páleník: EU regions - Herefordshire – UKG11, IZ Bratislava, retrieved from: https://www.iz.sk/​en/projects/eu-regions/UKG11
---
https://www.iz.sk/en/projects/eu-regions/UKG11