Powys – UKL24
EU regions: United Kingdom > Wales > East Wales > Powys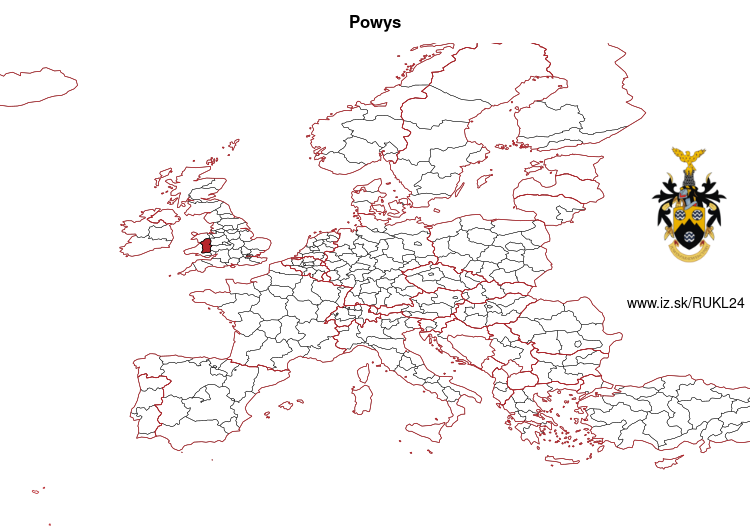 More on wikipedia wikidata Q156150 on OpenStreetMap Powys slovensky: UKL24
Demographics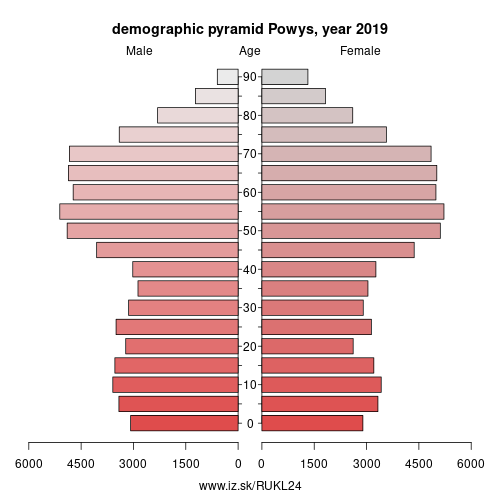 From Wikipedia: Powys (; Welsh: [ˈpowɪs]) is a principal area and county, and one of the preserved counties of Wales. It is named after the Kingdom of Powys which was a Welsh successor state, petty kingdom and principality that emerged during the Middle Ages following the end of Roman rule in Britain.
Geography
See the list of places in Powys for all towns and villages in Powys.
Powys covers the historic counties of Montgomeryshire and Radnorshire, most of Brecknockshire (Breconshire), and a small part of Denbighshire – an area of 5,179 km² (2,000 sq miles), making it the largest unitary authority in Wales by land area and about the same size as the country of Trinidad and Tobago. It is bounded to the north by Gwynedd, Denbighshire and Wrexham; to the west by Ceredigion and Carmarthenshire; to the east by Shropshire and Herefordshire; and to the south by Rhondda Cynon Taf, Merthyr Tydfil, Caerphilly, Blaenau Gwent, Monmouthshire and Neath Port Talbot.
The majority of the Powys population lives in villages and small towns. The largest towns are Newtown, Ystradgynlais, Brecon, and Welshpool with populations of 11,357, 8,092, 8,250 and 6,664 respectively (2011). Powys has the lowest population density of all the principal areas of Wales. Most of Powys is mountainous making north-south transport difficult.
Just under a third of the residents have Welsh linguistic skills: Welsh speakers are concentrated mainly in the rural areas both in and around Machynlleth, Llanfyllin and Llanrhaeadr-ym-Mochnant (where William Morgan first translated the whole Bible into Welsh in 1588) in Montgomeryshire (Welsh: Sir Drefaldwyn), and the industrial area of Ystradgynlais in the southwest of Brecknockshire (Welsh: Sir Frycheiniog). Radnorshire (Welsh: Sir Faesyfed) was almost completely Anglicised by the end of the 18th century.
Other: East Wales, Powys, North Wales, Monmouthshire and Newport, South Wales
Neighbours: Shropshire, Herefordshire, Conwy and Denbighshire, Gwynedd, Bridgend and Neath Port Talbot, North Wales, Monmouthshire and Newport, Gwent Valleys, Central Valleys, South West Wales
Suggested citation: Michal Páleník: EU regions - Powys – UKL24, IZ Bratislava, retrieved from: https://www.iz.sk/​en/projects/eu-regions/UKL24
---
https://www.iz.sk/en/projects/eu-regions/UKL24