Worcestershire – UKG12
EU regions: United Kingdom > West Midlands > Herefordshire, Worcestershire and Warwickshire > Worcestershire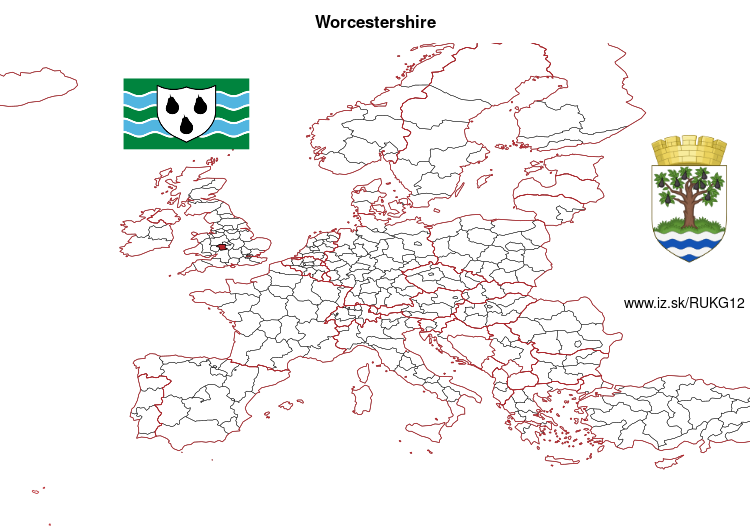 More on wikipedia wikidata Q23135 on OpenStreetMap Worcestershire slovensky: UKG12
Demographics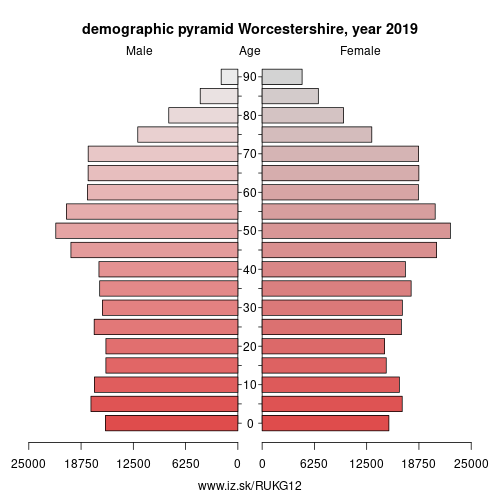 Worcestershire ( (listen) WUUS-tər-shər, -⁠sheer; written abbreviation: Worcs) is a county in the West Midlands of England.
The cathedral city of Worcester is the largest settlement and county town. Other major towns in the county include Bromsgrove, Droitwich, Evesham, Kidderminster, Malvern, Redditch, and Stourport-on-Severn. The north-east of Worcestershire includes part of the industrial West Midlands; the rest of the county is largely rural. The county is divided into six administrative districts: Worcester, Redditch, Wychavon, Malvern Hills, Wyre Forest, and Bromsgrove.
The area that is now Worcestershire was absorbed into the unified Kingdom of England in 927, at which time it was constituted as a county (see History of Worcestershire). Over the centuries the county borders have been modified, but it was not until 1844 that substantial changes were made. This culminated with the abolition of Worcestershire in 1974 with its northern area becoming part of the West Midlands and the rest part of the county of Hereford and Worcester. However in 1998 the county of Hereford and Worcester was abolished and Worcestershire was reconstituted without the northern area ceded to the West Midlands.
Location
The county borders Herefordshire to the west, Shropshire to the north-west, Staffordshire only just to the north, West Midlands to the north and north-east, Warwickshire to the east and Gloucestershire to the south.
Other: Herefordshire, Worcestershire and Warwickshire, Worcestershire, Herefordshire, Warwickshire
Neighbours: Gloucestershire, Staffordshire, Warwickshire, Birmingham, Solihull, Shropshire, Dudley, Herefordshire
Suggested citation: Michal Páleník: EU regions - Worcestershire – UKG12, IZ Bratislava, retrieved from: https://www.iz.sk/​en/projects/eu-regions/UKG12
---
https://www.iz.sk/en/projects/eu-regions/UKG12