Thurgau - CH057
EU regions: Switzerland > SCHWEIZ/SUISSE/SVIZZERA > Eastern Switzerland > Thurgau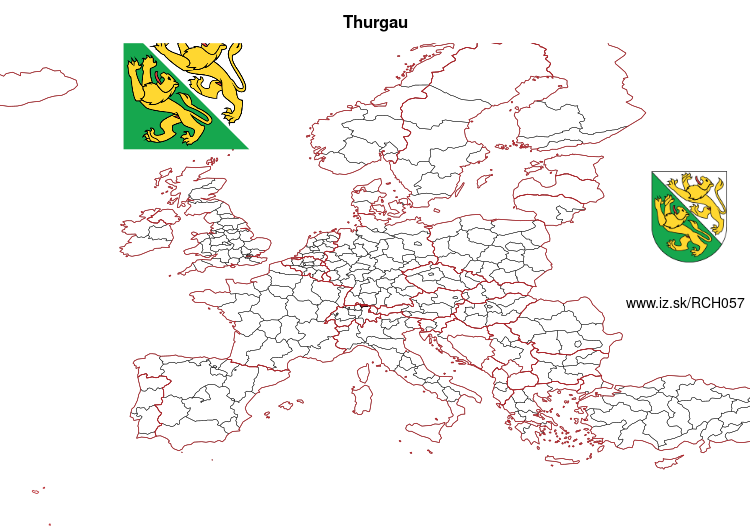 more on wikipedia * more on wikidata Q12713 * Thurgau slovensky: CH057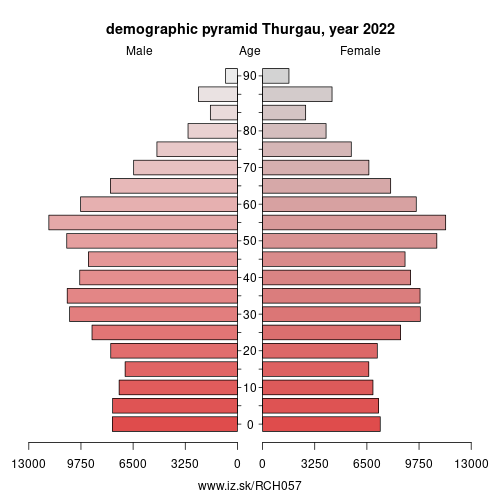 From wikipedia:
Thurgau
(German:
[ˈtuːrɡaʊ]
(

listen

)
; French:
Thurgovie
; Italian:
Turgovia
), anglicized as
Thurgovia
, more formally the
Canton of Thurgau
, is one of the 26 cantons forming the Swiss Confederation. It is composed of five districts and its capital is Frauenfeld.
Thurgau is part of Eastern Switzerland. It is named for the river Thur, and the name Thurgovia was historically used for a larger area, including part of this river's basin upstream of the modern canton. The area of what is now Thurgau was acquired as subject territories by the cantons of the Old Swiss Confederacy from the mid 15th century. Thurgau was first declared a canton in its own right at the formation of the Helvetic Republic in 1798.
The population, as of December 2019, is 279,547. In 2007, there were a total of 47,390 (or 19.9 % of the population) who were resident foreigners. The capital is Frauenfeld.
History
In prehistoric times the lands of the canton were inhabited by people of the Pfyn culture along Lake Constance.
other: Eastern Switzerland, Appenzell Ausserrhoden, Appenzell Innerrhoden, Glarus, Thurgau, St. Gallen, Grisons, Schaffhausen
neighbours: Schaffhausen, Zürich, Bodenseekreis, Konstanz, St. Gallen
Suggested citation: Michal Páleník: EU regions - Thurgau - CH057, IZ Bratislava, retrieved from: https://www.iz.sk/en/projects/eu-regions/CH057
---
https://www.iz.sk/en/projects/eu-regions/CH057