Brunswick – DE911
EU regions: Germany > Lower Saxony > Brunswick Government Region > Brunswick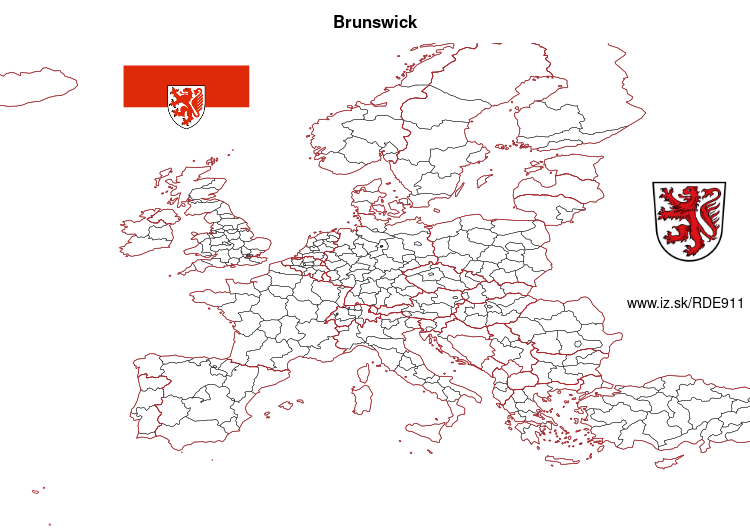 More on wikipedia wikidata Q2773 on OpenStreetMap Brunswick slovensky: DE911
Demographics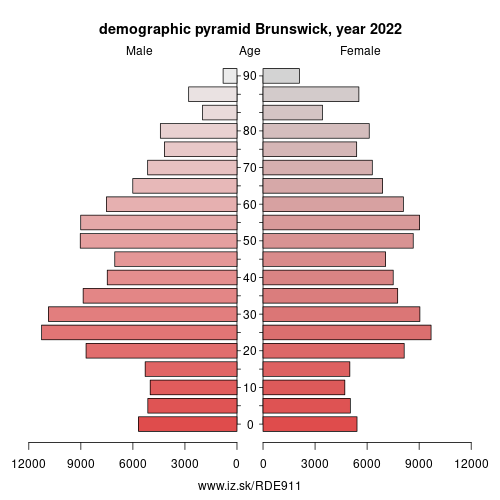 From Wikipedia: Braunschweig (German pronunciation: [ˈbʁaʊnʃvaɪk] (listen); Low German: Brunswiek [ˈbrɔˑnsviːk]), also called Brunswick () in English, is a city in Lower Saxony, Germany, north of the Harz mountains at the farthest navigable point of the Oker River which connects it to the North Sea via the Aller and Weser Rivers. In 2016, it had a population of 250,704.
A powerful and influential centre of commerce in medieval Germany, Braunschweig was a member of the Hanseatic League from the 13th until the 17th century. It was the capital city of three successive states: the Principality of Brunswick-Wolfenbüttel (1269–1432, 1754–1807, and 1813–1814), the Duchy of Brunswick (1814–1918), and the Free State of Brunswick (1918–1946).
Today, Braunschweig is the second-largest city in Lower Saxony and a major centre of scientific research and development.
History
Foundation and early history
The date and circumstances of the town's foundation are unknown. Tradition maintains that Braunschweig was created through the merger of two settlements, one founded by Brun(o), a Saxon count who died in 880, on one side of the River Oker – the legend gives the year 861 for the foundation – and the other the settlement of a legendary Count Dankward, after whom Dankwarderode Castle ("Dankward's clearing"), which was reconstructed in the 19th century, is named. The town's original name of Brunswik is a combination of the name Bruno and Low German wik (related to the Latin vicus), a place where merchants rested and stored their goods. The town's name therefore indicates an ideal resting-place, as it lay by a ford across the Oker River. Another explanation of the city's name is that it comes from Brand, or burning, indicating a place which developed after the landscape was cleared through burning. The city was first mentioned in documents from the St.
Other: Brunswick Government Region, Goslar, Helmstedt district, Northeim, Peine, Göttingen district, Brunswick, Salzgitter, Wolfsburg, Gifhorn, Wolfenbüttel
Neighbours: Peine, Wolfenbüttel, Gifhorn, Helmstedt district, Salzgitter
Suggested citation: Michal Páleník: EU regions - Brunswick – DE911, IZ Bratislava, retrieved from: https://www.iz.sk/​en/projects/eu-regions/DE911
---
https://www.iz.sk/en/projects/eu-regions/DE911