Wolfsburg – DE913
EU regions: Germany > Lower Saxony > Brunswick Government Region > Wolfsburg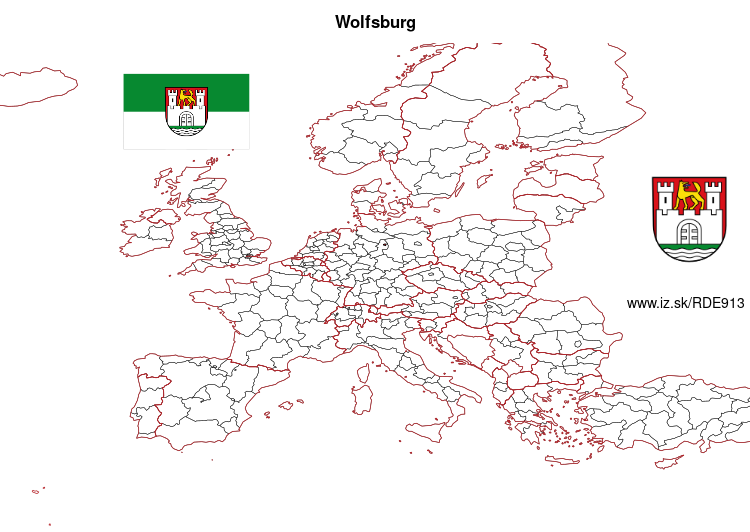 More on wikipedia wikidata Q3014 on OpenStreetMap Wolfsburg slovensky: DE913
Demographics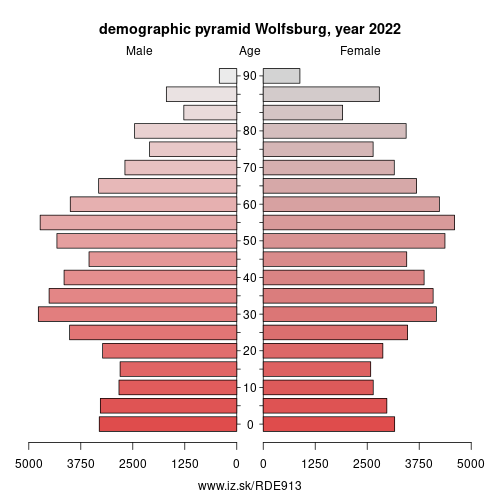 From Wikipedia: Wolfsburg (UK: VOLFS-burg, US: WUULFS-burg, VAWLFS-boork, German: [ˈvɔlfsbʊɐ̯k] (listen)) is the fifth largest city in the German state of Lower Saxony. Located on the River Aller. It lies about 75 km (47 mi) east of Hanover and 230 km (143 mi) west of Berlin.
In 2013, Wolfsburg ranked as the richest city in Germany with a GDP per capita of $128,000 due to its thriving auto industry.
Wolfsburg is famous as the location of Volkswagen AG's headquarters and the world's biggest car plant. The Autostadt is a visitor attraction next to the Volkswagen factory that features the company's model range: Audi, Bentley, Bugatti, Ducati, Lamborghini, MAN, Neoplan, Porsche, Scania, SEAT, Škoda Auto, TRATON AG, and Volkswagen Commercial Vehicles. Wolfsburg is one of the few German cities built during the first half of the 20th century. From its founding on 1 July 1938 as a home for workers producing the "KdF-Wagen" (VW Beetle) until 25 May 1945, the city was called "Stadt des KdF-Wagens bei Fallersleben". In 1972, the population first exceeded 100,000.
Geography
Wolfsburg is located at the Southern edge of the ancient river valley of the Aller at the Mittellandkanal (Midland Canal). It is bordered by the districts of Gifhorn and Helmstedt.
Other: Brunswick Government Region, Peine, Wolfenbüttel, Brunswick, Helmstedt district, Wolfsburg, Goslar, Salzgitter, Gifhorn, Northeim, Göttingen district
Neighbours: Helmstedt district, Gifhorn
Suggested citation: Michal Páleník: EU regions - Wolfsburg – DE913, IZ Bratislava, retrieved from: https://www.iz.sk/​en/projects/eu-regions/DE913
---
https://www.iz.sk/en/projects/eu-regions/DE913