Görlitz – DED2D
EU regions: Germany > Saxony > Dresden Directorate District > Görlitz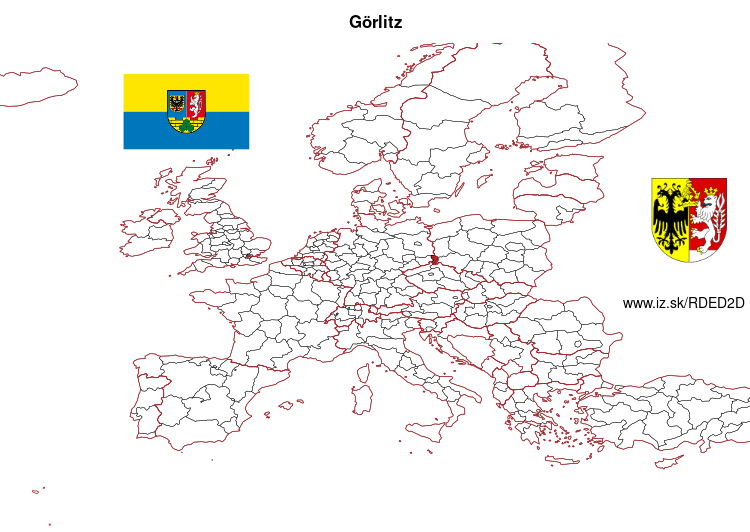 More on wikipedia wikidata Q4077 on OpenStreetMap Görlitz slovensky: DED2D
Demographics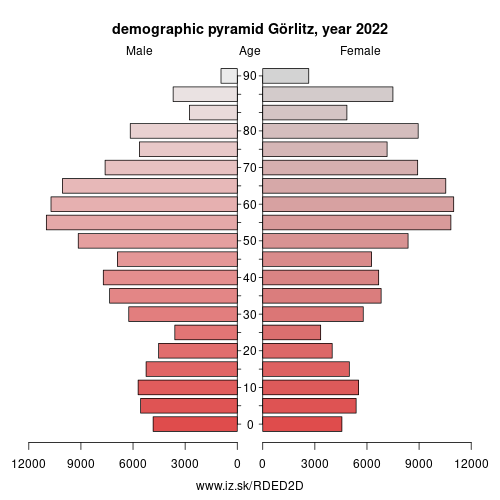 Görlitz
(
[ˈɡœʁlɪts]
(

listen

)
; Upper Lusatian dialect:
Gerlz
,
Gerltz
, and
Gerltsch
, Polish:
Zgorzelec
, Upper Sorbian:
Zhorjelc
, Lower Sorbian:
Zgórjelc
, Czech:
Zhořelec
) is a town in the German federal state of Saxony. Located in the region of Lusatia on the Lusatian Neisse River, it is the second largest town of Lusatia after Cottbus, and the largest in Upper Lusatia. Seat of the district of Görlitz, Germany's easternmost district, its approximately 56,000 inhabitants also make Görlitz the sixth largest town of the Free State of Saxony. It lies opposite the Polish town of Zgorzelec, which was part of Görlitz until 1945. While not Lusatiophone itself, the town lies just east of the Sorbian-speaking parts of Lusatia.
From 1815 until 1918, Görlitz belonged to the Province of Silesia in the Kingdom of Prussia, and later to the Province of Lower Silesia in the Free State of Prussia. It is the largest town of the former Province of Lower Silesia that lies west of the Oder-Neisse line and hence remains in Germany today. Thus it is both the most Silesian town, in terms of character, and the largest in Germany today. The town combines Lusatian and Silesian traditions as well as German and Sorbian culture. Görlitz has a rich architectural heritage.
Other: Dresden Directorate District, Bautzen District, Görlitz, Meissen District, Sächsische Schweiz-Osterzgebirge, Dresden
Neighbours: Zielonogórski, Ústí nad Labem Region, Spree-Neiße District, Jeleniogórski, Bautzen District, Liberec Region
Suggested citation: Michal Páleník: EU regions - Görlitz – DED2D, IZ Bratislava, retrieved from: https://www.iz.sk/​en/projects/eu-regions/DED2D
---
https://www.iz.sk/en/projects/eu-regions/DED2D