Leipzig – DED51
EU regions: Germany > Saxony > Leipzig Government Region > Leipzig
More on wikipedia wikidata Q2079 on OpenStreetMap Leipzig slovensky: DED51
Demographics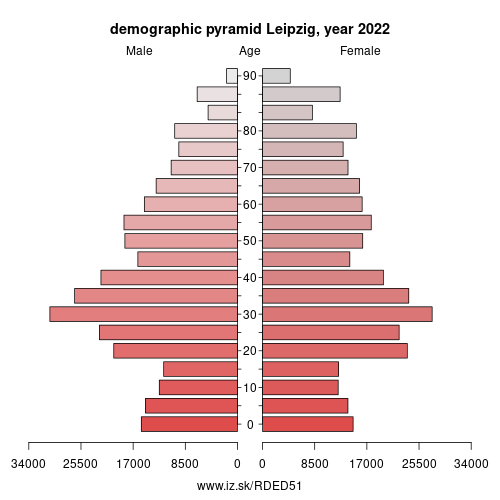 Leipzig
(, also
US:
, German:
[ˈlaɪptsɪç]
(

listen

)
; Upper and Lower Sorbian:
Lipsk
; Upper Saxon:
Leibzsch
) is the most populous city in the German federal state of Saxony. With a population of 587,857 inhabitants as of 2018 (1.1 million residents in the larger urban zone), it is Germany's eighth most populous city as well as the second most populous city in the area of former East Germany after (East) Berlin. Together with Halle (Saale), the largest city of the neighbouring state of Saxony-Anhalt, the city forms the polycentric conurbation of Leipzig-Halle. Between the two cities (in Schkeuditz) lies Leipzig/Halle International Airport.
Leipzig is located about 160 kilometres (99 mi) southwest of Berlin in the Leipzig Bay, which constitutes the southernmost part of the North German Plain, at the confluence of the White Elster River (progression: Saale→ Elbe→ North Sea) and two of its tributaries: the Pleiße and the Parthe. The name of the city as well as the names of many of its boroughs are of Slavic origin.
Leipzig has been a trade city since at least the time of the Holy Roman Empire. The city sits at the intersection of the Via Regia and the Via Imperii, two important medieval trade routes. Leipzig was once one of the major European centers of learning and culture in fields such as music and publishing. Leipzig became a major urban center within the German Democratic Republic (East Germany) after the Second World War, but its cultural and economic importance declined.
Other: Leipzig Government Region, Nordsachsen, Leipzig, Landkreis Leipzig
Neighbours: Landkreis Leipzig, Nordsachsen
Suggested citation: Michal Páleník: EU regions - Leipzig – DED51, IZ Bratislava, retrieved from: https://www.iz.sk/​en/projects/eu-regions/DED51
---
https://www.iz.sk/en/projects/eu-regions/DED51