Provincia de Cantabria – ES130
EU regions: Spain > Noroeste > Cantabria > Provincia de Cantabria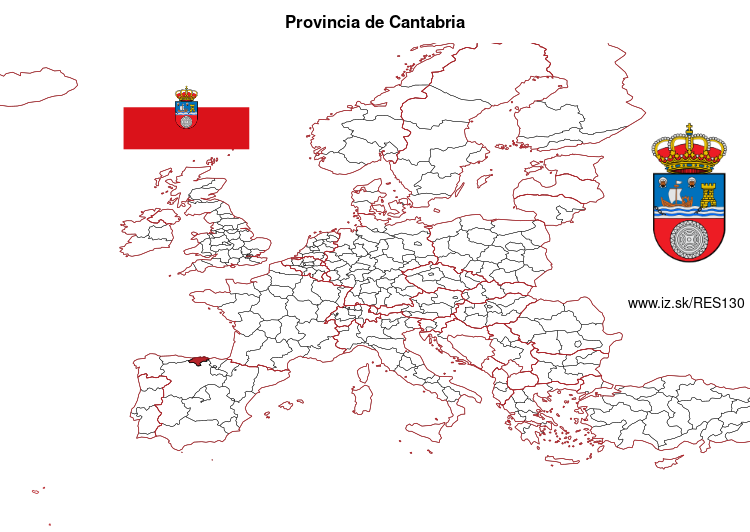 wikidata Q31920747 on OpenStreetMap Provincia de Cantabria slovensky: ES130
Demographics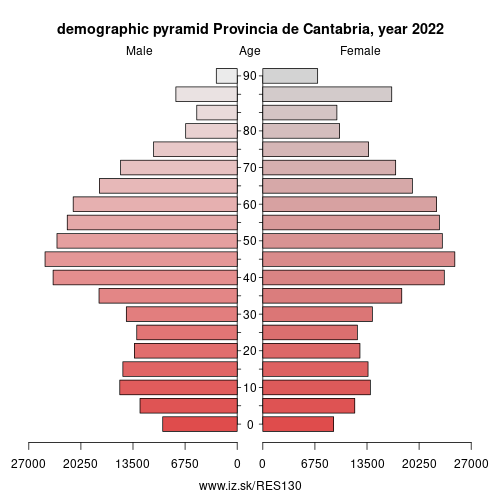 From Wikipedia : Cantabria (, also UK: , Spanish: [kanˈtaβɾja]) is an autonomous community in northern Spain with Santander as its capital city. It is recognized as a historic community and is bordered on the east by the Basque Autonomous Community (province of Biscay), on the south by Castile and León (provinces of León, Palencia and Burgos), on the west by the Principality of Asturias, and on the north by the Cantabrian Sea (Bay of Biscay).
Cantabria belongs to Green Spain, the name given to the strip of land between the Bay of Biscay and the Cantabrian Mountains, so called because of its particularly lush vegetation, due to the wet and moderate oceanic climate. The climate is strongly influenced by Atlantic Ocean winds trapped by the mountains; the average annual precipitation is about 1,200 mm (47 inches).
Cantabria has archaeological sites from the Upper Paleolithic period, although the first signs of human occupation date from the Lower Paleolithic. The most significant site for cave paintings is that in the cave of Altamira, dating from about 37,000 BC and declared, along with nine other Cantabrian caves, as World Heritage Sites by UNESCO.
The modern Province of Cantabria was constituted on 28 July 1778 at Puente San Miguel, Reocín. The Organic Law of the Autonomy Statute of Cantabria was approved on 30 December 1981, giving the region its own institutions of self-government.
Etymology
Numerous authors, including Isidore of Seville, Julio Caro Baroja, Aureliano Fernández Guerra and Adolf Schulten, have explored the etymology of the name Cantabria, yet its origins remain uncertain. It is claimed that the root cant- comes from Celtic for "rock" or "stone", while -abr was a common suffix used in Celtic regions. Thus, Cantabrian could mean "people who live in the rocks" or "highlanders", a reference to the steep and mountainous territory of Cantabria.
The name Cantabria could also be related to the Celtic root "kant" or "cant" meaning edge or rim thus "coastal district," or "corner-land", "land on the edge" thus having the same probable derivation as the name of the English county of Kent.
Geography
Relief
Cantabria is a mountainous and coastal region, with important natural resources. It has two distinct areas which are well differentiated morphologically:
Other: Cantabria, Provincia de Cantabria
Neighbours: Province of Burgos, Province of Asturias, León Province, Palencia Province, Biscay
Suggested citation: Michal Páleník: EU regions - Provincia de Cantabria – ES130, IZ Bratislava, retrieved from: https://www.iz.sk/​en/projects/eu-regions/ES130
---
https://www.iz.sk/en/projects/eu-regions/ES130