Biscay – ES213
EU regions: Spain > Noreste > Basque Autonomous Community > Biscay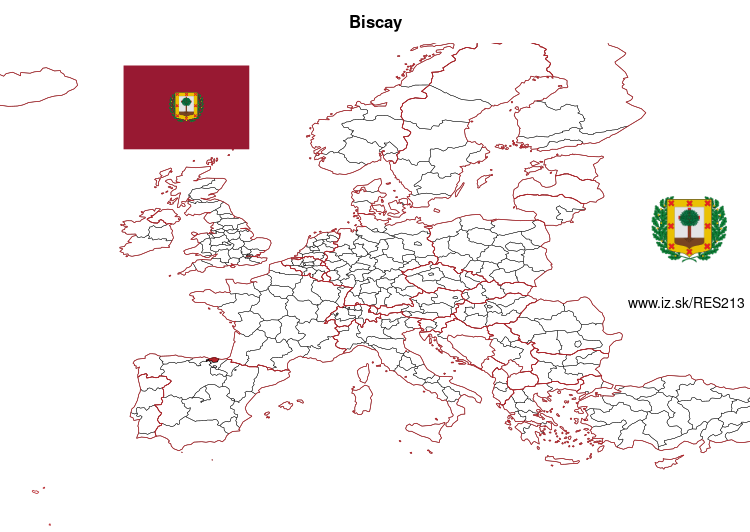 More on wikipedia wikidata Q93366 on OpenStreetMap Biscay slovensky: ES213
Demographics
From Wikipedia: Biscay (; Basque: Bizkaia [bis̻kai.a]; Spanish: Vizcaya [biθˈkaʝa]) is a province of Spain located just south of the eponymous bay. The name also refers to a historical territory of the Basque Country, heir of the ancient Lordship of Biscay. Its capital city is Bilbao. It is one of the most prosperous and important provinces of Spain as a result of the massive industrialization in the last years of the 19th century and first half of the 20th century. Since the deep deindustrialization of the 1970s, the economy has come to rely more on the services sector.
Etymology
It is accepted in linguistics (Koldo Mitxelena, etc.) that Bizkaia is a cognate of bizkar (cf. Biscarrosse in Aquitaine), with both place-name variants well attested in the whole Basque Country and out meaning 'low ridge' or 'prominence' (Iheldo bizchaya attested in 1141 for the Monte Igueldo in San Sebastián).
Denominations
Bizkaia
Bizkaia
is the official name, and it is used on official documents. It is also the most used denomination by the media in Spanish in the Basque Country. It is also the denomination used in the Basque version of the Spanish constitution and in the Basque version of the Statute of Autonomy of the Basque Country.
Bizkaia
is the only official denomination in Spanish or Basque approved for the historical territory by the General Council of the province and the Spanish laws.
Other: Basque Autonomous Community, Araba / Álava, Biscay, Gipuzkoa
Neighbours: Gipuzkoa, Araba / Álava, Province of Burgos, Provincia de Cantabria
Suggested citation: Michal Páleník: EU regions - Biscay – ES213, IZ Bratislava, retrieved from: https://www.iz.sk/​en/projects/eu-regions/ES213
---
https://www.iz.sk/en/projects/eu-regions/ES213