Araba / Álava - ES211
EU regions: Spain > Noreste > Basque Autonomous Community > Araba / Álava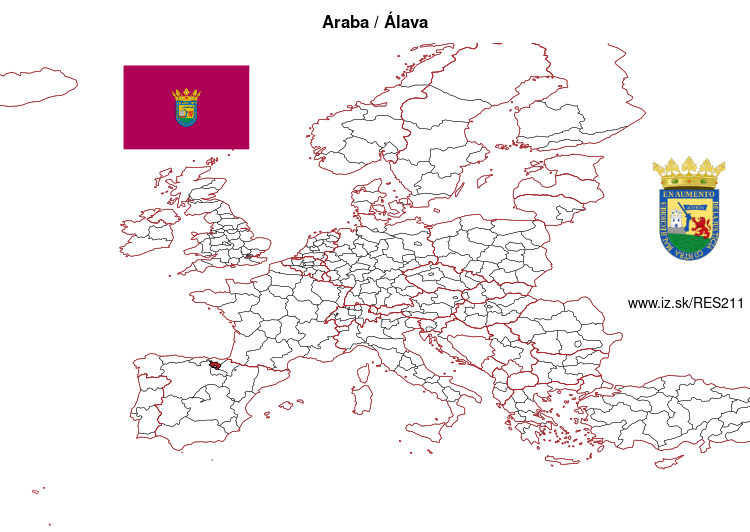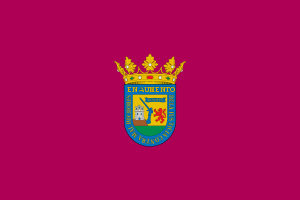 * more on wikidata Q81801 * on OpenStreetMap * Araba / Álava slovensky: ES211
Composition of population according to age group, education and economic activity, Araba / Álava
| age group | low education | middle education | high education |
| --- | --- | --- | --- |
note: in thousands, according to labour force sample survey. P – total population, E – employed, U – unemployed, I – number of ecnomically inactive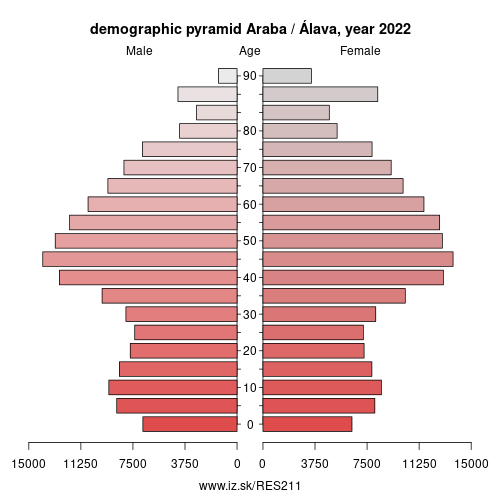 From wikipedia:
Álava
(IPA: 
[ˈalaβa]
in Spanish) or
Araba
(IPA: 
[aˈɾaba]
in Basque, dialectal:
[aˈɾaβa]
), officially
Araba/Álava
, is a province of Spain and a historical territory of the Basque Country, heir of the ancient Lordship of Álava, former medieval Catholic bishopric and now Latin titular see.
Its capital city, Vitoria-Gasteiz, is also the seat of the political main institutions of the autonomous community. It borders the Basque provinces of Biscay and Gipuzkoa to the north, the community of La Rioja to the south, the province of Burgos (in the community of Castile and León) to the west and the community of Navarre to the east. The Enclave of Treviño, surrounded by Alavese territory, is however part of the province of Burgos, thus belonging to the autonomous community of Castile and León, not Álava.
It is the largest of the three provinces in the Basque Autonomous Community in geographical terms, with 2,963 km2, but also the least populated with 328,868 inhabitants (2018).
Etymology
Built around the Roman mansion Alba located on the road ab Asturica Burdigalam (possibly the current village of Albéniz near Agurain), it has sometimes been argued the name may stem from that landmark. However, according to the Royal Academy of the Basque Language, the origin may be another: The name is first found on Muslim chronicles of the 8th century referring to the Alavese Plains (Spanish Llanada Alavesa, Basque Arabako Lautada), laua in old Basque (currently lautada) with the Arab article added (al + laua), developing into Spanish Álava and Basque Araba (a typical development of l to r between vowels).
Demography and rural landscape
The province numbers 51 municipalities, a population of 315,525 inhabitants in an area of 3,037 km2 (1,173 sq mi), with an average of 104.50 inhabitants/km2. The vast majority of the population clusters in the capital city of Álava, Vitoria-Gasteiz, which also serves as the capital of the Autonomous Community, but the remainder of the territory is sparsely inhabited with population nuclei distributed into seven counties (kuadrillak or cuadrillas): Añana; Ayala; Campezo; Laguardia; Salvatierra; Vitoria-Gasteiz; Zuya.
Physical and human geography
Álava is an inland territory and features a largely transitional climate between the humid, Atlantic neighbouring northern provinces and the dry and warmer lands south of the Ebro River.
other: Basque Autonomous Community, Biscay, Gipuzkoa, Araba / Álava
neighbours: La Rioja, Burgos Province, Navarre, Gipuzkoa, Biscay
Suggested citation: Michal Páleník: EU regions - Araba / Álava - ES211, IZ Bratislava, retrieved from: https://www.iz.sk/en/projects/eu-regions/ES211
---
https://www.iz.sk/en/projects/eu-regions/ES211