Province of Massa-Carrara – ITI11
EU regions: Italy > Central Italy > Tuscany > Province of Massa-Carrara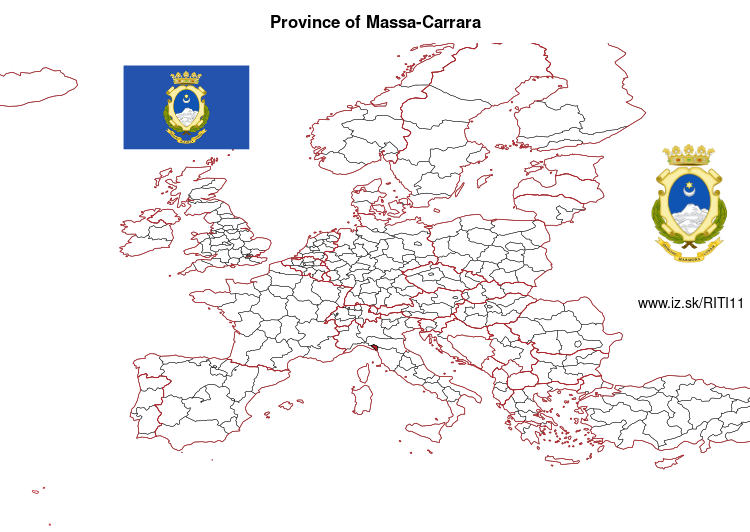 More on wikipedia wikidata Q16205 on OpenStreetMap Province of Massa-Carrara slovensky: ITI11
Demographics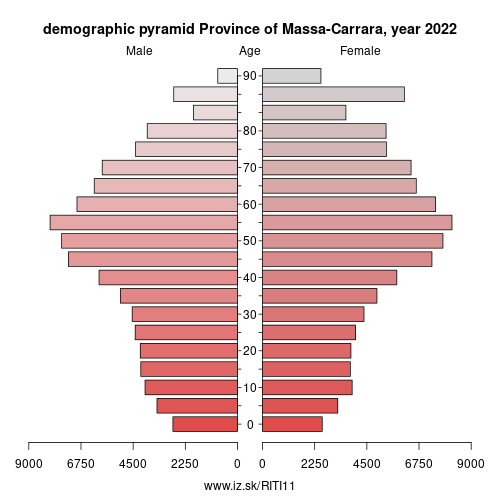 From Wikipedia: The province of Massa-Carrara (Italian: provincia di Massa-Carrara) is a province in the Tuscany region of central Italy. It is named after the provincial capital Massa, and Carrara, the other main town in the province.
History
The province of "Massa e Carrara" was born in 1859 from the separation of the Lunigiana and the Garfagnana from the Duchy of Modena. Originally it was composed of three circondari: I° "Circondario of Massa and Carrara" (a group of seven districts divided in 14 municipalities), II° "Circondario" of Castelnuovo Garfagnana (four districts divided in 17 municipalities), III° "Circondario" of Pontremoli (three districts divided into six municipalities).
Until the census of 1861, the province appears as part of Compartimento territorial Modena, Reggio and Massa, but since the census of the population of 1871 it has been counted as part of Tuscany. Later, with the "Regio Decreto n. 1913 of September 2, 1923", the municipalities of Calice al Cornoviglio and Rocchetta Vara were detached from the province and added to the new province of La Spezia. In the same period ("Regio Decreto n.2490 of November 9, 1923") the 17 municipalities of the "Circondario" Castelnuovo Garfagnana were removed from Emilia and assigned to the province of Lucca, in order to compensate for the passage to the new province of Pistoia of all the municipalities of the Val di Nievole.
The province of Massa and Carrara was left crippled, waiting for a reorganization. In 1938, the municipalities of Carrara, Massa, and Montignoso joined and became the municipality of Apuania.
Other: Tuscany, Province of Lucca, Province of Pistoia, Province of Florence, Province of Prato, Province of Livorno, Province of Pisa, Province of Arezzo, Province of Siena, Province of Grosseto, Province of Massa-Carrara
Neighbours: Province of La Spezia, Province of Parma, Province of Lucca, Province of Reggio Emilia
Suggested citation: Michal Páleník: EU regions - Province of Massa-Carrara – ITI11, IZ Bratislava, retrieved from: https://www.iz.sk/​en/projects/eu-regions/ITI11
---
https://www.iz.sk/en/projects/eu-regions/ITI11