Tuscany – ITI1
EU regions: Italy > Central Italy > Tuscany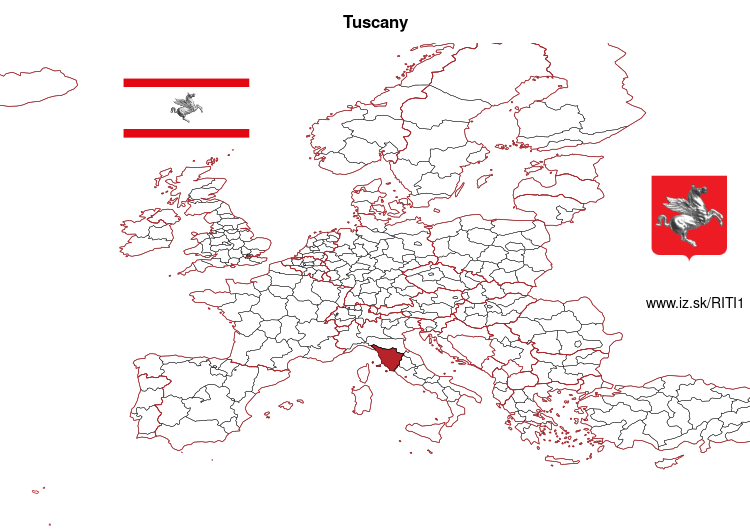 More on wikipedia wikidata Q1273 on OpenStreetMap Tuscany slovensky: ITI1
Subregions: Province of Massa-Carrara, Province of Lucca, Province of Pistoia, Province of Florence, Province of Prato, Province of Livorno, Province of Pisa, Province of Arezzo, Province of Siena, Province of Grosseto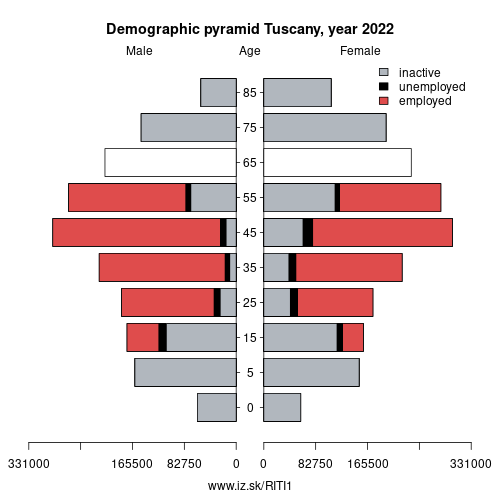 Unemployment
Demographics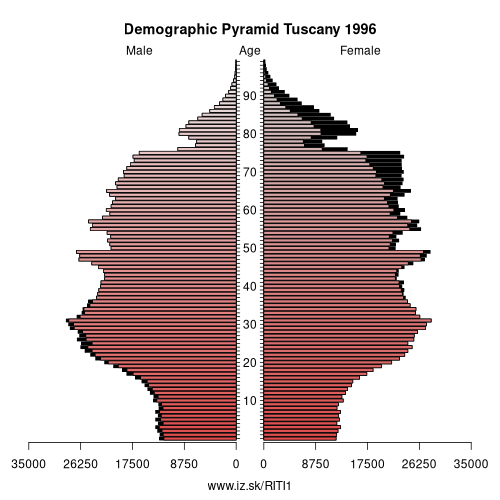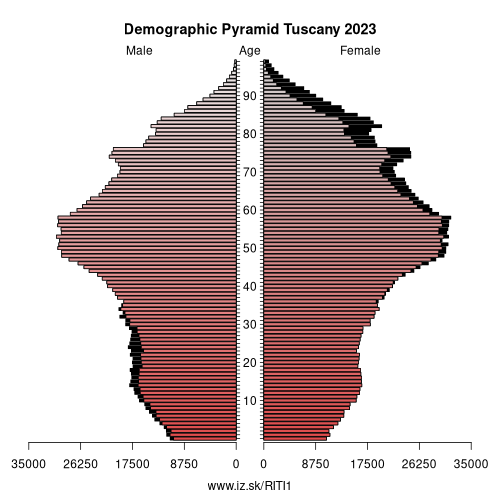 Employment by sectors, Tuscany
NACE r2
%
NACE r2
%
A
42.3
3 %
B-E
358
22 %
F
101.1
6 %
G-I
425.7
26 %
J
33.7
2 %
K
43.9
3 %
L
11.8
1 %
M_N
155.5
10 %
O-Q
305.3
19 %
R-U
140.2
9 %
TOTAL
1617.7
100 %
Data for the period year 2022. Source of the data is Eurostat, table [lfst_r_lfe2en2].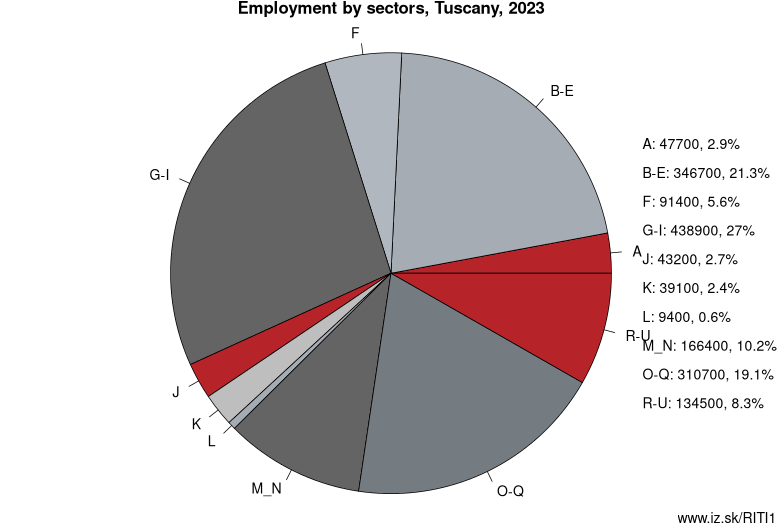 From Wikipedia: Tuscany ( TUSK-ə-nee; Italian: Toscana [toˈskaːna]) is a region in central Italy with an area of about 23,000 square kilometres (8,900 square miles) and a population of about 3.8 million inhabitants (2013). The regional capital is Florence (Firenze).
Tuscany is known for its landscapes, history, artistic legacy, and its influence on high culture. It is regarded as the birthplace of the Italian Renaissance and has been home to many figures influential in the history of art and science, and contains well-known museums such as the Uffizi and the Pitti Palace. Tuscany produces wines, including Chianti, Vino Nobile di Montepulciano, Morellino di Scansano and Brunello di Montalcino. Having a strong linguistic and cultural identity, it is sometimes considered "a nation within a nation".
Tuscany is a popular destination in Italy, the main tourist spots are Florence, Pisa, Lucca, Siena, Versilia, Maremma and Chianti. The village of Castiglione della Pescaia is the most visited seaside destination in the region, with seaside tourism accounting for approximately 40 % of tourist arrivals. Additionally, Siena, Lucca, the Chianti region, Versilia and Val d'Orcia are also internationally renowned and particularly popular spots among travellers.
Seven Tuscan localities have been designated World Heritage Sites: the historic centre of Florence (1982); the Cathedral square of Pisa (1987); the historical centre of San Gimignano (1990); the historical centre of Siena (1995); the historical centre of Pienza (1996); the Val d'Orcia (2004), and the Medici Villas and Gardens (2013).
Other: Central Italy, Umbria, Lazio, Tuscany, Marche
Neighbours: Lazio, Marche, Umbria, Liguria, Emilia-Romagna
Subregions: Province of Massa-Carrara, Province of Lucca, Province of Pistoia, Province of Florence, Province of Prato, Province of Livorno, Province of Pisa, Province of Arezzo, Province of Siena, Province of Grosseto
Suggested citation: Michal Páleník: EU regions - Tuscany – ITI1, IZ Bratislava, retrieved from: https://www.iz.sk/​en/projects/eu-regions/ITI1
---
https://www.iz.sk/en/projects/eu-regions/ITI1